Other Links
Editorial Board
UK

Editor

s

- Roger Jones and John Quinn

Editors for The Americas - Bruce Hodges and Jonathan Spencer Jones

European Editors - Bettina Mara and Jens F Laurson

Consulting Editor - Bill Kenny

Assistant Webmaster -Stan Metzger

Founder - Len Mullenger
Google Site Search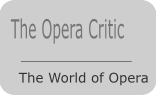 SEEN AND HEARD UK CONCERT REVIEW


Beethoven, Liszt, Bartók: Viktoria Mullova (violin), National Orchestra of Wales, François Xavier-Roth (conductor), St. David's Hall, Cardiff 5.2.2011. (GPu)

Beethoven, Violin Concerto
Liszt, Mazeppa
Bartók, Concerto for Orchestra
From the cerebral and analytical to the splendidly vulgar and noisy, this was a concert that embraced many moods and modes. Viktoria Mullova's reading of Beethoven had about it a sense of absolute concentration, a refusal of the slightest possibility of showboating (or of anything that might leave her open to the slightest suspicion of such a thing) and an intensity that compelled attention as she laid bare structural patterns and connections which can often escape the attention of performer and audience alike. In a reading marked by great intellectual and textual clarity, Mullova's performance was memorable more for its attention to line and phrasal structure than for tonal variety or, it has to be said, for sheer warmth. This was the Beethoven concerto as a beautifully faceted diamond, but it was a performance that (relatively speaking) had a certain diamond-like coldness too. For all its beautiful, shining lucidity, it was hard not to long for a greater sensuality and warmth. The rapid runs of the first movement cadenza (Mullova played cadenzas written by her frequent colleague, the Italian harpsichordist and conductor Ottavio Dantone) were brilliantly executed, dazzling in their complexity of fingering but once again of almost startling precision and transparency. In the slow movement (which began with its orchestral opening very attractively shaped and phrased by François Xavier-Roth), Mullova's entry had a greater tenderness than most of her work in the first movement, without any loss of tonal purity. The dancing rhythms of the third movement, taken pretty quickly, were wholly engaging, though there was a sense of the private, rather than of the social even to this evocation of the dance. Throughout the work, Mullova's lyricism possessed a chasteness that constrained one's attention inescapably, in a way very different from the manner of more extrovert readings – but there were losses in geniality. The work of the orchestra, and the sympathetic conducting of François Xavier-Roth was excellent at all points.

After the interval, Liszt's Mazeppa saw classical purity replaced by romantic fervour. Xavier-Roth is never afraid of quick tempi, and this was certainly a wild horse that built up a considerable head of speed. Once the whip had been cracked at the beginning (on wind, brass and cymbals), the sense of momentum was immediate. The trombones were excitingly impressive in their statement of the main theme, expressive of Mazeppa's defiance. But above all the overriding impression was of the wildness of the ride – like listening to the 'Erlkönig' turning into the 'Ride of the Valkyries' before your very ears. Liszt's tone poem may not be the subtlest piece of music ever – or even anything like the subtlest piece that Liszt himself ever wrote – but it makes its high romantic points about political and personal freedom with unmistakable force. And the force was certainly felt in this performance.
Bartok's Concerto for Orchestra is certainly an altogether subtler piece, in structure and orchestration; its large shape, a kind of arc in which first and final (fifth) movements are related, as are the second (Gioco delle coppie) and fourth (Intermezzo interrotto), with the profound Elegia as its still centre, is complemented by intricate small-scale patterns and juxtapositions which continue to fascinate (and consistently reveal new elements) at every new hearing. Xavier-Roth balanced sections well, and transitions were clearly marked without exaggeration. The remarkable variety of the first movement, its fusion of rigour and colour was attractively articulated; the charm of the second movement, with its changing pairs of woodwind and brass, demonstrated the considerable technical accomplishment which the BBC National Orchestra of Wales can currently bring to its work. The Elegia was a threnos of great dignity, which avoided all mere sentimentality in its exploration of the experience of loss – this was music of great beauty, its austere defiance at the opposite pole to the heroic gestures of 'Mazeppa'. The subtle humour of the fourth movement registered a movement away from mourning, full alike of clamour and grace, enacting not a forgetting of loss but a reconciling of loss within the larger structures of life's continuity, so that the affirmative aspects of the final movement, a sense of life enhanced by earlier experience had some real power. In short, this was a strikingly intelligent, but hard-driven performance, exciting in far more than any merely superficial sense.
Glyn Pursglove