Other Links
Editorial Board
UK

Editor

s

- Roger Jones and John Quinn

Editors for The Americas - Bruce Hodges and Jonathan Spencer Jones

European Editors - Bettina Mara and Jens F Laurson

Consulting Editor - Bill Kenny

Assistant Webmaster -Stan Metzger

Founder - Len Mullenger
Google Site Search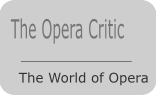 SEEN AND HEARD UK CONCERT REVIEW


Prokofiev, Wagner and Beethoven: Alwyn Mellor (soprano), London Schools Symphony Orchestra, Peter Ash, Barbican Hall, Silk Street, London, 5.1.2011 (BBr)

Prokofiev: Six Dances from Romeo and Juliet, op 64 (1934)
Wagner: Prelude and Liebestod (Tristan und Isolde) (1865)
Beethoven: Symphony No 5 in C minor, op 67 (1807)


A programme obviously designed to show off the Orchestra to best advantage proved to be too big a bite of the cherry, which, although it stretched the young players, ultimately demonstrated that this Orchestra isn't the match of the one I heard play Petrushka last September. The show was marked by some poor intonation – especially from the cellos, whose opening to the Tristan Prelude and the the scherzo of the Beethoven Symphony was unsure, to say the least. Also, the trio was far too fast, thus articulation suffered, and during the transition to the finale, the first violins were equally insecure. Horns and trumpets split too many notes for comfort and I was never convinced that the players were entirely happy in their work.

That said, when things went well, there was some thrilling music making. The big pieces, such as the Knight's Dance and the Death of Tybalt, from Romeo, made a satisfactory sound, filling the hall, but the more delicate pieces weren't always entirely confident. With playing of this quality six dances seemed too much.

The Wagner started badly but the famous Tristan chord, on woodwind, was perfect, and, it must be mentioned, Ash's understanding of the silences between the statements of the opening phrase were pregnant with expectation. The Liebestod never rose to the heights of ecstasy it should reach, perhaps because the orchestra couldn't really let go for fear of drowning the solo voice. Alwyn Mellor is every inch the Wagnerian soprano and she sang with the customary vibrato, not as bad as some but enough for it to annoy – but this is the current, and currently accepted, way of singing.

Beethoven's great Symphony benefited from having the exposition repeated in the outer movements, but tempi were pushed and there was little chance for the music to really breathe. Where the slow movement should simply have flowed there was a slight haste and mystery was entirely missing from the scherzo. The finale was full of triumph but it was a hollow victory, and the sound was banal.

On the plus side, principal oboe Amy Roberts was superb and, at the end of the Tristan Prelude, Jessica Chorley's cor anglais was full of sexual longing.
Bob Briggs