Other Links
Editorial Board
UK

Editor

s

- Roger Jones and John Quinn

Editors for The Americas - Bruce Hodges and Jonathan Spencer Jones

European Editors - Bettina Mara and Jens F Laurson

Consulting Editor - Bill Kenny

Assistant Webmaster -Stan Metzger

Founder - Len Mullenger
Google Site Search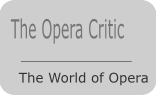 SEEN AND HEARD UK CONCERT REVIEW


Shostakovich, Tchaikovsky: Sergey Khachatryan (violin); London Symphony Orchestra; Valéry Gergiev. Barbican Concert Hall, London , 18. 1. 2011 (CC)
Shostakovich: Violin Concerto No 2 in C sharp minor, Op. 129
Tchaikovsky: Symphony No 1 in G minor, Op.13 'Winter Daydreams'
And so another Gergiev journey begins. This time, it is the Tchaikovsky symphonies, and on the basis of this concert it will be difficult to resist the temptation to hear each and every concert in the series. Good to hear the First Symphony, too – the overshadowing of the first three symphonies by the last three (and, we must not forget, 'Manfred') is unfortunate, for each of the earlier works offers its own rewards.

But first, Shostakovich's Second Violin Concerto of 1967, written originally for David Oistrakh (as was the First) and performed on this occasion by the young Sergey Khachatryan. Who knows how much rehearsal the concerto was allocated (the occasional slight shoddiness of ensemble in the fast and furious passages caused doubts to appear), but there was no doubting the presence of a certain frisson. The orchestra seemed hyper-attuned to Gergiev's every move (however fluttery). The work's dark opening was low and mysterious. Khachatryan's sound seemed on the small side, yet he handled the initial long line well. It was the orchestra that seemed more characterful throughout, however; Khachatryan seemed to shine most in the cadenzas (the two-part writing of the first movement cadenza was gripping: you could have heard a pin drop). Again, it was the orchestra that summoned up the barren landscape of the central Adagio so effectively. Khachatryan was certainly plaintive but seemed a touch remote. The finale was the most successful movement, with the LSO a sonic whirlwind, and containing a marvelously skittish cadenza from Khachatryan. The horn solos (David Pyatt) were solid and secure but, as so often with orchestral horn solos these days, also needed more character. There was an encore from Khachatryan – the Sarabande from the D minor Partita of Bach, which was soothing in the extreme. Gergiev listened from the back of the hall.

The Tchaikovsky was a triumph (albeit a triumph with the occasional caveat attached). Perhaps there could have been more charm at the outset, and perhaps there could have been touches of wit here and there. Yet the sheer orchestral expertise (gorgeous clarinet solos from Andrew Marriner, beautiful oboe and bassoon contributions in the slow movement from Nora Cismodi and Rachel Gough respectively) and beauty of sound (meltingly tender strings at the onset of the second movement, gossamer strings in the third) plus a positively suave waltz in the third movement all gave great enjoyment. There was a lovely woodwind choir in the finale, and the brass were resplendent (particularly the trumpets). A pity the finale sagged a little at the fugato passage; Gergiev seemed to attempt to make up for it by the exciting coda (which, to his credit, just avoided bombast).

This concert was repeated on Sunday (23rd January). That concert will be recorded by BBC Radio 3 and broadcast on January 27th at 7pm.
Colin Clarke