Other Links
Editorial Board
UK

Editor

s

- Roger Jones and John Quinn

Editors for The Americas - Bruce Hodges and Jonathan Spencer Jones

European Editors - Bettina Mara and Jens F Laurson

Consulting Editor - Bill Kenny

Assistant Webmaster -Stan Metzger

Founder - Len Mullenger
Google Site Search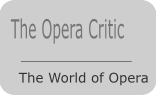 SEEN AND HEARD UK CONCERT REVIEW


Franck and Fauré: Sally Matthews (soprano), Gerald Finley (bass baritone), London Philharmonic Choir, London Philharmonic Orchestra, Yannick Nézet–Séguin, Royal Festival Hall, Southbank Centre, London, 22.1.2011 (BBr)
Franck: Symphony in D minor (1886/1888)
Fauré: Requiem (1888/1901)
Here is a programme which might not seem to be overly interesting, on paper, but which, in reality, proved to be a real winner. César Franck's Symphony is a superb work, much under rated, and not performed as often as its stature demands it should be. Tonight Nézet–Séguin directed a performance which treated it as the big, bold, romantic work it so obviously is. Without a strong grip on the ebb and flow of the music, the first movement, which moves between a slow and a fast tempo, can appear to have too loose a structure, but there was none of that here. Nézet–Séguin wove a brilliant tapestry of sound, as he drew together the two different musics into one very convincing whole. This was masterly, and emotionally draining. It was exactly right! The slow movement brought some respite, with beautiful cor anglais playing from Sue Bohling, but the start was spoiled by poor ensemble between the harp and the pizzicato strings. The finale was a real run with the wolves, the music rushing forwards towards a devastating conclusion, of great power and intensity. The French tradition – yes, I know Franck was Belgian by birth, but he was a Frenchman by adoption – has few symphonies so we should cherish this work all the more as an example of the path less well trodden in that country. Nézet–Séguin and the London Philharmonic did Franck proud, and for that the packed audience was truly grateful.
Fauré's Requiem has suffered from performances which treat it as a delightful little work, which barely touches the surface of the subject – a Mass for the Dead. Tonight, with a very large choir, Nézet–Séguin gave a reading which pushed all those feelings aside and showed the work to be a deeply felt and most moving experience, a work full of drama, tension and deep emotion. Gerald Finley was excellent in his two solos, devotional in the Hostias and firm, but never overtly forthright, in the Libera Me. I would have preferred a boy treble in the Pie Jesu for the clear, chaste lines demand a very pure sound, which, I am afraid, a mature female voice simply cannot provide. A couple of years ago I heard Sally Matthews give a stunning performance of Britten's Les Illuminations with this orchestra – it was subsequently issued on the LPO's own label, LPO-0037, which is well worth having (review) – and I was impressed. Tonight, however, she sang with an exaggerated vibrato which spoiled the line of the music and sometimes one couldn't be sure of what note she was delivering. The chorus was superb, and it was one of the high points of the performance to hear such a large group of voices in this music; it was quite at home in both the meditative and more disturbing sections of the score. In general this was a very fine show, with performances and interpretations of the highest order.
BBC Radio 3 recorded the show for broadcast on Wednesday 26 January, and it will be available for seven days thereafter on the BBC iPLayer, and it should not be missed.
Bob Briggs