Other Links
Editorial Board
UK

Editor

s

- Roger Jones and John Quinn

Editors for The Americas - Bruce Hodges and Jonathan Spencer Jones

European Editors - Bettina Mara and Jens F Laurson

Consulting Editor - Bill Kenny

Assistant Webmaster -Stan Metzger

Founder - Len Mullenger
Google Site Search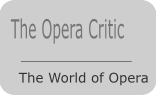 SEEN AND HEARD UK CONCERT REVIEW


Beethoven, Mahler: Nicholas Angelich (piano), London Philharmonic Orchestra, Yannick Nézet-Séguin, Royal Festival Hall, London 19.1.2011 (GDn)

Beethoven: Piano Concerto No.5 in E flat, Op 73 ('Emperor')
Mahler: Symphony No.5 in C sharp minor

I'm happy to report that there is little sign of Mahler fatigue at the London Philharmonic. It is only five days since they sat on the same stage and performed the Sixth Symphony, a work any compassionate orchestral management would follow with a three-week break. But no, here they were with yet another of Mahler's monumental scores, the Fifth, and it was as if last Friday had never happened. Their audience clearly had an appetite for more as well, and like last Friday they again played to a full house.

Of course it is always easy to get bums on seats when there is a Beethoven concerto in the first half, and the 'Emperor' is the most bankable of the lot. Nicholas Angelich is a larger than life pianist, both physically and in the breadth of his interpretation. He is not one for filigree details, and his focus in the 'Emperor' was clearly on the architecture. The piece was paced like a Bruckner symphony, the paragraphs all strung between the mighty climaxes. 'Romantic' would be a polite way to describe Angelich's technique. All the large chords were hammered home, and the runs were all treated with virtuosic flair. The quiet passages were evenly paced, but not relished in quite the same way. In short, it was Beethoven played as Rachmaninov. There is no point in considering issues of authenticity here; instead the passion and the drama were expected to carry the day. It was an effective reading up to a point, although the lack of subtly in the dynamics and phrasing had the effect of making the whole thing slightly monotonous, and the excessive use of pedal saw off any possibility of nuance. I'm sure there is a place for this sort of Beethoven, although when I expressed that view to my neighbour in the interval, her response was 'Perhaps, but it is not here'.

The Mahler was given a much more satisfying performance. This was my first encounter with conductor Yannick Nézet-Séguin, although I had heard plenty of hype about him when he appeared on the London scene a few years back, and I have to confess I was sceptical that he could live up to the billing. Well, I'm a convert: everything you've read – ok almost everything you've read – about him is true. He manages to combine the old-fashioned conducting virtues of detailed score study and clear baton technique with the fiery passion that characterises the many 30-something conductors who are doing the rounds at the moment. Just watching him conduct is an amazing experience. He really lives the music, and in the case of a Mahler symphony that means putting in an athletic performance. He seems to conduct with every available extremity: arms, head, body - you name it. But, crucially, he also gives a clear beat and never forgets a cue.
If there is a downside to this hyperactive lead from the podium, it is a slight tendency to over-control. The first two movements were given an electric reading, and there was never a moment to linger. But there are occasions when a bit of lingering is called for. Mahler carefully prepares each of his cataclysmic climaxes, and usually follows each with a passage of post-apocalyptic calm. But each time, Nézet-Séguin begins to look ahead as soon as the climax has passed. The valuable momentum and coherency is maintained, but at a cost.

The grand exception was the scherzo. Nézet-Séguin began it in typically frenetic fashion, conducting in three at a tempo that most conductors would be happy to lead in a one. So far, so dictatorial. But then came the pizzicato passage, and it opened up a whole new facet to Nézet-Séguin's Mahler. At last he was living for the moment, giving pregnant pauses between the phrases, gradually accelerating into phrases, and shaping everything with a real warmth.

The Adagietto was similarly well-judged. It started briskly but that was only a passing fad, and he kept the tempos satisfyingly elastic throughout. This was another case of intense control from the podium, but the fact the movement is scored for strings meant that he could treat the whole section as if it were written for a single instrument.

A rousing rendition of the finale finished the programme off. It came close to finishing the brass players off as well. They were the only section that showed any fatigue from their schedule of two Mahler symphonies in one week. There were one or two splits, but they also often had a course tone and poor balance. You really can't blame them though, considering the punishing schedule. So what's next for them? The Franck Symphony in D minor on Sunday! Somebody should call the union.

Gavin Dixon