Other Links
Editorial Board
UK

Editor

s

- Roger Jones and John Quinn

Editors for The Americas - Bruce Hodges and Jonathan Spencer Jones

European Editors - Bettina Mara and Jens F Laurson

Consulting Editor - Bill Kenny

Assistant Webmaster -Stan Metzger

Founder - Len Mullenger
Google Site Search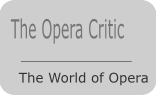 SEEN AND HEARD UK CONCERT REVIEW


J.S. Bach, Stravinsky, Dvořák
, Beethoven:
Lancashire Sinfonietta, Andrew Watkinson (director), The Minster, Preston, 18.3.2011 (MC)

J.S. Bach:
Brandenburg Concerto No.3 (c.1721)
Stravinsky
: Concerto in D major 'Basle' (1946)
Dvořák: Romance in F minor for violin and orchestra (1873-77)
Beethoven: Symphony No. 4 in B Flat major (1806)

There are awards for excellence given out in a whole range of fields. We have all heard of the famed Academy Awards, the supreme accolade in the film industry, and the Michelin Stars, which are given to the leading restaurants. If there was an excellence award for chamber orchestras, the Lancashire Sinfonietta would be a worthy recipient. Formed in 1996 and supported by Lancashire County Council, the Lancashire Sinfonietta comprises professional musicians who play for established orchestras such as the Hallé, Royal Liverpool Philharmonic, BBC Philharmonic, Orchestra Revolutionnaire et Romantique, Manchester Camerata and at least one player from the European Union Chamber Orchestra. It was pleasing that Sinfonietta director Andrew Watkinson gave a short spoken introduction before each work on the programme.

The evening began with a stirringly vibrant and tuneful performance of J.S. Bach's masterly Brandenburg Concerto No.3 for strings. With Watkinson's masterly direction from the violin the Sinfonietta created a remarkable spectrum of shades and colours.
A programme such as this featuring popular works from composers Bach, Beethoven and Dvořák can easily stand the inclusion of a lesser known and more challenging work. With the forces available I would have liked Schoenberg's Chamber Symphony No. 2 to have been given an outing. However, we heard another worthy score albeit still a relatively neglected one. Stravinsky's Concerto in D major for strings known as the ' Basle Concerto' was written in 1946 at the composer's Hollywood home. In this example of Stravinsky's neo-baroque style Watkinson held together a fine ensemble performance. I especially enjoyed the opening Vivace with its dark almost sinister atmosphere interwoven with only brief shafts of light. To conclude the suitably agitated Rondo: Allegro was gripped by an angry undercurrent.

Gloriously lyrical the Romance in F minor for violin and orchestra is a reworking by Dvořák of the Andante drawn from an abandoned string quartet. Strings, woodwind and a pair of horns comprise the scoring. Leader Andrew Watkinson made the most of his opportunity to shine in Dvořák's veritable crowd-pleaser. The appealing, warm tone of his violin carried the exuberant Bohemian folk rhythms magnificently to all corners of the Minster.

More gorgeous playing appeared in Beethoven's Symphony No. 4 in B Flat major - the feature work of the evening. Compared to its predecessor, the Symphony No. 3 'Eroica', this is a more modestly scored symphony placing it almost within the compass of Haydn or Mozart. Here the Sinfonietta gained a timpanist and two trumpets with the woodwind section now requiring only one flute. Wonderfully orchestrated and rich in tone colour, Watkinson lead the Sinfonietta in an account of this work that was both purposeful and assured. The opening movement was hard driven with considerable weight by Watkinson, and followed by a sense of overwhelming tenderness in the Adagio. A brisk and exhilaratingly played Scherzo led to a Finale of vibrancy underlying the humanity and high spirits of the movement. Throughout three principals stood out for their impressive playing and tone: Sarah Whewell on flute, the clarinettist Colin Blamey and especially the ravishing timbre of oboist Rachael Clegg. Tucked away at the back the pair of bassoons were rather overpowered and needed a touch more heft.

The ecclesiastical setting of Preston Minster proved a splendid backdrop for the Lancashire Sinfonietta's quest towards performing excellence and maximum audience enjoyment.

Michael Cookson