Other Links
Editorial Board
UK

Editor

s

- Roger Jones and John Quinn

Editors for The Americas - Bruce Hodges and Jonathan Spencer Jones

European Editors - Bettina Mara and Jens F Laurson

Consulting Editor - Bill Kenny

Assistant Webmaster -Stan Metzger

Founder - Len Mullenger
Google Site Search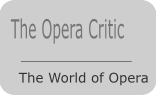 SEEN AND HEARD INTERNATIONAL CONCERT REVIEW


Liszt: Evgeny Kissin (piano), Carnegie Hall, New York City, 9.3.2011 (SSM)

Etudes d'exécution transcendante, S. 139, no. 9, "Ricordanza"
Sonata in B minor, S. 178

Funérailles from Harmonies poétiques et religieuses (second version), S. 173, No. 7

Vallée d'Obermann from Années de pèlerinage, première année: Suisse, S.160

Venezia e Napoli, S. 162
This recital by Evgeny Kissin is the same program as the one reviewed by my colleague Mark Berry on 13-2-2011 at the Barbican Hall, London.

It is an interesting and very different experience attending a recital by a charismatic virtuoso. A critic needs to pay special attention when judging the success or failure of a performance by a legendary soloist. One must be particularly careful not to get caught up in the audience's mass mentality yet still retain the ability to separate who the artist is from what the artist does. Those who dart up from their seats to clap, shout and cheer would do the same whether the artist played heavenly or atrociously.
I could not tell the exact demographics of the audience, but a quick glance showed considerably fewer white haired or balding men than at most performances in Carnegie Hall. While waiting at the entrance, a bus dropped off a class of young teenage students. This was not your usual classical music audience, but then again this was not your usual concert.

Before Kissin entered, the feeling of expectation was palpable. When he walked on stage, affectlessly bowed and began playing, three thoughts came into my head. My first was, "Here is living proof that Dorian Grey exists." How can someone look exactly the same at forty as he did at twelve, particularly someone who has borne the stresses of concert touring for the past twenty-five years? My second thought was, "Is he an automaton perfectly fine-tuned to play perfect music perfectly?" My third thought was, "Who cares?" The end result is that, while not the most Romantic, soul-searching performance of these works, it certainly was close to being the most accomplished, impeccable and peerless performance I have ever seen. Sit back and enjoy the ride.

And a ride it was. From the opening dolce, con grazia of the "Ricordanza" from the Etudes d'exécution transcendante to the final fff of the Tarantella from Venezia e Napoli, Kissin played impossibly difficult music as if all were as transparent as Liszt's relatively simple Consolations. Pianissimos were delicately played, yet clearly audible. Fiery chords at higher volumes were never muddled and always crystal clear. For such an amazing virtuoso, Kissin never postured, exaggerated or felt the need to display any kind of unnecessary showmanship. If there was one phrase to describe his playing it would be the oxymoron, "Classically Romantic": emphasizing form over emotion, in a way similar to how Arthur Rubinstein approached Chopin. Kissin was peerless in his ability to give shape to every part the music from the smallest phrase to the entire work.

Kissin's performance of the massive Sonata in B minor shared all these qualities. Compared to the emotionally raw and almost terrorizing performance by Martha Argerich when she was 19, Kissin's interpretation was indeed tame. But what Kissin did do was make sense out of a work that still baffles audiences today. When he came to repetitions of the major themes, they sounded natural, whereas in other performances, they often sound clichéd and bathetic, forerunners of the overblown and schmaltzy themes of Tchaikovsky. From the technical side Kissin was flawless, showing no signs at all of stress, stringing impossibly difficult chords through chromatic runs as if he were practicing scales.

Kissin couldn't quite overcome the inherent dreariness of the Funérailles from Harmonies poétiques et religieuses, though he made a valiant attempt. Liszt's most attractive music are those works where he attempts to write melodic lines in the style of Chopin, but except for a lovely theme that enters midway and the delicate, almost inaudible coda, the rest of Funérailles suffered from lack of imagination.

The Vallée d'Obermann from the Années de pèlerinage began as if it were a Chopin Nocturne, and Kissin was just as masterful in bringing out the musical lines in slow pieces as well as the more dramatic ones. After a short outburst, Kissin ended the piece as quietly as it began.

The final work on the program, Venezia e Napoli, contains three movements. The first a gentle, swaying song evoking the gondoliers of Venice was warmly played with Kissin creating wonderful tinkling sounds from the high end of the keyboard. The second movement, simply called Canzone, is a slight piece with a rather uninteresting melody supported by continuous tremolandos and ending with rolling sextuplets in the bass. It seemed to exist merely as a transition. The concluding movement is the same piece that Jean-Yves Thibaudet played to end his recital a month earlier. Whereas Thibaudet used this dance simply as a vehicle to dramatically conclude his concert with a bang, Kissin found substance as well, emphasizing the movement's song-like qualities, without skimping on the piece's showy virtuosity.

Those who came to this recital with the idea that Liszt must be played with romantic Weltschmerz may certainly have been disappointed, but for those without any preconceived ideas this was an evening to remember.

Stan Metzger