Other Links
Editorial Board
UK

Editor

s

- Roger Jones and John Quinn

Editors for The Americas - Bruce Hodges and Jonathan Spencer Jones

European Editors - Bettina Mara and Jens F Laurson

Consulting Editor - Bill Kenny

Assistant Webmaster -Stan Metzger

Founder - Len Mullenger
Google Site Search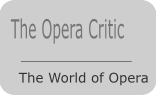 SEEN AND HEARD UK CONCERT REVIEW


Elgar, The Kingdom: Susan Gritton (soprano), Sarah Connolly (mezzo-soprano), Stuart Skelton (tenor), Iain Paterson (bass), London Symphony Chorus, London Symphony Orchestra, Sir Mark Elder (conductor). Barbican Hall, London, 30.1.2011 (MB)
The Kingdom is never likely to approach the popularity of The Dream of Gerontius; its subject matter militates against that – and I think, though dyed-in-the-wool Elgarians may beg to differ, that Newman's poem inspired Elgar to greater consistent heights. That said, there is magnificent music in the composer's successor to The Apostles; it is difficult to take issue with Michael Kennedy's assertion in his all-too-brief programme note that 'the choral writing is even finer than in the earlier work'. There is, moreover, something wonderfully English, even by Elgar's standards, to The Kingdom – though never, as in lesser contemporaries or successors, does it descend to the parochial. The way in which the musical language of the first part, 'The Upper Room', develops from that of a (very) superior Choral Evensong to something more akin to Parsifal is, I think, impossible to conceive of from another pen – or, at least, to conceive of coming off. Moreover, the sheer professionalism in terms of orchestration and choral writing is an object lesson to all who would take the time to study Elgar's writing.
It struck me with sadness during this exceptional performance from all concerned how unfashionable both the work's form and its concerns are today. Local choral societies are no longer the backbone of musical Britain that once they were, partly on account of gut-scraping fatwas issued against Handel performance that might violate narrow, bogus notions of 'authenticity'. An oratorio treating with Pentecost and its aftermath seems remote from the interests of many unless is either written by some newly-fashionable minor Baroque composer or part of some contemporary 'let's drag in as many world music drum beats and dance rhythms as possible "project". Even those who might have obvious interest in the subject matter, such as evangelical Christians, tend to reject great or even passable music in favour of sanctimonious imitation pop songs with strummed guitar accompaniment. However, for all his hard-won Establishment credentials, Elgar always remained to a certain extent an outsider, so the predicament is not entirely new.
If anything would win converts, like Christ's Apostles, it would be a performance such as this under Sir Mark Elder. The urgency of the opening to the Jerusalem Prelude, impossible without the crack response of the LSO, initiated a dramatic tension that would be maintained when the tempo broadened. It is almost impossible to speak of Elgar's music without introducing the word 'nobility', so I might as well give up the attempt; here was nobility in spades, but with an edge to the performance that marked it as being of our time as opposed to that of earlier interpreters such as Sir Adrian Boult. Orchestral virtuosity was on show on numerous occasions, none more memorable than the 'rushing of a mighty wind'. The famed LSO brass section was at its very best, but if the truth be told, there was not a single weak moment so far as the orchestra was concerned. Elder paced all five parts extremely well, with a careful, musical ear for balance, always reciprocated by his musicians, as for instance during the ravishing solo passages of the fourth part.
The soloists were very fine too. Susan Gritton was a late substitute for Cheryl Barker, who had succumbed to a chest infection; one would never have guessed. Gritton's aria, 'The sun goeth down,' combined the delicate and the ardent to a degree. Sarah Connolly was equally impressive, ever attentive to words and musical line – and, most importantly, their combination. It was perhaps especially apt, given Elgar's adoration of Wagner in general and Parsifal in particular, that the two male soloists should be the Parsifal and Amfortas from ENO's forthcoming production. Iain Paterson sounded much more at home as oratorio soloist than as ENO's miscast Don Giovanni (though that had been arguably the least of that production's problems); again, the attentive quality of his performance impressed. And given that Stuart Skelton had also fallen victim to a chest infection, his was a highly creditable performance indeed. One felt for him, visibly struggling, but the voice was there for the most part and the emotional integrity certainly was. Fingers should be crossed for a swift recovery, since singing Parsifal in such a condition does not bear thinking about.
Perhaps the evening's greatest star, however, was the London Symphony Chorus. How fortunate we are at the moment in London with respect to choral singing. Only the night before, the London Philharmonic Choir had stolen the show in Das klagende Lied; the LSC proved every inch its equal. It is, let us give thanks, not a competition. The unanimity of attack – and this goes for the orchestra too – was of a level one might expect from an excellent recording, but was here married to the electricity of a first-class live performance. Choruses such 'O ye priests!' at the end of the first part sounded utterly glorious. The verve and spirit with which we heard, 'Lord, behold their threatenings,' recalled an age in which Handel too might have been sung with such commitment. We have lost a great deal, but not everything.

Mark Berry
Review of Sir Mark Elder's recording of The Kingdom