Other Links
Editorial Board
UK

Editor

s

- Roger Jones and John Quinn

Editors for The Americas - Bruce Hodges and Jonathan Spencer Jones

European Editors - Bettina Mara and Jens F Laurson

Consulting Editor - Bill Kenny

Assistant Webmaster -Stan Metzger

Founder - Len Mullenger
Google Site Search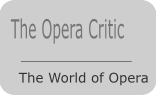 SEEN AND HEARD INTERNATIONAL CONCERT REVIEW

Mozart and R. Strauss: Anja Harteros, soprano. Conductor: Donald Runnicles, Orchester Deutsche Oper Berlin. 4. 2.2011 (JMI)
This concert had an unexpected surprise, consisting in the presence of a moderator, whom I thought before hand will be responsible for some kind of pre-concert talk. Nothing further from the truth. Such moderator almost became the protagonist of the concert.

Mrs. Kirsten Harms, artistic director to the Deutsche Oper, came onto the stage to announce that we were going to have an experiment. She went on to introduce not soprano Anja Harteros, due to sing bits of Mozart and Strauss. Or conductor Donald Runnicles, about to conduct the Orchestra of the Deutsche Oper Berlin, but Dr. Eckart Von Hirschhausen, a Medical Doctor-cum-comedian. The Doctor chatted with Kirsten Harms, then offered a monologue about music (all accompanied by video projections) and eventually got around to introducing Donald Runnicles, chatting him up, too. All this seemed to amuse the audience very much. So much, he was back for the second half of the concert and now held a talk with Mr. Runnicles and Anja Harteros, and appeared again before the last part of the program to offer another monologue and more funny images. Those were surely 40 minutes well spent for anyone endowed with proper German and the right sense of humor, but for foreign ears unaccustomed to German beyond what can be found in the average Rosenkavalier libretto, these 40 minutes seemed entirely too long.

The programme consisted of Mozart's Symphony 41 (Jupiter) in the first part, giving way in the second part to Anja Harteros, who sang the scene of the first act of Arabella "Mein Elemer" and the Countess monologue that closes Capriccio by Richard Strauss. In the middle we had "Tod und Verklärung", i.e. "Death and Transfiguration" by Richard Strauss.

Anja Harteros was the best part of the concert. She shone in Arabella, her interpretation of the monologue of the Countess having been made of the stuff you can expect an outstanding singer to deliver: A beautiful voice, powerful and superbly projected, with enormously impressive breath control, she knew how to convince and move the audience through her unequalled interpretation.

I was less keen on Donald Runnicles' interpretation of the Jupiter Symphony, which fell rather short of lightness and delicacy. Richard Strauss fared much better, proving both he and the Orchestra of the Deutsche Oper a great familiarity with the idiom. Best of all "Death and Transfiguration" and the end of Capriccio which would have made the trip to Berlin worthwhile just on their account alone.


José Mª Irurzun