Other Links
Editorial Board
UK

Editor

s

- Roger Jones and John Quinn

Editors for The Americas - Bruce Hodges and Jonathan Spencer Jones

European Editors - Bettina Mara and Jens F Laurson

Consulting Editor - Bill Kenny

Assistant Webmaster -Stan Metzger

Founder - Len Mullenger
Google Site Search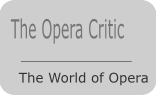 SEEN AND HEARD UK CONCERT REVIEW


R Strauss, Ravel - 2nd Opinion: Hélène Grimaud (piano), Samuel West (reciter), London Symphony Orchestra, Daniel Harding (conductor). Barbican Hall, London 10.02.2011 (JFL)

Richard Strauss: Don Juan, Also Sprach Zarathustra,
Ravel: Piano Concerto
Richard Strauss' Don Juan is a wonderful little firecracker to get a concert started, with the dry timpani whacks hitting you in the face and the xylophone ringing clear and loud as if the executing percussionist sat on my seat-neighbor's lap, not diagonally across from me at the very back of the Barbican Concert Hall. That's where Daniel Harding conducted this tone poem as an orchestral exercise in the spectacular, not a lingering and luscious take. Favoring effects over flavor is a perfectly legitimate choice of course, and taken as just that, Harding's Don Juan succeeded unreservedly. And when it came time to wax lyrically, his players—the oboe above all—did that famously, too.
Helene Grimaud is wonderful to hear in Ravel's Piano Concerto; all classical lightness one moment, Gershwinesque brusqueness the next, and always coy, never too serious. There's much to admire in that level-headed playing of hers, which has never disappointed me yet (though admittedly never thrilled me, either). Similarly I admire that she does not succumb to sentimentality even in the perfectly sentimental solo opening of the slow movements—one of the highlights of the 20th century concerto literature except when milked too heavily. The LSO played along with robust eagerness, car-horn-honking its way to the happy conclusion like a gaggle of excited motorists.
Also Spoke Zarathustra—more Richard Strauss—began with a recitation of Nietzsche's introductory words from his famous, famously misunderstood tome. Between the stodgy translation (not Walter Kaufmann's, I reckon) and the preachy and ceremonial delivery, this was extraordinarily off-putting. If anyone actually bothered listening, they were treated to that all-too-common gross, cartoonish misrepresentation of Nietzsche that makes him to be all melodramatic bloviator instead of quick-witted Dionysian. Luckily all that was forgotten as soon as the double basses started scrubbing away at their instruments sonorously and with impressive vigo.
It's really a feast for the ears to be treated to this grand (possibly great) work in a concert performance. Engulfed completely in sound (M21 being the seat in this particular case), the body throws overboard all resistances and allows the waves of music to take you in completely and (in the moment) uncritically. The critical ears might have been pricked, on this occasion, by the directionless stammering double bass and cello episode, or a subsequent trumpet howler, but even that would not have lasted for long since Strauss proceeds to fire up the Quattro a few more times.
I don't care much more for the pretentious silence forced on audiences by conductors that will retain their arms in the air for leaden seconds after the last notes have gone than I do for the eager early clappers… but I suppose one has to do with living in the best of all possible, not a perfect, world, where an awe-some ending receives a reverent, if the quiet is neither spontaneous nor voluntary. An added irony, that voluntary silence still works after fire-cracker endings of first movements, when the composers most decided did want applause instead of awkward coughing. jfl