Other Links
Editorial Board
UK

Editor

s

- Roger Jones and John Quinn

Editors for The Americas - Bruce Hodges and Jonathan Spencer Jones

European Editors - Bettina Mara and Jens F Laurson

Consulting Editor - Bill Kenny

Assistant Webmaster -Stan Metzger

Founder - Len Mullenger
Google Site Search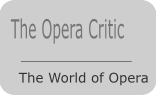 SEEN AND HEARD UK CONCERT REVIEW


'Mozart – Past, Present, and Future': Kenneth Hamilton (piano), Hall One, Kings Place, London, 21.1.2011 (MB)
Mozart – Suite, KV 399/385i
Gigue, KV 575
Mozart-Busoni – Piano Concerto no.9 in E-flat major, KV 271: Andantino, BV B 84
Mozart – Variations on Gluck's 'Unser dummer Pöbel meint' ('Les hommes pieusement,' from La rencontre imprévue), KV 455
Fantasia in C minor, KV 475
Mozart-Alkan – Piano Concerto no.20 in D minor, KV 466
This was a fascinating programme: a view of Mozart's piano music as performance, looking backwards to his re-imagining the Baroque keyboard suite, turning to one of his 'presents' as composer-improviser, and looking forward to transcriptions by Busoni and Alkan. Kenneth Hamilton said that he had been able to find no record of any previous performance of Alkan's transcription of the D minor Piano Concerto, so it may even have been a première of at least some variety. That strikes me as unlikely, not least since there is a performance of the end of the first movement (i.e., the lead up to the cadenza, the cadenza itself, and the coda) on YouTube, but who knows? (If you do, I should be grateful for the enlightenment.) The only problem was that, unfortunately, Hamilton's performances often failed to match the intrinsic interest of the programme.

The Suite's Overture set a pattern for much of what was to come: brusque, too fast, forward-looking premonitions of Beethoven (op.13) counting for nothing. Lacking in neo-Handelian grandeur, it went equally without a Mozartian sense of melodic profusion. None of this music was granted any space to breathe; counterpoint merely sounded garbled. The Allemande was better, less unyielding, though my taste would be for something freer, with greater dynamic contrast: Mozart's re-imagination seems to call for something more re-imagined by the performer too. By contrast, the ensuing Courante emerged charmless and heavy-handed. The Sarabande fragment tantalised and led immediately into the extraordinary twelve-note anticipations of the Gigue, KV 575, which again, sadly, sounded heavy-handed; it needs a fine player of Bach and Schoenberg. As I can testify from personal experience, it is very difficult indeed to bring off in performance. Its emergence from the Sarabande, moreover, seemed a better idea on paper than in practice, since one can hardly fail to hear its G major tonality as 'wrong'.
Busoni's transcription of the slow movement from the Ninth Piano Concerto puzzled, or rather Hamilton's performance did. Surely hyphenated Mozart in particular should be performed in more yielding fashion, yet much of what we heard was not only too fast and unvaried but just plain loud. I could not help but wonder what Daniel Barenboim, a great Mozartian and a Busoni advocate, might make of the transcription, but that mental digression offered scant comfort. Later on, some of the deeper orchestral sonorities came off better, but the insensitivity inflicted upon Mozart's sighing vocal phrases – this is a great aria or it is nothing – had to be heard to be believed. The C minor Fantasia received a considerably preferable performance, especially in its outer sections. Hamilton showed that he was capable of playing with far greater sensitivity, which made one wonder what on earth he had been playing at earlier on. There was even a real sense of improvisatory freedom at the beginning, though greater flexibility within the overarching structure would not have gone amiss. However, some of the central sections reverted to unsmiling brusqueness.
As the final piece in the first half, we heard the Variations on 'Unser dummer Pöbel meint'. Hamilton prefaced them with his own brief piano introduction: it did no harm, but I am not convinced it did any good either. He stated that the purpose of such variations was to entertain; in which case, why so unsmiling, hard-driven a performance? The harshness of the Steinway as heard here would have given untold ammunition to 'period' fanatics; we stood worlds away from, say, Barenboim's recording. For much of the rendition, it felt as though a metronome was ticking – and too fast at that. Then sudden 'freedom' sounded arbitrary and mannered.
The second half was devoted to the aforementioned Alkan transcription. Like much of what had gone before, the opening orchestral tutti sounded four-square, every bar-line all too audible. As time went on, the first movement displayed a little more light and shade, but I confess that, had I not known, I should have experienced grave difficulty in distinguishing between solo and tutti. There were also a few very obvious slips, more glaring than their occasional counterparts earlier on. Nevertheless, something of a Romantic sensibility was conveyed, at least intermittently. Alkan's cadenza was probably the most interesting part, though, its Romantic outgrowth into the 'wrong-key' Jupiter Symphony passage and much else besides; someone should play this in a performance of the 'real thing'. (Listen to and watch the YouTube clip, which sounds considerably clearer than Hamilton's performance, and offers a score.) The coda subsided rather impressively. Tutti richness replaced woodwind balm in the slow movement: fair enough, for there was from composer and pianist a real sense of re-creation here. The performance, moreover, was much less hard-driven. Whether the plentiful ornamentation was Alkan's or Hamilton's I do not know, though I suspect the latter. Following the success of that movement, I was dismayed by the dogged tempo and gritted-teeth, relentless quality with which the finale was despatched. Alkan's 'extemporisation' is wonderfully bizarre though, sounding almost drug-induced. Sadly, the turn to D major proved utterly charmless in performance, lacking any sense of new, heavenly vistas, or even a chink in the wall.
The encore, Busoni's 'Variations-Studie nach Mozart' from his Klavierübung, was well chosen but disappointingly played. Hamilton described it as charming: yes, it should be, but not when delivered in so heavy-handed, non- or even anti-vocal a fashion. This is, after all, a transcription of Don Giovanni's serenade, which Egon Petri would offer as an encore. The great pity is that a performance such as this might well lead listeners to reflect that such re-imaginations are not worth hearing, when nothing could be further from the truth.
Mark Berry