Other Links
Editorial Board
UK

Editor

s

- Roger Jones and John Quinn

Editors for The Americas - Bruce Hodges and Jonathan Spencer Jones

European Editors - Bettina Mara and Jens F Laurson

Consulting Editor - Bill Kenny

Assistant Webmaster -Stan Metzger

Founder - Len Mullenger
Google Site Search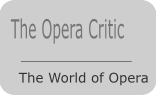 SEEN AND HEARD UK CONCERT REVIEW


Lutoslawski, Beethoven:
Hagen Quartet, Wigmore Hall, London, 16.3.2011 (GD)

Lutoslawski:
String Quartet (1964)
Beethoven: String Quartet in C sharp minor Op. 131

In the String Quartet (1964) Lutoslawski both incorporates and goes well beyond the string quartets of Bartok and Shotakovich. In its economy of form it echoes these quartet examples; and for all its innovations in texture, its complex pizzicato constellations, chromatic ostinatos, extended glissandi etc, it follows a distinct narrative with a haunting coda which corresponds with the opening muted fragmentary phrase on solo violin - a kind of fractured aria. The Hagen Quartet realised every facet of this 'difficult' score with amazing musical empathy, both in the intricate detail of its instrumental parts, and its overall structural design. This dialectic between intricate part writing and overall structure is particularly telling in this work. Lutoslawski projects each part of the quartet not in the standard logic of ensemble dialogue, but in such a way that each player does not know what the other is playing, has played, or is going to play. Conventional musical logic would suggest that this deconstruction of ensemble dialogue would produce musical chaos., but Lutoslawski's point is that if each player follows his or her cue, which interconects with the other parts, everything will come together. And so it did, with astounding musical conviction tonight.

This technique produces some amazingly innovative musical effects, beyond anything attempted by Bartok or Shostakovich; the mid-section 'Appassionato' juxtaposing jagged leaps and gyrations between first violin and cello, the heavily accented, sudden double-stops in all four parts; and the disparate, hauntingly detached, prismatic musical contellations, which initiate the penultimate pianissimo chorale section, marked 'Funèbre'. The coda itself, which echoes the fractured hesitancy of the work's opening phrases, was exquisitely contoured by the Hagen Quartet. The measured, but fragmented, glissandos on viola and cello at the beginning of the coda took me into another world - Lutoslawski's world. I really can't imagine this unique music being played with more conviction.

The Hagen' Quartet made an excellent recording of Beethoven's Op. 131 in 1996. I still play it as one of the finest (probably 'the' finest) modern recorded renditions of this protean classic.Of course in the course of 15 years musicians change, modify their interpretations. Tonight the Hagen' s interpretation overall was in line with that superb recorded performance. But there were some striking differences. One of the reasons I thought the earlier recording to be of such high quality was quite apparent in the all important opening fugue, marked 'Adagio ma non troppo e molto expressivo'. In the recording they demonstrated their superb musicianship by taking the 'adagio' at quite a slow pace - but never slow in the sense of exceeding the important 'ma non troppo' marking. This was an example of meticulous and concentrated timing; in more basic terms the movement never dragged. Tonight they emphasised the molto expressivo more and chose a slightly slower tempo which to my ears did drag. ever so slightly. I go into some detail here as the this opening fugue provides the tonal summation of the work as a whole. So it is vital that this movement coheres well with, and is structured with and around the opposing poles (C sharp minor and D major). Here it is typical of Beethoven's genius that the work's tonal structure does not follow a linear tonal narrative, but a discontinuous and juxtaposed tonal scheme between the above mentioned polar tonal registers.

All the tonal diversity of the following four movements, with registers as remote from each other as B minor and E major, were convincingly voiced. The brief and fragmented third movement, with its quasi-operatic aria recitative tone, was given an improvisatory tone that was entirely convincing. The fourth movement's unbroken variation form sustained itself well with a feeling of tempo flexibility which always maintained an inner coherence. The last adagio non troppo e semplice variation was played in a much more expressive manner than in the earlier mentioned recording. It was on the slow side and I am not sure how it would sound on repeated hearings, but tonight the Hagens won the day through their sheer musicality and conviction.

The presto scherzo was as mercurial and rhythmically 'alive' as one could wish for. The brief but trenchant G sharp minor adagio made a wonderful contrast to the preceding scherzo, while at the same time anticipating the return to C sharp minor of the bi-thematic finale. Everything in this final was made to register with consummate clarity and musicality. The intensity of the two subjects, the dialectics of sonata form, found their 'identity in opposites' in a way I have rarely heard, either in actual performance or on record. The finale peroration and the abruptly powerful coda had about them that ring of completeness that befits one of the tersest and most dramatic codas in all classical music.

At their best the Hagen Quartet has the rare ability to project each player's musical individuality, while at the same time always coming together as a superbly unified ensemble. All this was vividly evident tonight in a musical experience I shall remember for a very long time.
Geoff Diggines.