Other Links
Editorial Board
UK

Editor

s

- Roger Jones and John Quinn

Editors for The Americas - Bruce Hodges and Jonathan Spencer Jones

European Editors - Bettina Mara and Jens F Laurson

Consulting Editor - Bill Kenny

Assistant Webmaster -Stan Metzger

Founder - Len Mullenger
Google Site Search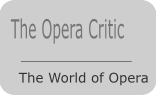 SEEN AND HEARD UK CONCERT REVIEW


R Strauss, Ravel: Hélène Grimaud (piano), Samuel West (reciter), London Symphony Orchestra, Daniel Harding (conductor). Barbican Hall, London 10.2.2011 (KC)

Strauss: Don Juan 'Tone Poem after Nicolaus Lenau' Op. 20
Ravel: Piano Concerto in G
Strauss: Also Sprach Zarathustra Op. 30

'Don Juan' disappointed. It sounded less than adequately rehearsed. The piece has its difficulties, true enough – it shows the panache of a gifted composer in his early twenties, aiming to make his mark; the panache of an emerging composer, writing his first tone poem (virtually a new format) and the panache of a master of orchestral sound showing his paces, blazingly.

The performance, though, sounded lucid but uninvolved – the orchestra played the notes busily, keener on exactitude than excitement or drama. The challenge in the horns' opening was lacklustre; the flamboyantly abrupt ending sounded inconsequential. The sections in between were lucidly demarcated, but, for the most part, were busily performed yet emotionally uninvolved.

'Also Sprach Zarathustra' was different altogether. Following Samuel West's rather anonymous reading of the 'prologue', the opening sunrise was spectacular, shining with resplendent command. The strings found the volume and bow pressure to sound rich and luscious, in despite of the Barbican Hall's dry acoustics. The power of the mighty climaxes was thrilling; they were well prepared and rang out gloriously. The horns blazoned from time to time - outshone, though, by the tubas' sweet melody and the timpanist's thwack. Flutes, oboes and clarinets were exemplary. The ending had effect, being decisive and resonant.

After a weak, almost hesitant start - instead of the aggressive, assertive whipcrack required – the LSO swung into clear, precise vigour for Ravel. The concerto came over with exact, cool passion and elegant dash – inappropriate for 'Don Juan' but bang on the nail here. Hélène Grimaud has been playing the concerto for decades. Her performance is still amazingly vital and fresh. She clearly relishes the work's flamboyance and quirkiness, while enjoying the ease of her own command of its technical difficulties. I enjoyed seeing, as well as hearing, syncopations from her right hand being played simultaneously with romantic melody in her left. She is expert and catching in the jazziness of the two outer movements. Her adagio assai catches the heart; its limpid, classical sincerity, enhanced by the very slightest catches of breath, was all her own. Did Ravel have his tongue in his cheek? Possibly. Grimaud didn't. Bully for her.

Ken Carter

Ken Carter took up reviewing concerts in 2003 as a treat for having retired. He plays his Bluthner occasionally - and regrets having dropped the cello. Old enough to have seen and heard Wilhelm Furtwangler and Kathleen Ferrier live, he is nevertheless young enough to delight in the vital, living musicianship of artists such as Vadim Repin, Leif Segerstam and Alina Ibragimova.