Other Links
Editorial Board
UK

Editor

s

- Roger Jones and John Quinn

Editors for The Americas - Bruce Hodges and Jonathan Spencer Jones

European Editors - Bettina Mara and Jens F Laurson

Consulting Editor - Bill Kenny

Assistant Webmaster -Stan Metzger

Founder - Len Mullenger
Google Site Search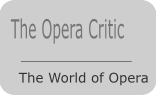 SEEN AND HEARD UK CONCERT REVIEW

Thomas Adès, Dvořák, Tchaikovsky: Sophia Jaffé (violin), Hallé Orchestra/Sir Mark Elder (conductor); Bridgewater Hall, Manchester, 17. 2.2011 (MC)
Thomas Adès: Three Dances from Powder Her Face
Dvořák: Violin Concerto in A minor, Op. 53
Tchaikovsky: Symphony No.6 in B minor, Op. 74 'Pathétique'
The programme seemed like something old, something new, something disappointing and something of a surprise too. Thomas Adès, one of the foremost contemporary composers, provided the something new with the Three Dances fashioned from his controversial 1995 opera Powder Her Face. As a curtain raiser the Three Dances didn't disappoint with Adès's distinctive sound world providing a rich and multilayered orchestral feast which suited the Hallé to a tee. Feeling at times like a concerto for orchestra Adès cleverly, if rather fleetingly, revealed the foxtrot; waltz and tango.

Don't worry; the something disappointing was nothing to do with the playing. It was the news that violinist Valeriy Sokolov who was to perform Bruch's Scottish Fantasy had pulled out; with a cut finger I believe. The something of a surprise was to discover that Sophia Jaffé, who has played with the Hallé Orchestra at the Bridgewater before, was the short notice replacement. Jaffé's endearing performance enabled me to reassess Dvořák's too easily overlooked and underrated Violin Concerto. I too had somewhat undervalued the appeal of the Brahms influenced score, especially the memorability of the melodies that Jaffé underlined so delightfully. With the concerto's song-like qualities the polished Berlin born soloist impressed with her smooth playing and sweet timbre. The carefree Finale with its conspicuous Slavonic themes was a joy.
The something old was Tchaikovsky's Symphony No.6 in B minor, 'Pathétique' - the centrepiece of the concert. A work that has had as much written about the circumstances of its composition and possible secret undertones as the actual music itself. Not one to shrink away from the emotional excesses of Tchaikovsky's writing, Sir Mark ensured there was too much pent up energy and anguished foreboding for the interpretation to become syrupy. The vivid richness of the dark colouration of the opening movement was captured brilliantly. Whipping up a storm the orchestral climax was explosive. In the Allegro con grazia one could easily imagine being transported to Moscow for a Bolshoi ballet production of The Nutcracker such was the impression of the dance. Everything was held together assuredly amid the bustling activity of the Allegro molto vivace dominated by the boisterous and often acerbic march. With heightened intensity the severity of the inconsolable torment of the Finale was taken to a level rarely achieved.
Only those with a heart of stone would not have been moved by this dramatically intense reading. Clearly Sir Mark Elder is inspiring the Hallé to great heights and this performance of Tchaikovsky's 'Pathétique' was sensational. All witnessed by a pleasingly large Bridgewater audience.

Michael Cookson