Other Links
Editorial Board
UK

Editor

s

- Roger Jones and John Quinn

Editors for The Americas - Bruce Hodges and Jonathan Spencer Jones

European Editors - Bettina Mara and Jens F Laurson

Consulting Editor - Bill Kenny

Assistant Webmaster -Stan Metzger

Founder - Len Mullenger
Google Site Search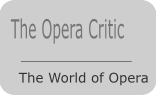 SEEN AND HEARD UK CONCERT REVIEW


Laurence Crane 50th Birthday Concert: Plus-Minus. King's Place, London, 21.2.2011 (BBr)
Laurence Crane: Come back to the old specimen cabinet John Vigani, John Vigani, part 3 (2007)
Piano Piece No.23, Ethiopian Distance Runners (2009)
Weirdi (1992)
Octet (2008)
It seems incredible that it must be about 25 years since I first heard Laurence Crane's music and met the man himself. Like many composers he gave concerts at the British Music Information Centre, when Roger Wright was the manager and he was encouraging performers to appear and give concerts of British music. Composers as varied as Richard Arnell, Rachel Portman and Hugh Wood, not to mention Crane, Patrick Morris and the Fitkin brothers, all received premières or second performances at the BMIC. What a venue, and what a loss to contemporary British music. Laurence gave many recitals of his piano pieces there and he found an audience which has followed him ever since.
Tonight's show, by the Anglo-Belgian ensemble, Plus-Minus, gave us three recent pieces and one old friend, and what an interesting collection of works it was. Weirdi is a set of five songs, to Crane's own surreal and anecdotal texts, for soprano, with clarinet, cello and piano. He muses on the Wigmore Hall:
The Hall is good,
It's made of wood
or on seeing Alexander Balanecu in Safeways buying organic broccoli, Red Leicester and Norwegian Jarlsberg! Like Frank Zappa, Crane takes unusual words and marries them to easily assimilated music, creating a rather clever musical conceit. Juliet Fraser sang the songs with an admirable clarity of diction, a beautiful sense of line and an almost total lack of vibrato.
The other three works were obviously from the same composer but they displayed a more mature voice – over the years although Crane's style has remained constant it has grown and has become richer. After hearing part 3 of Come back to the old specimen cabinet John Vigani, John Vigani, I was saddened that we weren't given the complete work for here was music which made a virtue of pure sound and the fact that less is more. The work is written for solo cello, with eight musicians undertaking a variety of tasks such as singing, banging stones together, tearing paper, playing kazoos and rubbing tin cans. In seven short movements Crane has created a suite of fascinating sounds, which were, in general, slow and filled with mystery and loneliness.
Crane's piano works are all miniatures – and many of them have been recorded by Michael Finnissy (Metier Sound & Vision MSV28506) – but Piano Piece No.23, Ethiopian Distance Runners is his first long work for his own instrument. Playing for about 22 minutes it is a slow, quiet, work, where the argument unfolds gradually. It's the most Morton Feldman–like piece from this composer I have ever heard, but this music doesn't remotely sound like Feldman, merely the processes are familiar from the American composer.
The show ended with Octet which was created for Plus-Minus, and is scored for the intriguing combination of violin, cello, electric guitar, clarinet and bass clarinet, accordion, electric organ and piano and sound file playback and homemade percussion. This is an enigmatic and hypnotic piece, where slow moving harmonies join with a rich harmonic palette to make this one of Crane's most satisfying works.
The performances were first rate, Plus-Minus did Crane proud, and this was a concert which was a timely reminder of the strengths of Crane's not inconsiderable art. The show was recorded by BBC Radio 3 for future broadcast, don't miss it!
Bob Briggs