Other Links
Editorial Board
UK

Editor

s

- Roger Jones and John Quinn

Editors for The Americas - Bruce Hodges and Jonathan Spencer Jones

European Editors - Bettina Mara and Jens F Laurson

Consulting Editor - Bill Kenny

Assistant Webmaster -Stan Metzger

Founder - Len Mullenger
Google Site Search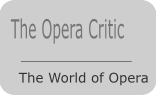 SEEN AND HEARD INTERNATIONAL CONCERT REVIEW

Beethoven and Ott: Chiara Quartet, Meany Hall, Seattle, 8.2.2011 (BJ)
The best playing in this ambitiously programmed concert of chamber music came in its last quarter of an hour. The original finale of Beethoven's B-flat-major Quartet, Op. 130, the Grosse Fuge, is a severe technical test for performers—and no cakewalk for listeners either—so Beethoven eventually agreed to replace it with a much more amiable and unproblematic movement. On this occasion, however, the youthful but already widely admired Chiara Quartet, currently celebrating its 10th anniversary, chose to follow what is becoming an increasingly common practice by playing Opus 130 in its original version ending with that craggy fugue.

The result was nothing less than a triumph. I have heard very few performances of the Grosse Fuge that avoid moments, or even long stretches, of scratchy and frankly disagreeable tone, but this quartet's members—violinists Rebecca Fischer and Julie Hye-Yung Yoon, violist Jonah Sirota, and cellist Gregory Beaver, cello—achieved the remarkable feat of making it sound, if not exactly easy to play, at least thoroughly feasible for the instruments and approachable for the audience.
The especially interesting thing about this was that, for this listener at least, it threw a fresh and revealing light on the B-flat-major Quartet as a whole. From the very start of the first movement, with its frequent abrupt changes of tempo and switches from one thematic fragment to another, this is music that seems to be an unremitting search for solid ground. The whirlwind Presto scherzo that stands second and the supposedly slow but "Poco scherzoso" movement that follows it both go to support this impression, and the seemingly innocent "Alla danza tedesca" fourth movement enters into the same quest with its vertiginous dynamic hairpins. In this scenario, the profoundly contemplative fifth movement, the Cavatina with its "Adagio molto espressivo" indication, marks the first time the work has attained any degree of real solidity–and the Grosse Fuge that concludes the quartet in Beethoven's original conception can then be heard as the true consummation of the entire process.
And interesting again was the way the Chiara Quartet's style of playing reinforced the picture. The musicians' approach is texturally analytical to an unusually high degree. This is to say that the ensemble pays less attention than is usual to top-line melody or firmly grounded bass, and considerably more to the intricacies of inner-part polyphony. It's an approach that has drawbacks as well as advantages. The method suits Opus 130, and the Grosse Fuge in particular, to perfection. I found it less satisfying in the evening's opening work, the much earlier B-flat-major Quartet Op. 18 No. 6, where the melodic line could often have benefitted from clearer emphasis (and where, moreover, omitting the second-half repeat seriously impairs the proportions of the first movement).

Still, the Chiara's bold refusal to compromise on tempo choice yielded amply zestful results in this work too, and the same may be said for the world premiere performance of Daniel Ott's String Quartet No. 2 that ended the concert's first half. Ott, who was born in Neptune City, New Jersey, 35 years ago, studied with Ned Rorem at the Curtis Institute in Philadelphia and then with John Corigliano and Robert Beaser at New York's Juilliard School, where he now teaches. This quartet, the first music of his that I have heard, is a work of considerable artistic seriousness, embracing memorial references to bereavements suffered by two earlier composers, Liszt and Mahler. It would, I think, be beside the point to draw attention to the work's lack of any striking melodic gift, for this is music of gesture rather than melody. Much of it consists of alternations between rapid, almost motoric figurations and long-held notes in slow tempo. Through these means, it establishes an atmosphere clearly its own. The Chiara players responded with equal fervor to the work's contrasted elements, and their performance made a strong impact on the audience.

Bernard Jacobson