Other Links
Editorial Board
UK

Editor

s

- Roger Jones and John Quinn

Editors for The Americas - Bruce Hodges and Jonathan Spencer Jones

European Editors - Bettina Mara and Jens F Laurson

Consulting Editor - Bill Kenny

Assistant Webmaster -Stan Metzger

Founder - Len Mullenger
Google Site Search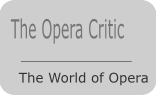 SEEN AND HEARD UK CONCERT REVIEW


A Brett Dean Day: Doric String Quartet, Adam Walker (flute), Brett Dean (viola), Karen Cargill (mezzo-soprano), Jack Liebeck (violin), Christopher Murray (cello), Enno Senft (double bass), Piers Lane (piano), Gary Pomeroy (viola), Matthew Hunt (clarinet), Richard Watkins (horn), Heath Quartet, Sam Walton (percussion). Wigmore Hall, London. 19.2.2011 (Gdn)

Brett Dean
Eclipse (for string quartet)
Demons (for solo flute)
Epitaphs (for string quintet)
The Homage Etudes (for solo piano)
Poems and Prayers (for mezzo-soprano and piano)
Voices of Angels (for violin, viola, cello, double bass and piano)
Recollections (for mixed ensemble)
Intimate Decisions (for solo viola)
Clara Schumann
Drei Romanzen Op. 21
Romance in A minor Op. posth.

Brahms
String Quintet in G Op. 111
The final work in the programme for this day dedicated to the music of Brett Dean was the Brahms Op.111 String Quintet. That was an interesting choice on a number of levels. It is fashionable these days for composers to claim they dislike Brahms. Steve Reich is quoted in this month's Gramophone Magazine as saying that he never wants to hear another note of it. Back in the 80s, Ligeti was commissioned to write a horn trio to commemorate Brahms' 150th anniversary. He accepted the commission, but made it very clear to everybody involved that the instrumentation was all that he was going to share with his predecessor.
Brett Dean enjoys a healthier relationship with the last great master of chamber music. The most obvious connection is the propensity for lower strings; Brahms was possibly the first to demonstrate that you could add a viola, or a cello, or even both, to a string quartet and still write buoyant, energetic music. Brahms was also a great believer in large-scale chamber music, long works in multiple movements, and with plenty of drama along the way. Lastly, and most importantly, Brahms was a composer for whom the craft of composition really mattered; he had the skill to craft near-perfect chamber works, and he always strove for perfection, creating scores that clearly demonstrate the amount of time and labour that have gone into them.
Brett Dean has an enviable reputation in the UK, but until now it has rested largely on his orchestral music (and latterly on his opera that London audiences are yearning for), so to hear a day of chamber music from him is a revelation. And, like Brahms, he is a composer of real chamber music. Almost all of the works we heard today are long, dramatic and in multiple movements. They are also as beautifully crafted as anything from 19th century chamber music. I don't want to suggest that Dean's music sounds old fashioned; it doesn't, but its qualities are traditional musical qualities, and the scope and emotional engagement of his musical discourse are essentially Romantic.
That said, there is no tonality here; pitch centres sometimes appear as structurally significant starting points or goals. Linearity plays a crucial role in his textures, but he rarely produces anything you would call a melody. Aesthetically, the most traditional aspect of his music is its continuity. He builds up to climaxes, he writes long, usually pianissimo, codas – the structures are not necessarily traditional, but at any given point the music takes its structural responsibilities seriously. Most other contemporary composition sounds scatological by comparison.
The other important feature of Brett Dean's music, and his chamber music in particular, is that he has come to composition from the perspective of a performer (on the viola) and it really shows. The music's linearity speaks of an empathy with each of the performers, and his writing for string instruments is idiomatic in a way that few of his contemporaries can match. Just as the piano repertoire of the 19th century benefited from the insights of generation after generation of virtuoso-composers, so Brett Dean's scores for sting ensembles bring a performer's insight into the physical and musical possibilities of the instruments.
The day began with a concert of two string ensemble works and a piece for solo flute. The latter, Demons, proved that Dean's genius for idiomatic writing is not limited to strings, but it was the string works that really made their mark. Eclipse for string quartet was written in response to the crisis surrounding the attempts by refugees to enter Australia by boat in 2001. The music expresses their desperation, and the frustration of the composer himself, watching helplessly the brutality of his own government. It is a moving piece, full of intense emotions, but there is a disparity that seems to be common to many of Dean's works between the abstraction of the music and the specificity of the title and subject matter. His programme notes lay out in some detail the political issues that inspired the work, which remain timely as Australia's immigration policy (let alone Britain's) has changed little, and certainly not for the better, in the intervening years. But none of this tells you much about the music. Similarly with almost all the works performed today, they often have specific inspirations, but Dean is able to digest all those specifics – musically speaking I mean – and come out with works that almost seem hindered by the titles he attaches to them.
Epitaphs for string quintet was my favourite among the works played today. Each of the four movements is dedicated to a deceased friend of the composer, but celebration is as important as memorial here, and he ensures that the music is never maudlin. The originality of the textures in this piece is incredible. And the concise but never reductive form of each of the movements makes this the epitome of Dean's craft.
The second concert began with Piers Lane playing three piano etudes, each a stylistic homage to a composer, Bach, Kurtág and Janáček respectively. The Bach etude was the best of them, and its robust toccata style was well served by Lane's decisive, muscular touch. This was followed by Poems and Prayers for mezzo and piano, which for me was the one piece in the programme that didn't work. The songs are based on comical rhymes by Michael Leunig, none of which are particularly amusing. Dean makes heavy weather of the settings, and singer Karen Cargill performed them with far too much vibrato and not nearly enough humour. Voices of Angels for violin, viola, cello, bass and piano was a return to form; another large-scale chamber work with plenty of drama, some excellent string writing and a well-integrated structure that more than justified the running time.
The highlight of the evening concert was Brett Dean himself performing his Intimate Decisions for solo viola. The generally quiet dynamics of this work belie its virtuosity, with much of the music made up of fast moving passages moving between a wide range of artificial harmonics.
With a few exceptions, most of the performers in each of the concerts were young, but all rose magnificently to the challenges of Dean's music. And he himself was on the stage whenever there was a viola part to play. The Brahms at the end was played with more enthusiasm than control, but better that than the other way round. On the whole I'd judge the event a success, and a good audience turned out for the final concert. His orchestral and operatic reputation precedes him, but it is clear from today's event that Brett Dean also has a major contribution to make to the world of chamber music. Lets hope he can come back in a few years and give us an update.
Gavin Dixon