Other Links
Editorial Board
UK

Editor

s

- Roger Jones and John Quinn

Editors for The Americas - Bruce Hodges and Jonathan Spencer Jones

European Editors - Bettina Mara and Jens F Laurson

Consulting Editor - Bill Kenny

Assistant Webmaster -Stan Metzger

Founder - Len Mullenger
Google Site Search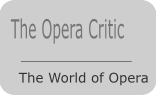 SEEN AND HEARD INTERNATIONAL CONCERT REVIEW


Ligeti, Mozart and Dvořák: Elizabeth Rowe (flute), John Ferrillo (oboe), Arabella Steinbacher (violin), Christoph von Dohnányi (guest conductor), Boston Symphony Orchestra, Symphony Hall, Boston, 29.1.2011 (KH)
Ligeti: Double Concerto for flute, oboe and orchestra
Mozart: Violin Concerto No. 4 in D, K.218
Dvořák: Symphony No. 7 in d minor, Opus 70
Not that every piece need do so (of course) but the Ligeti Double Concerto broke no new ground. Each of the two movements dwells on musical methods which Ligeti pressed into more artistically striking service elsewhere. And even the very title seems to promise something which the piece as composed does not deliver. (You almost see a thought-balloon above the oboist's head, asking, "Remind me again how I am a featured soloist in this piece?") Not that Elizabeth Rowe (BSO principal flute) or John Ferrillo (BSO principal oboe) did not acquit themselves with full honors. The material that they had, they executed artfully. The piece opens with a mysterious, sustained major second in the woodwinds, out of which Rowe's earthy bass flute emerges, at first by simply accentuating either component pitch of that interval, and then moving on (or rather, around). At first the distinct roles of the two soloists seem to be to emphasize two different registers (the auxiliary flutes featured in the lower, and the oboe contributing to the shriller high range). The second movement occupies itself with insistent tremolos.
In the interests of fair disclosure, the Mozart concerto is an earlier piece in his career than generally interests me. But I see the violinist's viewpoint, too: if I were in his (or her) shoes, I would entirely own violin concertos from the pen of so renowned a composer as Mozart, even if they be a bit on the "young" side. Ms. Steinbacher played beautifully (and was elegantly dressed in a lovely gown with gleaming paisley, shining against a Giotto-esque blue background). Her cadenzas were both musical and impeccably executed—but felt just a shade discursive, perhaps underscoring my point that these early concerti of themselves are not enough for a modern virtuoso to sink his teeth into. In any event, it was irresistibly apt to program the concerto on Mozart's birthday, though one pauses to consider the whimsicality of the Muse who ordained that Milton Babbitt should shuffle off this mortal coil on that very day.
The program notes quote Donald Francis Tovey thus: "I have no hesitation in setting Dvořák's [Seventh] Symphony along with the C Major Symphony of Schubert and the four symphonies of Brahms, as among the greatest and purest examples of this art-form since Beethoven." (Tovey, I have coincidentally learnt, met Ludwig Wittgenstein.) It is a remark which may well raise eyebrows for one reason or another, but the Dvořák is certainly a richly assured work which more than merits its place at the table. The BSO inhabited the piece brilliantly, and maestro von Dohnányi did the composer full justice. The symphony sounded completely like Dvořák (and excellent Dvořák at that). Only one of many highlights I might point out is the luscious horn choir in the Poco adagio.
Von Dohnányi and the band served up a thoroughly exciting evening, in a program of sharp stylistic contrasts.
Karl Henning