Other Links
Editorial Board
UK

Editor

s

- Roger Jones and John Quinn

Editors for The Americas - Bruce Hodges and Jonathan Spencer Jones

European Editors - Bettina Mara and Jens F Laurson

Consulting Editor - Bill Kenny

Assistant Webmaster -Stan Metzger

Founder - Len Mullenger
Google Site Search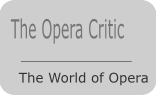 SEEN AND HEARD UK CONCERT REVIEW

An Evening of Music and Dance: Royal Ballet Sinfonia with Paul Murphy (Conductor) and Dancers from the Birmingham Royal Ballet, introduced by Director David Bintley. Birmingham Symphony Hall, 4.2.2011 (GR)


The clue as to what might be expected from this evening's entertainment was not only in the small print but also in the title. While it was 'music and dance', the emphasis was most definitely on the music – the music of the dance. Balletic movements took second billing, at least from an overall contents perspective. Nevertheless with the Royal Ballet Sinfonia given the freedom of the Symphony Hall stage, it allowed Birmingham Royal Ballet fans to fully observe the instrumentalists they can often only appreciate with their ears. This made the lollipops served up by the Principals of BRB even tastier – quality without quantity.

It is a mistake to compare the Royal Ballet Sinfonia with the CBSO, but within their own particular genre they are an accomplished group and a worthy second in the Birmingham orchestral league. Their performance on Feb 4th 2011 reminded me of how well the city is served with professional instrumental groups (not forgetting BCMG). In Paul Murphy, Principal Conductor since 1997, they have a safe pair of hands as demonstrated in the opening Dance for the Followers of Leo from Horoscope by Constant Lambert. It was an apt beginning, a dedication to the composer who did so much to promote British ballet in the first half of the twentieth century.
Apparently Alan Titchmarsh often hosts these gala dos, but not this time; we had the man himself, David Bintley. And if, as he welcomed the virtually full house, the absence of the often irritating Mr Titchmarsh was down to one of the recent cuts imposed upon BRB as Bintley intimated, then we had Ed Vaisey from the Ministry of Culture to thank. The most original of original choreographers introduced two excerpts from Hobson's Choice, the ballet he created with music from Paul Reade. Based upon the well-known Harold Brighouse play, Robert Parker recreated shoemaker Will Mossop (John Mills in the film) who in the first passage delved into his workbasket to pull out a pair of clogs. Parker's dexterity in what are the most inflexible of footwear was remarkable. The second clip was set on the wedding night of Will to Maggie; Gaylene Cummerfield joined Parker for the pre-nuptial scene. The two principal dancers created a poignant ambience and recalled the days of the silent film. Will's embarrassment was bashfully portrayed, but Maggie had it all in hand. Reade had adapted the music hall song Lily of Laguna for their pas de deux, the pair in perfect synchronicity with the lilting strains of the Sinfonia. Bintley in his remarks had cited the reaction of the audience at the ballet's premiere as the first Sing-along-a-Ballet.

Sinfonia leader Robert Gibbs was the soloist in Saint-Saens' Havanaise. With the open stage in front, I thought the music craved for something more – dancers to weave about to the intoxicating Habanera rhythm. Twenty-four students from the local Elmhurst School for Dance performed the following number: choreography by their Ballet Mistress Samira Daidi, music of Jardin de la Danse by Malcolm Arnold. The Irmelin Prelude by Delius was the next Sinfonia offering, a gentle piece that suited their numbers very well. The strings were in excellent form and exercised great sensitivity, supported with genuine warmth from the woodwinds. I'm not sure of the dance connection but it was perhaps the most impressive item among of purely musical selections.

An excerpt from Aladdin, in the easy listening style of Carl Davis, featured another outstanding pair from the BRB dance cast on duty – Ambra Vallo and Tyrone Singleton. The ballet tells the familiar tale taken from The Arabian Nights. Scene 4 is set in the cave and is sub-divided according to the treasures found inside, including one entitled Rubies – for Passion; the pas de deux of Vallo and Singleton was indeed a jewel. I thought Davis' music captured the atmosphere of the East albeit in a distinctly Tchaikovskian manner, the succession of mini-climaxes coinciding with some skyscraper lifts from the tall angular Singleton. But need their contribution have been so short? The first half closed with Walton's Spitfire Prelude and Fugue, proving that the brass section, and particularly the five horns, could play a bit.

One of Eric Coates' last compositions, March: Sound and Vision, must have jogged a few memories to the local over 60s in the audience, composed as it was as the introductory music to ATV in 1955. Murphy kept a tight rein on his band and generated a typical Coates sound.

Any compilation concert such as this one would not be complete without some input from the inventive choreography of Frederick Ashton. This came next – the pas de deux from The Dream, with John Lanchbery's adaptation of Mendelssohn's enchanting score. It spotlighted Natasha Oughtred as Titania and Joseph Caley as Oberon; they were very convincing in their character portrayals. This was what the audience had come to see. As Queen of the Fairies, Oughtred darted hither and thither across the temporary Symphony Hall stage, with wisp-like movements. Pursued by the noble Caley, the King finally won back his wife. He was assisted in his wooing by the mellifluous tones of Maxwell Spiers' cor anglais. Spiers also played a major role in the subsequent Swan of Tuonela from Sibelius and the Sinfonia.

Then came an excerpt from one of BRB's most successful productions, La fille mal gardée. The arrangement and orchestration was again by John Lanchbery, this time to the music of Ferdinand Hérold (with choreography once more from Ashton) and has stood the test of time. Loved by Birmingham Hippodrome regulars for its warmth and hilarities and known by some as 'the one with the horse', the second Clog Dance of the evening cast Rory Mackay as the Widow Simone, ably supported by Arancha Baselga, Laëtitia Lo Sardo, Angela Paul and Andrea Tredinnick. Mackay brought numerous smiles to the faces of the audience and displayed all the subtleties of the music hall dame. {BRB are scheduled to perform La fille mal gardée in full at Birmingham Hippodrome on Mar 2-5th next.}

One must-have composer for such a concert mélange is Tchaikovsky, but regrettably nothing from his extensive ballet repertoire was chosen; instead we had the patriotic Marche Slave. I thought that with a limited number of strings, much of the stirring impact of the piece was lacking.

It was left to two of the brightest stars from the galaxy of international dancing talent that the BRB retain, Nao Sakuma and César Morales, to bring the evening to its suitable peak. They did the pas de deux from Don Quixote by Léon Minkus. The scene depicted the wedding celebrations of a couple encountered during the travelling escapades of the man from La Mancha. The two principals captured the romance and passion of the moment with grace and energy. Japanese ballerina Sakuma dispensed exquisite port de bras, breathtaking fouettés and spot-on pirouettes. It was a fitting climax to an exhilarating evening of music and dance in what is now the twentieth anniversary year of the BRB.

Geoff Read