Other Links
Editorial Board
UK

Editor

s

- Roger Jones and John Quinn

Editors for The Americas - Bruce Hodges and Jonathan Spencer Jones

European Editors - Bettina Mara and Jens F Laurson

Consulting Editor - Bill Kenny

Assistant Webmaster -Stan Metzger

Founder - Len Mullenger
Google Site Search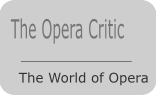 SEEN AND HEARD UK CONCERT REVIEW


Brett Dean, John Adams, and Gustav Holst:
London Philharmonic Orchestra, London Philharmonic Choir, Marin Alsop (conductor) Royal Festival Hall, London. 23.3.2011 (CG)
Brett Dean: Komarov's Fall (2006)
John Adams: Dr. Atomic Symphony (2007, since revised)
Gustav Holst: The Planets, Op. 32 (1914-1918)
The theme of this concert was man's relationship with science and space. The Australian Brett Dean's Komarov's Fall concerns the Soviet astronaut, Vladimir Komarov who died in a Soyuz spacecraft in 1967 - the first space casualty. John Adams's Dr. Atomic Symphony, consists of material reworked from his opera of the same name, which deals with Robert Oppenheimer's development of the atomic bomb. Lastly, we heard the most famous space work of all, Gustav Holst's The Planets.
Dean's work was billed as receiving its London première. What, then, was it that the Kensington Symphony Orchestra played at St John's, Smith Square on 20th March last year, with Andrew Gourlay conducting? It rather looks as if somebody should have checked the facts!

Things promised well. Komarov's Fall is colourful, full of silvery effects from the woodwind, percussion and strings, and none the worse for that. It begins with isolated harmonics from the violins, which are joined by flickerings from the woodwind and percussion. Rhythmic passages for multiple woodwinds come and go, the flutes flutter-tongue, and gradually the piece gathers momentum, with tuned gongs and some highly effective slow-moving chords for the brass. Eventually it all develops into a screaming climax, and then disappears into strange whistles. I'm unsure if the piece succeeds in fully expressing the tragedy of the stricken astronaut, but I thought it was all enormously effective, and the London Philharmonic gave their all under Marin Alsop's energetic direction.

This was a hard act to follow, and it took a while to settle into the next item, but let's never forget that John Adams is one of the few contemporary composers able to fill a concert hall; his work speaks to people in a direct manner that is nevertheless far from simple or banal, and he has certainly moved way beyond the sometimes severe limits of pure minimalism. The music of Dr. Atomic Symphony falls into three connected sections and some of the original vocal lines are transferred onto solo brass instruments, or, in one section, the cellos. There is plenty of the tension-filled rhythmic and percussive Adams in evidence, but in the final section a mournful trumpet melody occupies centre stage; it's odd and yet deeply touching. Conductor and orchestra managed this music with complete confidence and accuracy.

As a 16-year-old, I first heard The Planets at a Promenade concert, and was so profoundly moved by the experience I could not bear to get on a tube or bus home - I wanted the sounds still lingering in my head to go on and on forever. On that misty night I walked the six miles home through quiet streets as if in a trance, and it became one of the events that made me more determined than ever to be a composer myself. For this reason, I have since approached performances of Gustav Holst's largest work with a mixture of excitement and trepidation. Will I still think it's a great work, or will the seams show? Some have said it lacks depth - could I ever feel that?

Tonight's performance tried so hard to get off the ground, but seemed to be somewhat earthbound. It wasn't necessarily the fault of conductor or orchestra. Yes, I could quibble with one or two things; although 'Mars', famously composed before any world wars had erupted, was splendidly energetic and brutal. 'Venus' was not quite peaceful enough for me despite some simply gorgeous woodwind playing. 'Mercury' was suitably flighty, but the central tune in 'Jupiter' seemed to lack a little dignity. 'Saturn' was, I felt, a mite too fast, and I didn't quite get the effect of wearisome plodding into old age that Holst surely intended. 'Uranus' was beautifully done, but 'Neptune', in some ways my favourite movement of all, was spoilt by a choir which didn't sound sufficiently ethereal. This was probably nobody's fault; it's almost impossible to get the right effect in a dry acoustic, unless, perhaps, one were to use microphones, a PA system, and reverb. You see, I'm hankering after the Albert Hall again, and Sir Malcolm Sargent, and the female choir up in the gallery, their voices gradually floating into space...

There was another major irritation. After 'Mars', the audience burst into applause. This was repeated after every movement until Marin Alsop had the good sense to embark on 'Neptune' before anybody could put their hands together. We could never float freely in space with this unnecessary racket bringing us crashing down to earth between each planet.

I don't want to sound too negative. The LPO played their hearts out. It is a fantastic orchestra, and the almost-full house obviously enjoyed it immensely.

Christopher Gunning