Other Links
Editorial Board
UK

Editor

s

- Roger Jones and John Quinn

Editors for The Americas - Bruce Hodges and Jonathan Spencer Jones

European Editors - Bettina Mara and Jens F Laurson

Consulting Editor - Bill Kenny

Assistant Webmaster -Stan Metzger

Founder - Len Mullenger
Google Site Search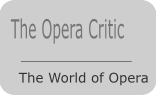 SEEN AND HEARD UK CONCERT REVIEW



Mozart, Rossini, Haydn:
Désirée Rancatore (soprano), Royal Liverpool Philharmonic Orchestra, Ottavio Dantone (conductor), Guild Hall, Preston, 11.1.2011 (MC)

Mozart:
Symphony No.38 in D major, K504 '
Prague
'
(1786)
Mozart:
Exsultate, Jubilate
(
Rejoice, be glad
), K165 (1773)

Rossini:
Overture,
La Gazza Ladra
(
The Thieving Magpie
) (1817)

Rossini:
Folleville's aria from
Il viaggio à Reims
(
A journey to Reims
) (1825)

Haydn:
Symphony No.94 in G major '
Surprise
'
(1791)

The Liverpool Philharmonic conducted by Ottavio Dantone with singing from soprano Désirée Rancatore provided a sparkling New Year tonic with an Italian flavour. A successful evening of winsome music from the Classical era afforded a refreshing change from the more usual Romantic offerings that tend to fill concert programmes.

A graduate of Milan's Giuseppe Verdi Conservatory Ottavio Dantone is a renowned harpsichord and organ soloist as well as a seasoned director of baroque music and period-instrument specialist who on this evidence easily adjusts to conducting a traditional symphony orchestra. Providing impressive dynamic contrasts, but not overly so, and judicious tempi selection Dantone's direction worked splendidly obtaining invigorating yet smooth and precise playing from the Liverpool Phil.

Opening the concert with exuberance and significant appeal was Mozart's Symphony No.38 entitled the 'Prague' composed in appreciation of the Austrian composer's enthusiastic following in the Bohemian city. I loved the rumbustious Finale overflowing with vitality and energy especially the brass climaxes, the burbling bassoons and bird-like calls on the flutes and oboes. The motet Exsultate, Jubilate (Rejoice, be glad) was originally intended for the Roman castrato Venanzio Rauzzini who had so enchanted the teenage Mozart when singing for the Vienna Court. Palermo born Désirée Rancatore is a bright and agile soprano who managed to stay appropriately reverential in this attractively melodic yet exultant sacred score. The glorious woodwind excelled throughout and I was struck by the movingly tender string sound in the Andante section.

Rossini's popular overture to the opera La Gazza Ladra (The Thieving Magpie) provided a rousing start to the second half of the concert. A score laden with percussion and brass which together with an abundance of snare drum rolls ensures a distinct martial quality. Plaudits for Ottavio Dantone and the Liverpool Phil who performed an exciting rendition of this boisterous overture and the audience loved it. From Rossini's Il viaggio à Reims (A journey to Reims) in Contessa di Folleville's crowd pleasing aria Désirée Rancatore glided effortlessly and swiftly up to her comfortable and creamy top register. Projecting her clear diction to all corners of the concert hall I found the soprano's vibrato noticeable yet not unappealing. Best of all was Désirée Rancatore's compelling personality winning over the audience who showed their gratitude with especially wholehearted applause. Désirée Rancatore is one of those rare singers who energises the listener and I'm sure that I was just one of many wanting to hear more.

The concert concluded on a good-humoured note with Haydn's Symphony No.94, known as the 'Surprise'for its sudden booming chord in the second movement Andante that the composer intended to rouse dozing audiences. In this case the effect was rather a letdown sounding more of a whimper than a boom. Maestro Dantone's performance with the Liverpool Phil was robust and uplifting obtaining acutely differentiated colouring that would have surely delighted the London Hanover Square audience for whose delectation Haydn had written the score in 1791.
Michael Cookson