Other Links
Editorial Board
Editor - Bill Kenny


Assistant Webmaster -Stan Metzger

Founder - Len Mullenger
Google Site Search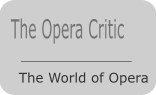 SEEN AND HEARD UK OPERA REVIEW

Mozart, Idomeneo: Soloists, Orchestra and Chorus of the English National Opera, Edward Gardner (conductor). Coliseum, London, 18.6.2010 (MB)
(sung in English)
Idomeneo – Paul Nilon
Idamante – Robert Murray
Elettra – Emma Bell
Ilia – Sarah Tynan
Arbace – Adam Green
Voice of Neptune – Pauls Putninš
Choral soloists – Claire Mitcher, Lydia Marchione, Michelle Daly, David Newman, Michael Selby
Katie Mitchell (director)
Vicki Mortimer (set and costume designs)
Alex Eales (set designs)
Paule Constable (lighting)
Fifty Nine Productions (video)
Joseph Alford (movement)
Orchestra of the English National Opera
Chorus of the English National Opera (chorus master: Martin Merry)
Edward Gardner (conductor)
This was only my second Idomeneo in the theatre, the first having been in Mozartjahr 2006, when I resolved that somehow, somewhere, I must hear this great work in the flesh. Frustrated by a substitution of conductor in the Salzburg Festival's survey of the entire operatic œuvre that summer – there was no way that my first or indeed any Idomeneo was going to come from the baton of a certain, notorious vibrato-hating fanatic – I saw it in Vienna instead, the State Opera decamping to the Theater an der Wien. It was, of course, a joy simply to experience the work, but, despite the incalculable advantage of the Mozart orchestra in the pit, neither Willy Decker's production nor Bertrand de Billy's typically anonymous musical direction made the impression for which I had hoped. Moreover, the score was cut in a way that almost recalled the disadvantages of the old days without the musical compensation they might have offered. (Strauss's reworking is an extraordinary thing, but one can hardly expect its revival to be an everyday occurrence, nor one would one necessarily wish it to be.) It was, therefore, with excitement that I noted a new production from the English National Opera: about time, and another repertoire object lesson to Covent Garden.
If only, then, production and performance had begun to live up to the hopes invested. The orchestra was undoubtedly the best, indeed pretty much the only good, aspect to the evening's events. There were odd slips here and there, especially from suspiciously 'natural'-sounding trumpets. (I cannot always tell whether they are just acting under perverse instructions to sound like that, or whether they actually are old instruments.) But the woodwind more than compensated, producing some delectable sounds, elegant in their phrasing. The strings were clearly acting under low- though thankfully not no-vibrato orders, but at least they rarely whined. Phrasing under Edward Gardner could be short-breathed, drawing attention to itself. He also seemed to act according to the widely-held delusion that dramatic urgency equates to fast tempi, but I have heard worse, and he was capable of flexibility. But having heard Sir Colin Davis conduct Figaro so recently, I could not but reflect upon the lack of natural ease and, grossly unfair though the comparison may be, the wisdom born of a lifetime's experience with Mozart's music, the most difficult music of all.
What of the singers? Paul Nilon was disappointing in the title role, utterly devoid of charisma – partly the production's fault, no doubt, but even so – and often struggling with vocal projection and tuning. He struggled, to put it mildly, with the coloratura of the more difficult version of 'Fuor del mar,' or whatever it was called in English. This is a role that has been sung with great success by the likes of Pavarotti and Domingo, or, from a quite different tradition, Richard Lewis. (Pavarotti, singing Idamante, learned a great deal from Lewis at Glyndebourne.) A more modest contribution was perhaps more or less inevitable, but one needed more than this. A tenor was favoured as Idamante, in this case Robert Murray. He had some sweet-toned moments but again lacked stage presence. Much the same could be said of Sarah Tynan's Ilia. Emma Bell certainly did possess stage presence as Elettra, but her intonation was too often awry. It is a treacherous role, of course, and one cannot expect always to hear the likes of Edita Gruberová, but it would be nice to hear more of the notes Mozart wrote. One can do without Arbace's arias and the concluding ballet, but it is indicative of the performance that Adam Green, denied his arias, was, on the basis of his skilful handling of recitative, emerged as the strongest singer; it would have been good to have heard more from him.
The chorus improved as time went on, pretty rough during the first act but more settled thereafter. However, it never really assumed the Gluckian status that it ought. It did not help that the work was not only sung in English but in a truly dreadful translation, whose banality at times beggared belief. Even the best translation would doubtless sound wrong. However, to take a random example, 'God of Love, send us your blessing,' not only fails to translate 'Scenda Amor, scenda Imeneo'; it ends up sounding like the text for an evangelical guitar-strumming session – many miles and years from Idomeneo's Crete… It was strange to hear mention of Poseidon rather than Neptune, stranger still to hear in passing of other mythological figures, who could not have stood more distant – and not in a productive, alienating sense – from the airport lounge action on stage. Indeed, updated reference to Unite and volcanic ash might have jarred slightly less.
Which brings me more properly to Katie Mitchell's production. Mitchell seems at her best when indulging her meta-theatrical bent, as recently in ENO's own After Dido and the Salzburg Festival's Al sole gran carico d'amore. In what, updating aside, is essentially a conventional presentation, she seems to have no ideas at all about the work, nor even the slightest sympathy with it. Much of the action takes place in what seemed to be a modern hotel, first off with irritating video projection of waves behind. (Video can sometimes add something; far too often it does not.) Clichés of operatic production a good twenty or thirty years out of date abound, not least the constant intervention of 'extras' pouring drinks. Supposedly in the corridors of power, this latter facet is taken to such an irritating extreme as to suggest that we are at a convention for non-recovering alcoholics. Perhaps I was being unfair, I thought, but then, lo and behold, the point appears to be made that Elettra's madness was the product of having had too much to drink. Couples – who on earth were they? – danced and swapped partners whilst Idamante and Ilia sang their second-act duet: distracting and incomprehensible. Baffling from the point of view of the production, let alone the work, was the laugher provoked almost whenever Elettra came onto the stage – and not just when drunk. Carry on Crete: it is a point of view, though I fail to see its merits. Maybe its proponents find Das Lied von der Erde a laugh a minute too.
At least Calixto Bieito might have made something raunchy out of the arbitrary transformation of Elettra's second act aria into a moment of ever-so-mild foot-fetishistic madness. Here it was merely embarrassing: in keeping with the Luton Airport theme, I suppose. There is, needless to say, no sense whatsoever that she might be a member of the House of Atreus until, clumsily, she is plonked into a first-class departures lounge at the airport, whilst her intended is for the most part banished to the ranks of the unwashed: odd, given that his father is king on the island. Even odder that Elettra too should have to leave her private quarters so that the cleaners can set to work. Utterly lacking is any other sense of hierarchy. The whole point of Idomeneo's sacrificial dilemma – should he act as king or as father? – goes for naught. He is just some bloke in an ill-tailored suit. For some reason, or more likely none, at the beginning of the third act, Ilia turns biology lecturer, delivering her lines in front of a projector displaying floral photographs. Admittedly, her aria is supposed to take place in the royal gardens, and she sings, or at least should, of gently caressing zephyrs, but the only point here seems to be to give the video production team something more to do.
Idomeneo has never been a lucky work. Perhaps it is simply too rare, too magnificent, too dignified, too fragile for this world. It deserves and could surely receive better than this though. I shall have to hope that, for me, it will be a case of third time lucky.
Mark Berry