Other Links
Editorial Board
UK

Editor

s

- Roger Jones and John Quinn

Editors for The Americas - Bruce Hodges and Jonathan Spencer Jones

European Editors - Bettina Mara and Jens F Laurson

Consulting Editor - Bill Kenny

Assistant Webmaster -Stan Metzger

Founder - Len Mullenger
Google Site Search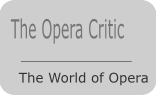 SEEN AND HEARD UK CONCERT REVIEW
Schumann and Aribert Reimann : Wolfgang Holzmair (baritone); Imogen Cooper (piano). Wigmore Hall, London, 14.12. 2010 (CC)

Schumann: Five Songs to texts by Heinrich Heine: Mein Wagen rollet langsam, Op. 142/4; Es leuchtet meine Liebe, Op. 127/3; Der arme Peter, Op. 53/3; Abends am Strand, Op. 49/3; Die beiden Grenadieren, Op. 49/1. Liederkreis, Op. 39 – In der Fremde; Die Stille; Mondnacht.

Reimann: Nachtstück (1966)

Schumann Liederkreis, Op. 39 – Wehmut; Zwielicht; Schöne Fremde. Kerner-Lieder, Op. 35.
After a superbly memorable chamber music BBC Lunchtime Concert on Monday, given by Sabine Meyer and the Tokyo Quartet (review), expectations were high for another high-profile concert two days later. Holzmair and Cooper are long-standing recitalists together, and have made a number of well-received discs. Unfortunately, all was not well. An announcement told of there being talk earlier in the day of Holzmair canceling because of a throat infection, the implication being that we should be tolerant (or at least sympathetic). In the event, although one could point to a rather strained top from Holzmair on occasion, it was not the technical issues that were the problem.

All of the first group of Schumann songs presented here date from 1840, Schumann's Lieder Wunderjahr. Initial impressions were good, in that Holzmair's diction in Mein Wagnen rollet langsam was eminently praiseworthy. Cooper portrayed the fragmentary opening of the song perfectly. Holzmair's voice seemed strong (from the back of the hall) in Es leuchtet meine Liebe. He is an active performer, in the sense that he is very mobile. Some, myself included, might find this irritating after a (short) while, and certainly after a time it seems to turn into some sort of caricature. Ending the second part of Der arme Peter with his hands positioned as if in prayer is a case in point. It was in Abends am Strand that the differences between the two musicians on stage became clearer, though, with Holzmair's uncomfortable top register in direct contrast to Cooper's superbly even accompaniment. The interpretative flop of this group was the ever-popular Die beiden Grenadieren. The slow tempo did not help, but it was the fact that it was so vocally characterless that was so painful. Allied to the fact that there was a distinct suspicion it might grind to a halt, this was a travesty of a great song and one that, given Holzmair's flair for the dramatic, might have been expected to fare well.

It was an interesting idea to nest Reimann's Nachtstück between excerpts from Schumann's Op. 39 Liederkreis. The most explicit link is the poet, Eichendorff, of course. The first three Schumann items felt a little more secure, especially in Holzmair's higher stretches (Die Stille), but again it was Cooper who stole the show, especially with the beautiful bed of sound with which she underpinned In der Frende and with her mesmeric playing in Mondnacht.

Holzmair and Cooper recorded Reimann's Nachtstück on an all-Eichendorff disc issued in 2002 (Philips). Reimann was a pupil of Boris Blacher, and is known equally as piano accompanist and composer (most famously in the latter for his opera, Lear). It was fascinating to hear his shady, Expressionist world as an extension of Schumann's. There seems to be a Messiaen-like twist to the harmonies of the first song of his Nachtstück, at least as experienced at the Wigmore. A huge registral gap on piano was effectively used in the second song, "Vor dem Schloss", while Schoenbergian Sprechgesang informs the next section. Reimann undermines expectations of gestures that the Romantic texts might engender – his nightingale is more an anti-nightingale, for example. Interestingly, as Schumann's voice (now sounding remarkably clear and unfettered after the Reimann) resurfaced in Wehmut, so did the voice of the nightingale, now safely reunited with a Romantic setting. Whether or not Holzmair was merely tired or this was a result of his infection, his voice was now decidedly bleaty. Whereas Cooper set up a magnificently mysterious atmosphere for Schöne Fremde, Holzmair, in contrast, seemed reluctant to prolong it.

Schumann's Kerner-Lieder, which also date from 1840, can appear as a great cycle (as is the case with Simon Keenlyside's recording as part of Hyperion's complete Schumann lieder edition, with Graham Johnson on CDJ33102). Not here. Holzmair was now showing strain in the form of an edge to his voice hitherto not present – his low range, too, sounded distinctly uncomfortable. He was bleaty and strained in Stirb, Lieb' und Freud. Even diction, one of his strengths, suffered ("Melo-e-en" instead of "Melodien" in Sehnsucht nach der Waldgegend). Perhaps Frage encapsulated the heart of the problem here – Cooper projected the greatness of the music, Holzmair simply didn't. Holzmair was almost hectoring in his high points of phrases in Stille Tränen; again, in Wer machte dich so krank? it was Cooper who gave the essence of the piece, leaving Holzmair way behind.

Disappointing.

Colin Clarke