Other Links
Editorial Board
Editor - Bill Kenny


Assistant Webmaster -Stan Metzger

Founder - Len Mullenger
Google Site Search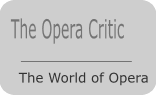 SEEN AND HEARD UK OPERA FESTIVAL PREVIEW

Buxton International Gilbert and Sullivan Festival 2010: A preview from Raymond Walker (RW)

Buxton in Derbyshire hosts the world's biggest celebration of Gilbert & Sullivan, attracting around 20,000 people during its three week run in the beautiful Buxton Opera House each summer. The Festival was founded in 1994 by Ian Smith and his son Neil and over the years, it has established a reputation for being one of the friendliest musical festivals anywhere with people returning year after year to soak up its special atmosphere.
The Buxton Opera House, designed by Matcham and opened in 1903 has the ambience and aesthetics to provide a perfect setting for Gilbert & Sullivan. Productions are staged by both professional and one-night amateur companies. Professional Companies include the Festival's very own Gilbert & Sullivan Opera Company; Opera della Luna and Charles Court Opera. During daytime, lectures, masterclasses, and small groups entertain the visitors. A new Youth festival is now incorporated within the larger festival.(Click here for details.)

This year the Festival runs from 31st July to 21st August 2010 and Seen & Heard International will be covering the professional performances.
For the full Festival programme which includes rarities like Princess Ida and Utopia Ltd click here.

Raymond Walker

Back to Top Cumulative Index Page