Other Links
Editorial Board
UK

Editor

s

- Roger Jones and John Quinn

Editors for The Americas - Bruce Hodges and Jonathan Spencer Jones

European Editors - Bettina Mara and Jens F Laurson

Consulting Editor - Bill Kenny

Assistant Webmaster -Stan Metzger

Founder - Len Mullenger
Google Site Search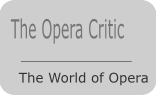 SEEN AND HEARD UK CONCERT REVIEW


Chopin: Yulianna Avdeeva (piano). Queen Elizabeth Hall, London, 3. 11. 2010 (CC)
Four Mazurkas, Op. 30.
Scherzo No. 3 in C sharp minor, Op. 39.
Two Nocturnes, Op. 27
Piano Sonata No. 2 in B flat minor, Op. 35.
Fantaisie in F minor, Op. 49.
Scherzo No. 4 in E, Op. 54.
Nocturne in B, Op. 62/1.
Polonaise-Fantaisie in A flat, Op. 61.
Winner of the First Prize at the 16th International Chopin Competition in Warsaw, Yulianna Avdeeva is the first woman to take the prize in nearly half a century. She also took the Krystian Zimerman Prize for the best performance of a sonata.
There was an identifiable buzz in the auditorium prior to Avdeeva's arrival on stage. She follows in some impressive footsteps from Warsaw, after all. As the recital progressed, it became increasingly obvious that Avdeeva has a fine technique; what became equally obvious was that her attunement with Chopin is not as complete as her prize-winning activities might suggest.
The Op. 30 Mazurkas boded well, with some intimate moments as well as a grand and gestural Op. 30/3 that tended towards a miniature tone poem. Doubts surfaced in the third Scherzo – octaves were fiery, but the delicate cascades sounded somewhat literal. Her preternaturally accurate finger work failed to compensate at this level.
Another problem was Avdeeva's decision to play each half through without leaving the stage: many delayed latecomers were still taking their seats as she began the Op. 27/1 Nocturne. The Op. 27 pair of Nocturnes promised far more, with some lovely pearly touches and a wonderful tapestry of lines. At times, however, the suspicion remained that the rubato was learned rather than spontaneous.
Avdeeva's reading of the Second Sonata was very serious in intent. Her first movement proper was taken at a hugely fast basic tempo (from the exposition to the Grave); her Scherzo was measured, perhaps too much so, but the Trio held a sweet cantabile. The question kept cropping up: was this a rethink or just being different for the sake of it? The famous Funeral March found an immobile Avdeeva sculpting the movement well but without any real hint of a harrowing, deathly finality; the finale was, predictably, truly prestissimo and technically, at least, magnificent. But throughout there remained the impression that Avdeeva had never really penetrated the surface of the music.
This impression was prolonged throughout the second half. Avdeeva chose some challenging pieces, interpretatively. Late Chopin is massively difficult to honour – perhaps today only the likes of Pires truly understand this rarefied world. If a clanger in the Fantaisie at least told us that Avdeeva's technique is fallible, what was worse was a lack of majesty. The greatness of the piece simply did not come across. The last Scherzo was better, with a sense of structure and great right-hand fluency. Avdeeva lost the magic of the Nocturne, Op. 62/1, the trills having none of the internal energy they deserve (by this stage in Chopin's career, trills are far from mere decorations). Finally came what is arguably the most difficult interpretative challenge in all Chopin – the Op. 61 Polonaise-Fantaisie, here shorn of nearly all its late-Chopin mystery. The two encores (Op. 45 and a waltz) seemed themselves unspontaneous, like almost everything in the evening itself. So soon after her win, it would be hasty to make too damning a judgement. Nevertheless, the positives in her playing (technique and an ability to delineate Chopin's counterpoint well) need to gel with a true dialogue with Chopin himself.
 Colin Clarke