Other Links
Editorial Board
Editor - Bill Kenny
Assistant Webmaster - Stan Metzger

Founder - Len Mullenger
Google Site Search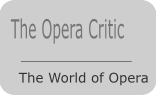 SEEN AND HEARD INTERNATIONAL OPERA REVIEW
Mozart, Réquiem : (Staged Performance) Soloists, Orquestra and Chorus Komische Oper Berlin. Conductor: Patrick Lange Komische Oper Berlin 6.2.2010 (JMI)

A Komische Oper Production
Director: Sebastian Baumgarten.
Sets: Michael Graessner.
Costumes: Tabea Braun.
Lighting: Franck Evin.
Video: Stefan Bischoff.

Cast:
Soprano - Erika Roos
Alto - Karolina Gumos
Tenor - James Elliott
Bass - Jan Martinik
Ernestines Tochter, Angie - Kathrin Angerer
Anita, Ernestine - Irm Hermann
Pablo, Manfred - Hendrik Arnst
Totenrede, Dr. Max - Bernhard Schütz
Pianist, Organist - Lutz Kohl

I confess that the idea of attending a stage performance of Mozart's Requiem piqued my curiosity as to what it could be about. Although I had some reference from similar offerings in the past, like the Bach St. Matthew Passion or Handel's Messiah I wondered how this 'production' might work, taking into account the Requiem's length, which is much too short for an opera performance.

In fact, this is not strictly a stage production of Mozart's Requiem at all, but rather a play with Mozart's music used as a motif or setting. The music comes in and out as the play progresses and the story is essentially about death.

Written by Armin Petras and Jan Kauenhowen, the play presents a series of episodes or scenes about terminally ill people, in which the proximity of death is handled with a good deal of humor which interestingly is not always black. So there is a group of four excellent actors and a chorus which sings the music and acts rather surprising ways.

The play begins with the appearance of one of the actors giving a funeral oration, which gives way to a palliative care clinic for terminally ill people in Berlin. Suddenly, the spectators of the first two rows in the stalls stand up looking at the audience and start to sing the Requiem's Introitus. Various aspect of death and dying are treated by director Sebastian Baumgarten in a very original way, with outstanding sets and good use of video projections. Particularly noteworthy is the episode in an East Berlin tube station, in which a person suffering for a terminal illness is pursued by a group of people dressed as Neanderthals - truly fascinating. The episode that takes place in the chapel of the clinic, where a man diagnosed with cancer meets the love of his life and wonders how to handle the disease and a divorce at the same time, is also excellent. The stage production is very original and very successful, with extraordinary work by the chorus of the Komische Oper. Ultimately, is a very good play, where one moves between commiserations and smiles very easily.

The biggest problem with it - at least for someone with limited language skills - is that more than half of the two-hour show is in German with only a very concise English translation offered, which is not enough for foreigners.

Regarding the musical part, which is mainly incidental, we had as conductor Patrick Lange directing the Orchestra of Komische Oper, and both were only slightly better than serviceable. The chorus was much better, even in strictly musical terms.

The Quartet of soloist was recruited from young singers of the opera company. The best among them was the soprano Erika Roos, who offered a pleasant lyric voice. Also good, but rather a lower level, was mezzo soprano Karolina Gumos. The British tenor James Elliot is a tenorino with a pleasant timbre and good musicality and bass Jan Martinik completed the quartet competently enough. As an actor the best was Erika Roos.

The theatre offered some empty seats and the show was offered without intermission. The final reception was very warm for all the artists, particularly for the four actors and the chorus.

Was it worth the visit? Well, it depends. If you wanted to attend a performance of Mozart's Requiem, you could be disappointed. But if instead, you went along to see a modern show with Mozart's music, you might really enjoy it. I did.
José M Irurzun