Other Links
Editorial Board
Editor - Bill Kenny
Assistant Webmaster - Stan Metzger

Founder - Len Mullenger
Google Site Search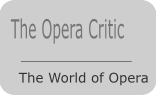 SEEN AND HEARD INTERNATIONAL OPERA REVIEW
Donizetti, Lucia di Lammermoor: Soloists, Orquestra de la Comunitat Valenciana. Cor de la Generalitat Valenciana. Conductor: Karel Mark Chichon. Palau de les Arts de Valencia. 26.1.2010 (JMI)
Co -production Maggio Musicale Florentino and Grand Théâtre de Genève.

Director: Graham Vick.
Sets and Costumes: Paul Brown.
Lighting: Nick Chelton.

Cast:
Lucia: Nino Machaidze.
Edgardo: Grancesco Meli.
Enrico: Vladimir Stoyanov.
Raimondo: Diógenes Randes.
Arturo: Angelo Antonio Poli.
Normanno: Enrico Cossutta.
Alisa: Natalia Lunar.

On my way to Valencia I was wondering how I would handle the transition from the Barcelona Tristan to Lucia in just three days. The jump from one opera to the other is not an easy one, unless you see in the Donizetti two protagonists as exceptional as those in Tristan, rather a scarcity in the world of opera today. In Valencia we were offred a number of positive elements that should have been able to give us a good performance of Lucia di Lammermoor, but there were not enough to make my leap successful.
I don't know if the current economic crisis is the reason for shaking the dust out of old and successful productions, but the fact is that, following a 23 years old production of Tristan at Liceu on Saturday, in Valencia we had a production of Lucia which was premiered in 1996. It is this production that we saw at Teatro Real in November 2001, as vehicle for Edita Gruberova (alternating with Maria José Moreno) as the protagonist. The production is quite attractive to the eye but is not too brilliant in terms of direction, which is quite amazing considering that the production has the signature of Graham Vick on it. A floor covered with flowers and herbs and with looming dead trees is a constant in Act I, the mad scene, and the supposed cemetery of Ravenswood and all that changes is the cyclorama at the back of the stage, showing dark clouds. Interior scenes are shown by means of the movement of two dark panels that run through the middle of the stage. The costumes are attractive and place the action at the end of 18th century, while only some tartan bands give us the idea of Scotland and not Versailles. An attractive production, but not among Graham Vick's finest.

Karel Mark Chichon was in charge of the musical direction and he was rather uneven. It is not easy to conduct a belcanto opera unless one is a consummate specialist in this repertoire, because there should be a good balance between purely musical direction and the support to the singers, who are the real protagonists of this kind of opera. Mr. Chichon's reading was truly dramatic from the prelude onwards, which is not very surprising, when you have at your command an outstanding orchestra like Valencia's. But there were also many moments where the voices were drowned by the sound coming from the pit. Tempi were somewhat erratic, moving easily from too slow to too fast, although his work was very careful and meticulous and he controlled perfectly both stage and pit. It should be noted that he offered the most complete version of the opera, including the anti-climactic recitative that puts an end to the Mad Scene which is, in my opinion, better cut.

Lucia was the Georgian soprano Nino Machaidze, who has jumped to stardom in the past two years. This soprano has the qualities required today in opera: a pleasant voice, youth, physical beauty and interpretive skills. Her voice is a light-lyric soprano, with a darker timbre in the centre than is usual in her Latin colleagues. Her instrument is not that beautiful, although it gets brighter going upward albeit with some limits. She has a good coloratura and she is a good actress. However, I found her performance somewhat mechanical, short of emotion and certainly far from the great Lucias still remembered by all opera lovers. To my great surprise she avoided the stratospheric notes at the end of the mad aria and the following cabaletta, losing a good part of the impact that a great Lucia should make on the audience.

Edgardo was the Italian tenor Francesco Meli, a true belcanto singer. His were the best vocal moments that we had in this performance. It is a pity that this excellent singer has too tight a top register, which is surprising for a light voice like his. He took refuge in falsetto at the end of his duet with Lucia, avoided the high C at the end of the Sextet and he was in difficulties at the end of "Tombe degli avi miei" and was on the verge of an accident in "Bel alma inamorata". It is a pity to find these shortcomings in such an outstanding singer.

Vladimir Stoyanov passed without particularl pain or glory through Enrico. It seems that his best is already over. He has lost a good deal of voice projection at the top, which was problematic in the past, but his middle register is weaker than before.

The Brazilian bass Diogenes Randes was a good Raimondo, without excessive vocal brilliance. The voice has a certain weight and authority, but falls short at both ends of the tessitura. Angelo Antonio Poli was a very good Arturo, a good singer with a pleasant voice.

There was a full house again. At the final bows the winners were Meli and Machaidze, particularly the tenor.

José M Irurzun