Other Links
Editorial Board
Editor - Bill Kenny
Assistant Webmaster - Stan Metzger

Founder - Len Mullenger
Google Site Search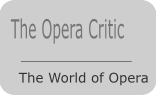 SEEN AND HEARD UK OPERA REVIEW
Donizetti, Lucia di Lammermoor: (sung in English) Soloists, Chorus and Orchestra of English National Opera/Anthony Walker. London Coliseum, 4.2.2010 (CC)
Cast:
Lucia - Anna Christy
Enrico - Brian Mulligan
Edgardo - Barry Banks
Arturo - Dwayne Jones
Raimondo - Clive Bayley
Alisa - Sarah Pring
Normanno - Philip Daggett

Production:
Director - David Alden
Set Designer - Charles Edwards
Lighting - Adam Silverman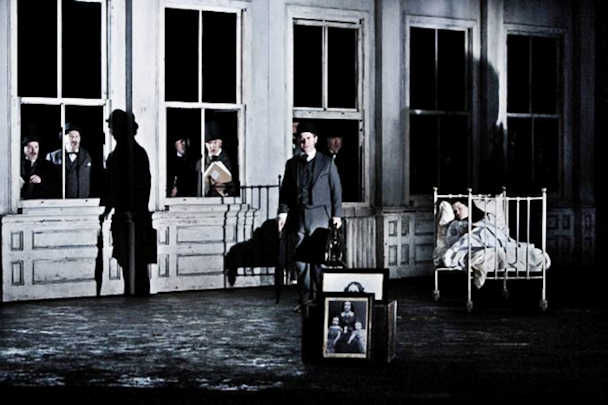 Anna Christy and Company - Picture © Robert Workman


Almost exactly a year since I last reviewed this production of Lucia for Seen and Heard, here it is back with a similar cast and new conductor. The production remains as stimulating and powerful as before. Differences stemmed not only from cast changes; both Christy and Banks moved in new directions, also.

My previous review commented on David Alden's staging, which remains massively impressive. The set designs, by Charles Edwards, depict a run-down Victorian country estate, a visual parallel to the decay at the very heart of the opera. The overall darkness, the revealing of Lucia's blood-saturated dress during the Mad Scene and the general impression of claustrophobia all contribute to a powerful evening. Donizetti is at the very height of inspiration throughout this score, and it was good to hear the ENO orchestra giving its all. Anthony Walker (currently Music Director of Pittsburgh Opera and a recipient of the Sir Charles Mackerras Conducting Award) made his ENO debut with this production, and there was clearly rapport in evidence here. Just occasionally ensemble was less than secure, and one hopes these corners will be ironed out as the run continues.

Anna Christy was stunning last year. The portrayal of Lucia as an innocent and vulnerable young girl in circumstances that are to rend her reason to shreds works brilliantly. Vocally, Christy seemed more inside the part last year, however. The extended Mad Scene (complete with the haunting sound of a glass harmonica) still reminded us of Christy's impeccable technique, yet on this occasion it was the technique that dazzled, whereas last time it was the portrayal of a haunted, broken mind that was truly unforgettable.

In contrast, Barry Banks, who was impressive last year anyway, raised his game still further to deliver a reading of Edgardo to rank with the very finest, particularly in the final act. The highest part of Banks' voice had a ringing quality that I had not heard from him before. Brian Mulligan was an imposing Enrico, Lucia's brother who here is clearly involved in incestuous activities (ENO has never shirked from shocking moments, and here was no exception).

Last year, Paul Whelan stepped in for an indisposed Clive Bayley (as Raimondo). Bayley was able to take the role himself this time round. Vocally he was excellent, his voice firm and powerful, but his acting gives cause for concern. Stiff and with actions that are clearly learned but not yet digested, he unfortunately detracted from the ongoing momentum of the drama. As Enrico, Brian Mulligan managed the balance of fine voice and fine acting far better.

Sarah Pring's Alisa was a staunchly strong supporting character, while it was left to the wedding scene to remind us of what a truly great ensemble company ENO is. Dwayne Jones' Arturo (Lucia's bridegroom) was, like Bayley's Raimondo, a half-formed conception, rarely convincing dramatically although vocally he was fine. The ENO chorus was, as so often, spot on.
Colin Clarke