Other Links
Editorial Board
Editor - Bill Kenny
Assistant Webmaster - Stan Metzger

Founder - Len Mullenger
Google Site Search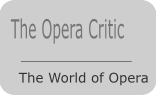 SEEN AND HEARD INTERNATIONAL OPERA REVIEW
Wagner, Der Fliegende Holländer: Soloists, Orchestra and Chorus of the Deutsche Oper Berlin. Conductor: Jacques Lacombe 5.2.2010 (JMI)

Deutsche Oper Production
Director: Tatjana Gürbaca.
Sets: Gisbert Jäkel.
Costumes: Silke Willrett & Marc Weeger.
Lighting: Wolfgang Göbbel.

Cast:

Holländer: Egils Silins.
Senta: Ricarda Merbeth.
Daland: Hans-Peter König.
Erik: Endrik Wottrich.
Steuermann: Gregory Warren.
Frau Mary: Liane Keegan.


Berlin is especially attractive to the opera addict as it has three opera houses, some other lesser known companies and some excellent concert halls, where many of the finest orchestras in the world play regularly. On February 4th there were four different operas programmed in the city, something which puts Berlin into a very special category. From the end of January through March, the Deutsche Opera Company is offering several Wagner weeks, where five Wagner titles will be performed, among them a new production of the neglected Rienzi. All of this is more than temptingl.

The strange production of The Flying Dutchman bears the signature of Berlin born Tatjana Gürbaca. It was premiered in June 2008 and generated a great deal of scandal, since it is yet another example of a new dramaturgical concept presented on stage apparently without any relation to the music or libretto. It is narrated by Senta's little sister, who opens the curtain when the overture ends.

Don't expect any Dutch or Norwegian ships here, nor even the sea and sailors. Act I takes place on the Wall Street Stock exchange, with the Steuermann as a "floor broker", "sailors" taking orders while they use their mobile phones, and Daland as a big shot in the house. Computer screens can be seen everywhere, but the music and libretto are complete strangers to this place.

Next, the brokers fall sleep and, through a showcase window, the Dutchman appears. He seems to be some kind of anti-capitalist or anti-globalization character, who turns up every 7 years. Perhaps he embodies the actual financial crisis itself for of course, so strange a character is immediately recognized by Senta's sister.

Act II takes place using the same sets, which have now become a beauty salon, where an apparently deranged Senta sings her ballade, while her friends are busy with their beauty business. The Idyll of the Dutchman and Senta becomes quite erotic since at the beginning, Senta takes off the Dutchman's clothes.

Act III seems to show the wedding between the Dutchman and Senta but it ends with Senta murdering Erik followed not only by her own suicide but that of all the wedding guests, just as if this were Les Troyens. The only survivors are the Dutchman and Senta's sister. It's all certainly a twist on the original.
The new plot is definitely interesting and could almost serve as a script for a film, but the question is whether it has anything whatsoever to do with Wagner's Flying Dutchman. Sadly the answer is obvious: nothing, absolutely nothing. Here is another example of a director who wants a role in opera that does not rightly belong to him - or her in this case - to my mind. There is decent enough stage work, some original sets, appropriate costumes and good lighting, but the divorce between the staging and music is too big to be acceptable. The production felt like watching a movie on television, while listening simultaneously to an opera through headphoness. How can one focus on the music, while watching something so completely different?

What we were offered on stage made it very difficult to judge the conductor's contribution, since it must have been extremely difficult for him too, to focus on the music, when what he was seeing had so little to do with it. The conductor was the Canadian Jacques Lacombe, who presided at the premiere and its revivals and while his reading had strength enough, I found it somewhat noisy and short of nuances and intimacy. The orchestra was excellent of course, just as one might expect in this theatre and the chorus gave a wholly commendable performance, considering what the production asked of them.

The cast was almost a straight copy of the one that I saw at Madrid's Teatro Real a couple of weeks ago and it was a pity that such good singers had to deal with this production. The young Latvian baritone Egils Silins was a very good Dutchman - or whoever he was - in Madrid he made a very positive impression and here he confirmed it again. He is not exactly an outstanding interpreter of the character, but is certainly is one of the best performing the role today. Hans-Peter König repeated his excellent Daland but I had the impression that he wasn't very comfortable on stage, particularly in the ridiculous dances he has to perform with his colleagues at the end of the first act. Endrik Wottrich was not brilliant as Erik in Madrid and things had not changed much in Munich. He had some problems in his arioso in the last act, it's true but he really didn't deserve to be executed.

The novelty in the Munich cast came with Senta being played by soprano Ricarda Merbeth. She gave a good vocal performance, although with a somewhat lightweight voice, but she had no problems at all with the higher notes. Among the secondary characters, Gregory Warren played a smaill-voiced Steuermann (?) and Liane Keegan completed the cast as Frau Mary.

The theatre had some empty seats but at the final bows there was a very warm reception for the singers, especially for Hans-Peter König, Senta and the so-called Dutchman.

José M Irurzun