Other Links
Editorial Board
Editor - Bill Kenny
Assistant Webmaster - Stan Metzger

Founder - Len Mullenger
Google Site Search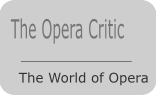 SEEN AND HEARD INTERNATIONAL OPERA REVIEW
F. Asenjo Barbieri, El Barberillo de Lavapiés: Soloists, Orquesta Bilbao Philarmonia, Coral de Bilbao.Conductor: Jorge Rubio.Teatro Arriaga de Bilbao. 31.1.2010 (JMI)

New Production from the Teatro Arriaga in coproduction with Teatro Calderón de Valladolid.

Direction: Gustavo Tambascio.
Sets: Daniel Bianco.
Costumes: Gabriela Salaverri.
Lighting: Juan Gómez Cornejo.

Cast:

Lamparilla: Borja Quiza.
Paloma: Anna Tobella.
Don Luis: Jon Plazaola.
Marquesita del Bierzo. Itziar de Unda.
Don Juan: José Manuel Díaz.
Don Pedro: Javier Ibarz.
Lope: Juanjo Otero.

There is no doubt at all that Francisco Asenjo Barbieri (1823-1894) remains one of the most important Spanish musicians ever as the real initiator of the zarzuela as a popular genre. El Barberillo de Lavapiés – 'The Little Barber from Lavapiés' (a popular district in Madrid) - is chronologically the last of his best-known zarzuelas and the one that has had the greatest presence in Spain's zarzuela theatres in recent years. Its most recent production was at Madrid's Teatro de la Zarzuela barely four years ago in a production by Calixto Bieito.

Bilbao has a very loyal zarzuela audience that fills the theatre whenever there is a decent production available, which was happened the case here. The arrival of Emilio Sagi at the Teatro Arriaga has actually revitalised the zarzuela genre, demonstrated here by the fact that the show was very nicely presented in all respects.

The Argentinian Gustavo Tambascio is responsible for this new production and he brings a bright, and simple setting that is full of life, to the work, proving that is not necessary to have big names or to spend huge amounts of money in order to provide something very pleasing. The plot of El Barberillo tells of a political conspiracy during the reign of King Carlos III at the end of 18th century and has a libretto by Mariano José de Larra. The action takes place in Lavapiés itself and is centred on the aristocratic character of the Marquesita ("little marchioness"), and the help she receives from Lamparilla, the barberillo of the title. The Marquesita's love for Don Luis de Haro is counterpointed with the Barber's pursuit of a Lavapiés seamstress, Paloma, in a plot combining serious, comic and satirical elements in equal proportion. There is an important but sinister chorus of Walloon Guards who become Secret Policemen in this production.

Director Gustavo Tambascio moves the action to the 1960s, during Franco's dictatorship and the time of the political struggle between Falangists and technocrats, with the University students in the middle, but in fact the transposition is only partial, since it presents the story at two different historical levels simultaneously. Upstage, we see the orginal plot acted out while the modern plot runs simultaneously below it, with some intermittent coming together of the two. Tambascio provides a gala of the imagination matched with excellently good taste, with a fine evocations of the students and dressmakers in the 60s, including some Vespa motorcycles and with the secret policeman everywhere. If the show is fun, lively and colourful, the pure narration is sometimes slightly confusing however, with the mixture of time frames. Even so, Tambascio's direction is excellent, with good use of extras, serenaders and dancers. The sets are very simple; just a few steps separating the already mentioned levels for the action and a barbershop and some mannequins for the important scene about the seamstresses. Nice costumes and good lighting are complement the production very well.

Jorge Rubio provided the musical direction and he was a fine accompanist for the singers on stage. Sadly, the orchestra under his baton was no better than mediocre much of the time and the contributions from the chorus were uneven in quality.

Consisting of singing actors, the vocal cast, was fine, highlighting the excellent baritone Borja Quiza as the Barber Lamparilla. This young singer is at 27 a genuine rising star with a homogenous and pleasant lyrical voice. What was a very pleasant surprise was his excellent skill as an actor, a quite important aspect of the zarzuela genre. Mr Quiza is a clearly a singer with a bright future ahead.

The dressmaker Paloma was the Catalan mezzo Anna Tobella, who was fine, though not quite at the same level as Borja Quiza. The excellent light tenor Jon Plazaola sang Don Luis de Haro and Itziar Unda played the Marquesita del Bierzo with a pleasant voice of smallish volume in the middle range, which improving in terms of projection higher up.

The Teatro Arriaga welcomed a full house, except in the restricted view seats and all of the artists had a very warm reception, particularly Borja Quiza.

José M Irurzun