Other Links
Editorial Board
Editor - Bill Kenny
Assistant Webmaster - Stan Metzger

Founder - Len Mullenger
Google Site Search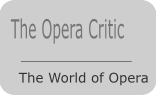 SEEN AND HEARD UK CONCERT REVIEW
Wagner, Brahms, Liszt: Anna Larsson (contralto); Peter Auty (tenot); London Philharmonic Choir and Orchestra/Vladimir Jurowski. Royal Festival Hall, London, 1.5.2010 (CC)


Vladimir Jurowski has provided many a highlight in the LPO's recent seasons. His programming is always carefully considered and the orchestra clearly respects him. A Tchaikovsky "Manfred "Symphony some years ago was positively incendiary; his Tristan at Glyndebourne last year, although not as yet a fully formed interpretation, was impressive nonetheless.
This Goethe-inspired programme provided plenty of food for thought. The evening opened with Wagner's seldom heard Faust Overture of 1839/40 (the dates placing it between Rienzi and Dutchman). There was no chance of Jurowski dismissing this as early Wagner. The opening was painted in the darkest colours by a set of very disciplined strings. Weber's influence seemed audible in the dramatic allegro, beautifully balanced wind and brass spoke testament to the detail of the rehearsals and the close was simply radiant.
Anna Larsson is a tremendous singer who has impressed a number of my colleagues here in Seen and Heard. Her contralto voice is more piercing than some, and she has a very penetrating lower register. Ably supported by the Gentlemen of the LPC, her total concentration made her account of Brahms' Alto Rhapsody a special event. Jurowski linked the work's gloomy shadings directly to those that opened the Wagner, while Larsson's identification with the words (more Goethe – "Harzreise im Winter") set the seal on this memorable reading. The concert's first half was around 30 minute long, shorter than most, but the dense expression made the duration seem just right.
And so to the major work of the evening, Liszt's Faust Symphony. This is a magnificent work, as recordings by Beecham and Bernstein, in particular, have demonstrated. A performance given by the Hallé under James Conlon with James Aler as tenor soloist in Manchester's Free Trade Hall during my musically formative years (early 1980's) introduced me to this piece, and made an indelible impression. If Jurowski's reading was not as focussed as any of the ones listed, one still left with a sense of awe. Time may help Jurowski to pace the work better, but the positives were a real awareness of Liszt's use of silence and suspense and a huge sense of discipline from all concerned. Microphones were in evidence so presumably this is destined for the LPO's own label. I hope so, and some patching will rid the final version of some rougher patches (a bassoon descent near the opening being a case in point).
The first movement is a portrait of Faust himself (how affectionately Jurowski moulded the first theme!); the second paints Gretchen in the most delicate of colours, and it was in this second movement that one was reminded time and time again of Liszt's imagination as an orchestrator. Jurowski's ear for balance meant that this became the most successful movement, as the first seemed to lose its way, structurally, somewhat. The finale, Mephistopheles' movement, has no themes of its own but trades on grotesque transformations of material already heard. Some of these transformations are gossamer light, quixotic in nature. The LPO seemed to revel in them, as it did in the infernal fugue. The work closes with a setting of the Chorus Mysticus from Faust. Tenor Peter Auty was impassioned but there was rather too much air around his voice; chorus and organ, however, were beyond criticism. The close was rousing in the extreme. A special mention should, of course, go to the viola soloist, guest principal Fiona Winning, whose contributions to the second movement were most affectionately done.
A final point. Why did the chorus only arrive on-stage a few moments prior to their entrance?. It was off-putting and frankly rather strange. If they weren't there at the outset, I, for one, imagined they would enter after the second movement; but no. Still, at least they crept in soundlessly.
Colin Clarke