Other Links
Editorial Board
Editor - Bill Kenny

Deputy Editor - Bob Briggs
Founder - Len Mullenger
Google Site Search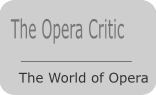 SEEN AND HEARD INTERNATIONAL OPERA REVIEW

Wagner, Der Ring des Nibelungen: Seattle Opera, soloists, cond. Robert Spano, dir. Stephen Wadsworth, set designer Thomas Lynch, costume designer Martin Pakledinaz, lighting designer Peter Kaczorowski, chorus master Beth Kirchhoff, Marion Oliver McCaw Hall, Seattle, 9, 10, 12, & 14.8.2009 (BJ)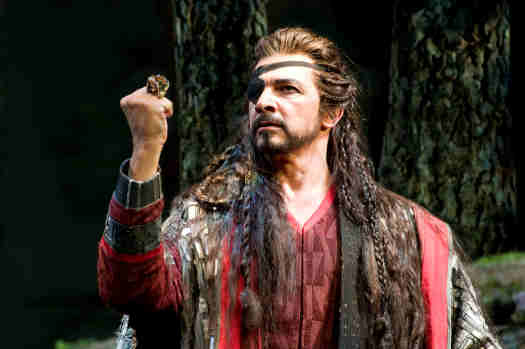 Das Rheingold - Greer Grimsley as Wotan
For many opera-goers, Wagner's Ring stands as one of the most significant and profound combinations of music and drama ever achieved. If you are among such devotees, you might be well advised to skip this review, since it is written by someone with a distinctly lesser admiration for the cycle.

It is important for a critic to reveal his prejudices. To me, the so-called philosophy that underlies the great megalomaniac's most megalomaniacal achievement is a sorry mishmash of confused and frequently shallow ideas. The music veers wildly between moments of supremely touching eloquence and quarter-hours of banal note-spinning. And I find the much-admired use of Leitmotiv technique childishly simplistic in its insistence on signposting every plot point or allusion to a character with yet another repetition of the relevant (and often, again, stupefyingly banal) musical figure.

So I must set it to the enormous credit of Stephen Wadsworth, whose production is now enjoying its third quadrennial outing at the Seattle Opera, and of all his collaborators in this gigantic enterprise, that I emerged from it with a much increased appreciation for Wagner's life-crowning work. Thanks to Robert Spano's masterful conducting, the marvelous playing of the orchestra (after a slightly shaky first minute or two in Das Rheingold), and a vocal cast with scarcely a weak link, the music sounded better than I have ever heard it sound in the theater, while Thomas Lynch's ravishing naturalistic sets, Martin Pakledinaz's unobtrusively attractive costumes, and Peter Kaczorowski's unerring lighting design all worked together with the director's refreshingly direct approach in concentrating the spectator's attention on what makes Der Ring des Nibelungen, with all its flaws, a compelling experience: namely, the riveting human interplay of even those characters in it who are not actually human.

It is a great and unfortunately somewhat rare pleasure, these days, to encounter a production free from what I once heard Jonathan Miller describe as the directorial impulse "to demonstrate one's moral superiority over the work in hand." All Wadsworth does is give us the work and its persons with clarity, keenness of perception, and deeply engrossing sympathy. His view of The Ring is blessedly devoid of overweening "Ideas" or "Concepts," though at the same time it is prodigal of real ideas without the damning capital "I." Typical among these, in Die Walküre, was having Siegmund and Sieglinde, when they left Hunding's hut to luxuriate al fresco in their newfound love, take up exactly the same positions on the grass–he stretched out full-length on his back, she sitting fondly and as it were protectively beside him–as Wotan and Fricka had been in when we first saw them in Das Rheingold the night before: a way of illuminating the family relations among three of these four people that was both subtle and moving.

Speaking of Fricka, another cardinal virtue of the production is the unusually sympathetic light it sheds on Wotan's long-suffering wife. Fricka commonly comes across as a shrew; you can't wait for her to stop nagging, so that her husband can get on with reasserting world-domination. But under Wadsworth's tutelage–doubtless in concert with the views of Seattle Opera general director Speight Jenkins, who in his fascinating four-CD introduction to The Ring describes her as "one of the very few characters in The Ring who always speak the truth"–Fricka becomes a genuinely sympathetic character, still tenderly loving Wotan despite all his betrayals. Along with Loge, who similarly if in colder vein sees through Wotan, Fricka is the moral core of this Ring production. And yet, though you might expect this to throw Wotan's failings still more negatively in relief, what it actually does is to emphasize his humanity, so that, for me at least, this Wotan commanded sympathy and affection even in the course of his most immoral schemings.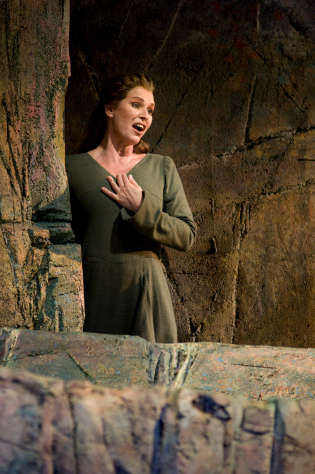 Götterdämmerung - Janice Baird as Brünnhilde


These considerations lead us (not before time, you may feel) to the singing-actors responsible for embodying Wagner's conceptions and Wadsworth's vision of them. Returning to Seattle as Fricka, Stephanie Blythe (who also took the roles of Waltraute and the Second Norn in Götterdämmerung) offered what was perhaps the outstanding vocal contribution in the whole cycle. Her rich mezzo-soprano is in its most luxuriant estate these days, and her impersonation of a woman–or rather a goddess–at once wronged and forgiving carried total conviction. Another holdover from previous Seattle Rings, Greer Grimsley, is as fine a Wotan as you are likely to encounter on today's operatic scene. Dramatically, he makes even so experienced an exponent of the role as James Morris seem one-dimensional. And he poured out his glorious bass-baritone voice with unblemished beauty and power. Perhaps, indeed, the power was a little too unrelenting: Grimsley is not Hans Hotter yet(though he still has years to refine his portrayal) and in parts of his farewell to Brünnhilde (the most affecting passage in the whole cycle) I missed the ineffable hushed tenderness his great German predecessor brought to such lines as "zum letztenmal letz' es mich heut mit des Lebewohles letztem Kuß!"

Loge, meanwhile, brought us the company debut of the South African tenor Kobie van Rensburg, and here I have to register disagreement with some local critics who found him bland and vocally unimpressive; to my eyes and ears, this was a most compelling reading, and singing, of the role, and evoked an insinuatingly subtle balance both with Wotan's less complex mind and with Richard Paul Fink's consummate portrayal of an Alberich as pitiable as he was dislikable. I must similarly dissent from one colleague's verdict of "underpowered" on Maria Streijffert's Erda in Siegfried; by contrast, the same writer commended the Swedish contralto, in her US debut in Die Walküre two nights earlier, for her "sumptuous tone and regal bearing," and with that judgement I can heartily concur.

Outstanding among the other cast members were Andrea Silvestrelli, unleashing a superb black bass voice as first Fasolt and then Hunding; Daniel Sumegi as Fafner and Hagen; Marie Plette as an appealing Freia and an equally sympathetic Gutrune; Gordon Hawkins, not hugely impressive as Donner but then intensely human as Gunther; Dennis Petersen as an aptly devious Mime; and Margaret Jane Wray, a clarion-voiced Sieglinde, casting Stuart Skelton's perfectly adequate Siegmund somewhat in the shade. The Valkyries made a delightfully varied yet cohesive team, enjoying youthful high-jinks in Act III of Die Walküre, and Julianne Gearhart, Michèle Losier, and Jennifer Hines, swimming with assurance in their harnesses through the waters of the Rhine, did everything that could be done with the Rhinemaidens' rather silly music, though Ms. Gearhart's reappearance as the Forest Bird in Siegfried was vocally weak.

Of the two biggest and most taxing among the higher-voice roles, Siegfried brought a company debutant in the shape of the Danish tenor Stig Andersen, and as Brünnhilde Janis Baird returned after her triumphant West Coast debut last season in Seattle's Elektra. Andersen's Siegfried must be accounted especially heroic in that the singer consented to appear in his eponymous opera despite still laboring under the after-effects of a viral infection. The vocal problems he was consequently suffering were obvious, and in the Wednesday evening's big closing duet with Brünnhilde his voice largely disappeared. But for Friday's Götterdämmerung he was in much better shape, and produced singing sensitive, sufficiently grand, and at times of genuinely warm and touching tone. I liked, too, his and his director's insistence on the childish side of Siegfried's character–this personage is certainly not an idiot-savant, but he is something of an idiot-hero, and Andersen captured the type to perfection; you can, he showed us, be a hero without looking like one.

Both vocally and dramatically, Janice Baird was such a genuinely electrifying Elektra last October that expectations for her Brünnhilde were running dangerously high. At first she revealed one or two vocal problems of her own, with an obtrusively wide vibrato blemishing her work in the second act of Die Walküre. By the evening's end, the sheer intensity of her acting and singing were turning the tide, and in Siegfried and Götterdämmerung she went from strength to strength. The voice is utterly thrilling, and the combination of it with so stunning and irresistibly attractive a stage presence–she can even dominate by standing still–adds up to a Brünnhilde of star quality.

In the work itself, I still found banalities and longueurs–Act II of Götterdämmerung is an astonishing stylistic regression, dumping us in an instant from a human drama into a bout of Ye Olde Victorian melodrama, and the stage-villain Hagen's gloating over his prospects at the end of that act would have been accomplished by Verdi in one-tenth the time and with twice the intensity. But the best things in the cycle–the majestic orchestral opening and the entry into Valhalla in Rheingold, the Todesverkündigung in Die Walküre, the love duet for Siegfried and Brünnhilde in Siegfried, and much of the last act of Götterdämmerung, its ending superbly staged by Wadsworth and his visual team–were overwhelming in this realization. Even with a couple of computer malfunctions that momentarily held up the action (by keeping down the curtain), and presumably to be eliminated in the second traversal, running as I write, and the third to follow, this Ring was an achievement of towering artistic stature. Overcoming many of my prejudices, it was a human and musical experience to treasure, and to remember for a very long time.

Bernard Jacobson

Pictures © Rozarii Lynch