Other Links
Editorial Board
Editor - Bill Kenny

Deputy Editor - Bob Briggs
Founder - Len Mullenger
Google Site Search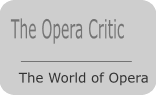 SEEN AND HEARD INTERNATIONAL OPERA REVIEW

R Wagner, Tannhäuser: Orchestre National Bordeaux Aquitaine. Choir de l'Opéra National de Bordeaux. Choir de l'Opéra National de Montpellier Languedoc-Rousillon. Conductor. Klaus Weise. Grand-Théâtre de Bordeaux. 10.05.2009. (JMI)

New Production
Stage Director: Jean-Claude Berutti.
Sets: Rudy Sabounghi.
Costumes: Colette Huchard.
Lighting: Laurent Castaingt.
Cast:
Tannhäuser: Gilles Ragon.
Elizabeth: Heidi Melton.
Wolfram: Levente Molnar.
Venus: Sylvie Brunet.
Landgrave: Marek Wojciechowski.
Walther: Willem Van der Heyden.
Biterolf: Jean-Philippe Marlière.
Heinrich: Matthew O'Neill.
Reinmar: Eric Marin-Bonnet.
Shepherd: Christine Tocci.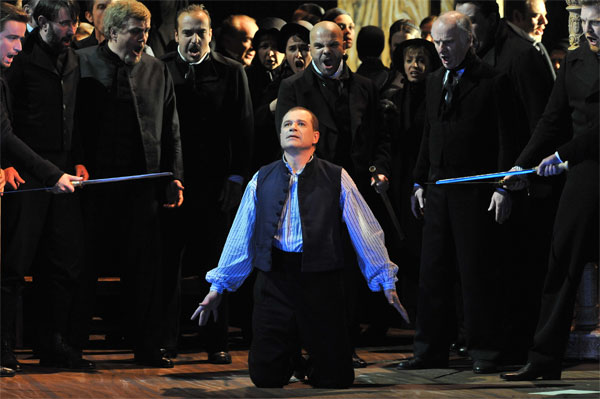 Wagner returns to Bordeaux and it's a return marked by success.

Bordeaux has quite a depth of Wagner experience with some 70 performances of Tannhäuser in the history of the city. I have seen all the Wagner operas in this theatre with the exception of Meistersinger and, of course, his three first operas, so unjustly forgotten and even rejected.

Bordeaux offers a new production with stage direction by French director Jean-Claude Berutti. The concept is adroit with the action located in a German rural community at the beginning of 19th century. Protestant religious beliefs are in the ascendant.

The first act takes place on two levels: a forest where Tannhäuser is rejected by his singer colleagues and then moving downwards to the underworld that is Venusberg. There is no bacchanale. Instead we are presented with Venus's bed all decked in black sheets where Venus and Tannhäuser make love and sing. The invocation to Mary takes place against the backdrop of the forest, where we meet the singers and Landgrave. The Song Contest is in a rustic room with benches for the villagers – rather than guests. The atmosphere is, therefore, very rural with the choir dressed in black and the singers seated in the first rank of benches. In the third act, we return to the same forest and a raised observatory looking down on the trees from which Elizabeth watches the arrival of the Pilgrims. The final scene has the community and its priests taking the coffin of Elizabeth to the tomb where Tannhäuser has just fallen dead. The production delivers good direction for the actors and works well though evincing no great originality.

The musical direction was entrusted to Klaus Weise who is very familiar with this theatre. The version offered is the traditional Paris and Dresden 'edition'. Its most regrettable aspect involves the cuts in the Venusberg scene and in Act II. These elisions and Weise's lively tempi mean that the performance was finished in three hours and 15 minutes including two intermissions of 20 minutes each.

Weise's direction was somewhat anodyne in the first act but rose to some brilliance in the following acts. Overall the music results were good. The outstanding Orchestre National Bordeaux Aquitaine seems to love Wagner. The disappointing choral work was however below par.

It was a surprise for me to see Gilles Ragon announced as Tannhäuser, since I have always seen him in lighter repertoire. His performance was a very pleasant surprise. First of all, he has power enough to sing the role, showing no trace of fatigue. This is more than can be said of many tenors singing Tannhäuser today. While this theatre is small, I have seen many tenors sing here and my reported impressions would be unlikely to differ greatly in a bigger house. Ragon is not a particularly refined artist, but he offers sufficient power and musicality to be a very good alternative in the character. My last experience with this opera was in March at Teatro Real when Robert Gambill took the eponymous role. On that showing Gilles Ragon is much better suited to the demands of Tannhäuser than Gambill.

I had never had the opportunity to see on-stage the young American soprano Heidi Melton – here singing Elizabeth. This young soprano offers a voice spectacular in volume, quality and projection - a major discovery. This sort of thing often happens in Bordeaux with its director Thierry Fouquet. I still remember Elza Van den Heever last year. Heidi Melton made a wonderful Elizabeth. She was very good in "Teure Halle", full of power and conviction in the concertante of act II, and excellent in the final Prayer. As happiness cannot be complete in this world, I am afraid that her figure will bring her problems; she is a big woman and this seems to be a huge disadvantage in the world of opera today.

The young Rumanian baritone (born 1983) Levente Molnar left a very positive impression as Wolfram. He sings well - his voice being good and homogenous. He is perhaps too light for the part, but in this theatre that is not a problem. He is a promising baritone who would be able convincingly to tackle some Verdi, such as Posa or Ford.

French mezzo-soprano Sylvie Brunet was the Bordeaux Venus and she lived the part with considerable intensity. The biggest problem is that Venus is not really for a pure mezzo, unless, that is, she has a powerful upper register. This is not the case with Brunet, whose attacks on the higher notes were shouted rather than sung.

Polish bass Marek Wojciechowski was a sonorous Landgrave, with a powerful and pleasant middle register, but too weak on high.

There was a full house and they seemed very pleased. There were ovations and cheers for Ragon, Melton and Wojciechowski (surprising). Much applauded also were Brunet, Molnar and Maestro Weise.

Jose Maria Irurzun

Other photographs from this production: Photo1 Photo2 Photo3


Back to Top Cumulative Index Page