Other Links
Editorial Board
Editor - Bill Kenny

Deputy Editor - Bob Briggs
Founder - Len Mullenger
Google Site Search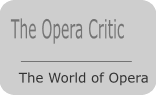 SEEN AND HEARD INTERNATIONAL OPERA REVIEW

The Valencia Ring - Wagner, Das Rheingold: Soloists, Orquesta de la Comunitat Valenciana. Conductor: Zubin Mehta.Palau de les Arts de Valencia. 15.6.2009(JMI)

Production Palau de les Arts de Valencia and Maggio Musicale Fiorentino.

Director. La Fura dels Baus - Carlus Padrissa.
Sets. Roland Olbeter.
Costumes: Chu Uroz.
Lighting: peter Van Praet.
Videos. Franc Aleu.

Cast:

Wotan: Juha Uusitalo.
Fricka: Anna Larsson.
Alberich: Franz-Josef Kapelmann.
Loge: John Daszak.
Fasolt: Matti Salminen.
Fafner: Stephen Milling.
Erda: Daniela Denschlag.
Freia: Sabine Von Walter.
Mime: Niklas Björling Rygert.
Donner: Charles Taylor.
Froh: Germán Villar.
Woglinde: Silvia Vázquez.
Wellgunde: Ann-Katrin Naidu.
Flosshilde: Marina Prudenskaya.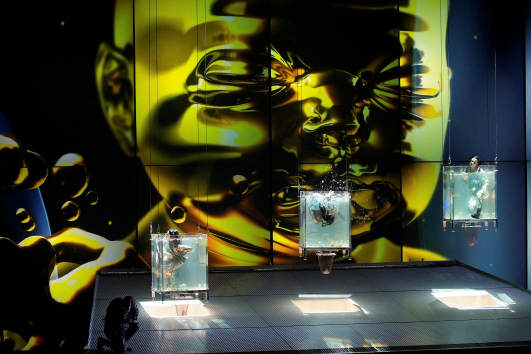 The Rhine Maidens

Valencia's Palau de les Arts completed its Ring with the performances of Götterdämmerung two weeks ago. After the culmination of this great Wagner work, which has appeared over through the last three years, they have decided to offer two complete cycles of the Tetralogy as the core of this year's Festival del Mediterráneo. If I am not mistaken, this is the first time that this has happened in Spain, where we have often been able to attend performances of the Ring in several cities, but never before all in one week, as Wagner himself conceived it. Therefore, this event is of major importance and with it Valencia joins New York, Zurich and Vienna, where the complete tetralogy has also been also performed in the last three months. Not bad company for a Spanish opera house.

I was most interested to see this Rheingold again, since this production by the Catalan theatre company La Fura dels Baus had excited my attention when it was first performed and I wanted to discover the extent that my initial surprise had been part of my appreciation of it. On seeing it again, I still consider that La Fura's Rheingold is the best work of their four stagings. La Fura has shown great creative imagination in many of their operas so far and they have proved their abilities once again with a genuinely original conception that makes great use of video projections.

La Fura's main idea is to show how the conflicting ambitions of the Gods, the giants and the Nibelungs, upset a natural equilibrium between their worlds and those of men and lead inexorably to their self-destruction. There is a formal set only in the opening scene which shows a metallic platform with three small glass box full of water suspended above it in which the Rhine Maidens swim. In the following scenes the sets disappear completely, replaced by a large screen on which extremely original and allusive images to the drama are projected: particularly interesting for Wotan and Loge's descent to Nibelheim and the production and handling of the gold. Having seen it twice now, I am convinced that the production will actually be even better on DVD, since it often seems that the production has been deliberately developed around the idea that the screened images are more important than any other kind of theatrical effects.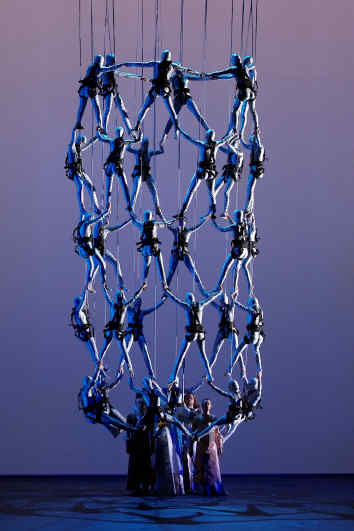 The entry into Valhalla


As an example, the presentation of the Gods and giants locked up in buckets hung from cranes manipulated by extras, is not terribly effective because the extras' movement of the devices does little to help the action along, whereas on the screen (visible on the sides of the stage) everything that appears is based on the characters, who appear as though they are floating in space. Visually this is an attractive and interesting production, even though not everything is outstanding. Alberich's transformations are disappointing and the fight between the giants is not very convincing either. One the other hand, the appearance of Erda is excellently handled and the entrance of the Gods into Valhalla, again using extras is completely typical of a La Fura dels Baus production.

The performances by Zubin Mehta and the orchestra were magnificent and it is seriously gratifying to hear Wagner done this way in Spain. Zubin Mehta's reading is free from superficial gestures and presents the music with great fluidity, achieving many impressive and truly brilliant moments. Mehta made a gesture of appreciation to the orchestra by taking all the players onto the stage at the end, where they were greeted with nothing less than delirium by the audience - a great musical start to what promises to be a wonderful cycle.

The vocal casting was the same as when the production was premiered two years ago to a great extent. There were no weak elements in it all; something rare and remarkable considering the large number of characters in Das Rheingold.

Juha Uusitalo was Wotan again and I found him much better than last time, once past a few not too brilliant notes at the beginning. Fortunately, he seems to be fully recovered from some surgery a few months back. Anna Larsson was also a very interesting Fricka, again better in vocal terms than last time. Franz-Josef Kappelmann was again the Alberich of reference and John Daszak was an excellent 'motorized' Loge. The giants (also repeated) had two wonderful interpreters in the persons of Matti Salminen (Fasolt) and Stephen Milling (Fafner). This was a luxury cast for any theatre with Sabine Von Walter repeating his moaning as Freia (what an insipid character!) and Germán Villar was a consistent and persuasive Froh.

The new singers in the cast were Swede Niklas Björling Rygert as a good Mime, Daniela Denschlag from Germany who was a very convincing Erda, much better than her colleague two years ago, and the American baritone Charles Taylor who was a powerful Donner. He also seemed totally recovered from a fairly recent gastric by-pass. The Rhine Maidens sang, moved and swam nicely too.

There was a packed house and huge final applause for the artists. The biggest ovations went to Uusitalo, Salminen, Milling, Kappelmann and, of course, to Zubin Mehta and his wonderful orchestra. To celebrate the opening of this Ring, there was a fireworks display outside the theatre.

José M Irurzun

Pictures © Palau de Les Arts, Valencia

Back to Top Cumulative Index Page