Other Links
Editorial Board
Editor - Bill Kenny

Founder - Len Mullenger
Google Site Search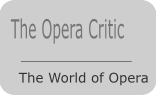 SEEN AND HEARD ARTICLE


In Search of The Lost Chord: Jack Buckley muses on Sir Arthur Sullivan's evergreen (JB)


In a conversation I once had with Laurence Olivier about the different voices which an actor needs, he mentioned a visit he had had from Margaret Thatcher, at that time, the prime minister. Mrs Thatcher said she was concerned that her voice was sounding too shrill and wondered if Sir Laurence had any advice to offer her on this. Well the first thing to keep in mind is that the voice you use to say anything is strictly related to what it is you are saying, said the great actor; in other words, if you have composed what it is that you want to say within yourself, the voice will impose itself, but it is unlikely to come out shrill. Mrs Thatcher, who was famously a quick learner, thanked Olivier, saying that she believed he had told her what she needed to know. Soon after this he received his peerage.

Adelaide Anne Procter (1825 – 1864) was a pious young woman who dedicated her life from a solid upper middle class background to helping London's poor; she later converted to Roman Catholicism. Queen Victoria was an admirer of her verses, as was Charles Dickens, who was a family friend. It was in Household Words- Dickens's weekly magazine which serialized his novels- that Adelaide Anne's verses first appeared. But soon she was outselling the novelist with volumes of her own poems. Literary tastes change and at the beginning of the twentieth century she would have been discarded had she not found a fixed place in the hymn book. The last two verses of what became one of her best known hymns – My God, I thank Thee, who hast made / The earth so bright – give an insight into her theology:

I thank Thee too, that all our joy
Is touched with pain;
That shadows fall on brightest hours;
That thorns remain;
So that earth's bliss may be our guide,
And not our chain.
I thank Thee Lord, that here our souls,
Though amply blest,
Can never find, although they seek,
A perfect rest,
Nor ever shall, until they lean
On Jesu's breast.

[Some hymnals have changed the last lines to until they reach / The last and best.]

If you have a copy of the Victorian sheet music of The Lost Chord you will see that the name of Adelaide Anne Procter is in bigger letters than that of Arthur Sullivan (1842 – 1900): she was a household name and he a struggling composer, with the Savoy operas mostly still to come. Sullivan sketched the song, in January 1877, distressed by his brother Fred's fatal illness, and came to regard it as one of his finest works. (I would myself put it behind his Orpheus with His Lute .] Adelaide Procter had left it as A Lost Chord (an invitation to look at her theology again); Sullivan renamed it The Lost Chord and doubtless rescued it from oblivion.

Enter Mrs Fanny Ronalds (1839 – 1916 ) a rich, American society hostess who was separated but never divorced from her New York husband. First in Paris, she set up a hugely sought-after salon, where her friends included the Empress Eugénie and Napoleon 111. There she met Sullivan and in the last two decades of his life became his lover, albeit under wraps. Her London salon was an immense social success too, where one of the great attractions was her singing. Mike Leigh in his excellent movie, Topsy Turvy, (DVD available) has her singing The Lost Chord at her London soiree, accompanied by Sullivan. He made her a present of the manuscript, which on her request, was buried with her at Brompton Cemetery. So far as I know, there are no recordings of Mrs Ronalds.

There are several recordings of Clara Butt singing The Lost Chord which I first heard, courtesy of BBC radio, growing up in the 1940s. Dame Clara, was of course, the voice of the British Empire, with Rule Britannia and Land of Hope and Glory as her trade-mark numbers, sometimes with all six foot two of her draped in a union jack. (I seem to recall Germaine Greer –equally tall- doing a wonderful pastiche of this in a 1960s Cambridge footlights review.) Beecham famously quipped that on a clear day, one could hear Dame Clara on the other side of the English channel. This booming contralto also made The Lost Chord her own. She would not have needed Olivier's advice. This was unmistakably The Lost Chord. You can hear her by going to http://www.youtube.com/watch?v=_bauqCoMOMM&NR=1&feature=fvwp .

Clara Butt had a passionate wish to save the world, but not by the way of Catholicism, but of Mary Baker Eddy. At her final recitals of ballads she would treat the unwitting audience to a Christian Science sermon, just in case the fervent message of such devotional numbers as The Lost Chord had somehow not come through the music alone. This was a branded, but historically significant rendition. Fanny Ronalds was a light, amateur soprano, so there must have been a world of difference between the two.

Enrico Caruso, a year younger than Clara Butt, was born in February 1873- (she in February 1872) and recorded The Lost Chord for Victor Talking Machine on Monday 29 April 1912; on the same day he repeated the song at the Metropolitan Opera House at a charity concert for the families of the victims of the Titanic disaster. Of course, nothing which Caruso recorded is less than thrilling, though there will be those who find that he has turned Sullivan into Puccini. Caruso, who seems to have been a genial chap, might have done well to heed Olivier's advice. Did anyone tell him about Fanny Ronalds? More interestingly, did Fanny hear him singing "her" song ? Caruso does sound as though he has more sympathy with Procter's title of A Lost Chord, which is to say, he sounds as though he is looking for it; Clara Butt has found it and is all ready to present it to you. You can hear the Caruso recording by going to www.encyclopedia-titanica.org/lost_chord_caruso.html .

When I used to play piano accompaniments for some of Charles Kennedy Scott's pupils, the instruction I heard this extraordinary singing maestro most frequently give was –Don't sing notes, sing words. A song can only have meaning if the singer is conveying the meaning of the words. Scott saw the notes only as a means of doing this. Later, when I had some responsibility for training children's voices, I realized again that it was fundamental that the children understand this. When they do, you are ninety per cent towards a very remarkable performance. Words may get pushed into the background in even very talented adult singers, or (like Clara Butt) they will put their own spin on what they consider the sense of the words. Children are much more "authentic" servants to both poet and composer: there is a very good chance that you will get much nearer to what were the original intentions.

This is what has happened in Peter Auty's perfect performance. He must have been about eleven at the time of the video, a leading choirboy at St Paul's Cathedral school, and with a huge mop of blond, curly hair, looks appropriately like one of those Renaissance paintings of an angel: http://www.youtube.com/watch?v=R_h4dTiHxo0 .

I write as someone not normally enamoured of the treble voice, but the perfection here is multiple: his precision is infinitely greater than either Butt or Caruso; rare for a boy soprano, he always pitches in the middle of the note; his rhythmic sense is unhurried, yet it has its own urgency, and above all, he gives Procter's words their due. Like her, he is searching for the Lost Chord. And he succeeds in carrying the listener with him on this search. (There is also a CD of him on Tadpole Records.) Peter Auty, now in his forties, has gone up in the world –or should that be down?- singing such roles as Rodolfo in La Boheme with Opera North. You remember Woody Allen's quip about having no fear of dying so long as he did not have to be present when it happened. If he had encountered the Auty-Procter Death's Bright Angel, he might have had the courage to change his mind. The last words, of course, have to go to the poetess herself:

Seated one day at the organ,
I was weary and ill at ease,
And my fingers wander'd idly
Over the noisy keys.

I know not what I was playing,
Or what I was dreaming then,
But I struck one chord of music,
Like the sound of a great Amen.

It flooded the crimson twilight,
Like the close of an Angel's Psalm,
And it lay on my fevered spirit,
With a touch of infinite calm,
It quieted pain and sorrow,
Like love over-coming strife,
It seem'd the harmonious echo,
From our dischordant life,

It link'd all perplexed meanings,
Into one perfect peace,
And trembled away into silence,
As if it were loth to cease,
I have sought, but I seek it vainly,
That one lost chord divine,
Which came from the soul of the organ,
And enter'd into mine,

It may be that Death's bright Angel,
Will speak in that chord again,
It may be that only in heaven,
I shall hear that grand Amen.

Jack Buckley