Other Links
Editorial Board
Editor - Bill Kenny
Founder - Len Mullenger
Google Site Search
SEEN AND HEARD INTERNATIONAL OPERA REVIEW
Karol Szymanowski, King Roger:
Soloists,
Orquestra Simfònica i Cor del Gran Teatre del Liceu.Conductor: Josep Pons.
Gran Teatre del Liceu de Barcelona. 10 and 11. 11. 2009 (JMI)

New Production

from

Barcelona's Liceu and Bregenz Festival.

Director: David Pountney.
Sets: Raimund Bauer.
Costumes: Marie-Jeanne Lecca.
Lighting: Fabrice Kebour.
Choreography: Beate Vollack.
Casts:
Roger II: Scott Hendricks/Artur Rucinski.
Roksana: Anne Schwanewilms/Monika Mych.
Edrisi: Francisco Vas/Roger Padullés.
Shepherd: Will Hartmann/Pavlo Tolstoy.
Archbishop: Daniel Borowski/Alexander Teliga.
Deaconess: Jadwiga Rappé/Agnes Zwierko.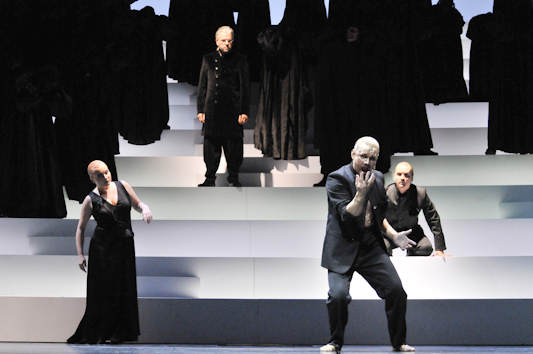 These performances of
King Roger are the first ever in Spain, 83 years after its world premiere in Warsaw. This opera is the second of Szymanowski's two operas and neither of the works is exactly normal repertoire. Hagith, the composer's first opera, is unknown outside of Poland and King Roger
was also almost forgotten until very recently: it is now performed more frequently, especially in Germany.

Briefly, the plot borders on the fantastic. Roger is the Norman King of Sicily, who built beautiful Byzantine churches on the island during 12th century. In the opera King Roger and Queen Roksana attend a function at Palermo's Cathedral, where the Archbishop, aDeaconess and the people demand the death of a shepherd who preaches a new religion. The King brings the shepherd to his palace, where he explains that he is an envoy of Dionysus, and is so persausive that many Sicilians and Queen Roksana become his followers. By the third act Roger goes in search of his wife, who decides to stay in the Kingdom of Dionysus, the God of love who in fact is none other but the shepherd himsel

f

, while King Roger sings to the rising sun.

King Roger is an opera of great musical value which deserves to be much better known. The first act in the Cathedral contains some of the most stunning and extraordinary music that can be heard anywhere, which makes the whole opera worthwhile in itself. The rest does not have quite the same exceptional musical quality, but contains very compelling moments such as Roksana's aria in the second act or Dionysus ballet music in the third. The orchestration is always very rich although the vocal writing is more uneven.

It is odd that after so many years of neglect we have had two new productions of this masterpiece recently. This summer the Bregenz Festival added a new production to the much criticised one by Warlikowski, premiered last spring in Paris. From what I hear, next year we should see the Bastille's production transferred to Madrid.

David Pountney's production is a collaboration between Barcelona's Liceu and the Bregenz Festival, where it was premiered last July. The production is essentially timeless uses open spaces quite a lot. The stage consists of a kind of amphitheatre in fact , which is better suited to Act I than to the rest of the opera. Costumes offer a good contrast between the initial black worn by the people of Palermo people, which changes to red, as they begin to follow Dionysus. The best part of the production is the magnificent lighting however. David Pountney's direction works well in general, with very good movement of the crowd scenes, although some aspects are not very particularly convincing: making blood the real protagonist of Act III, for example creates a pretty repulsive environment that does not seem to fit in with the music.

Musical direction was in the hands of Josep Pons, who seems to have made 20th-century music his speciality since I do not remember him conducting anything earlier, at least in opera. His reading was generally good, conducting the work with a secure hand and this opera certainly gives him lots to conduct. He drew a remarkable performance from the Liceu's orchestra, much better that on other occasions that I remember and the chorus was truly outstanding.
.
American baritone Scott Hendricks was a good interpreter of King Roger, with a decidedly lyrical voice, pleasant and homogeneous, besides his being a good actor. In the second cast we had Artur Rucinsk from Poland, who was also good, although his voice has some problems of projection when singing from the back of the stage.

The most difficult role in the opera is the Shepherd, who was interpreted by the tenor Will Hartmann. As happens with other great composers, Szymanowski comes over as another enemy of the tenor voice who gives the Shepherd an extremely difficult score. All of the versions of this opera that I have heard have contained problematic vocal performances by the Shepherd and this one was no exception. Taking into account the score's demands though Hartmann saved the situation with conviction and decorum, despite taking refuge in falsetto a couple of times. The problem is that the orchestration requires a wide and powerful voice and accommodates badly with the almost inhuman tessitura of the role. In the second cast we had the Ukranian Pavlo Tolstoy, who coped with the tessitura rather better than Hartmann, although his voice was smaller and almost inaudible at when the orchestra was in full flow.

Queen Roksana was sung by German soprano Anne Schwanewilms, who offered the most accomplished performance from either cast. She had had to cancel some performances earlier due to illness, but was fully recovered by November 10th and she was a brilliant Queen. The Polish soprano Monika Mych was also good, but she also too small a voice, insufficient to be heard clearly for too much of the time.

Francisco Vas was Edrisi, the Arab counsellor to the King, and he offered a good performance in a much more important role than we can normally hear from such an excellent artist. Smaller vocal resources affected Roger Padullés in much the same way as plagued Pavlo Tolstoy and Monika Mych.

There was a full house and a warm enough reception for the casts and production team, although it lacked the genuine enthusiasm that this opera is truly worth. I should also mention that the Liceu has also launched an exhibition on the life and work of Karol Szymanowski and that this time the content is much richer than usual with a profusion of photographs of the composer throughout his career.

José M Irurzun

Picture © Antoni Bofill