Other Links
Editorial Board
Editor - Bill Kenny

Deputy Editor - Bob Briggs
Founder - Len Mullenger
Google Site Search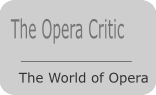 SEEN AND HEARD INTERNATIONAL OPERA REVIEW

Mozart, Così Fan Tutte: Soloists, Orquestra de la Comunitat Valenciana. Coro de la Generalitat Valenciana. Conductor: Tomas Netopil. Palau de les Arts de Valencia. 2. 3.2009. (JMI)

Production from the Glyndebourne Festival.

Direction: Nicholas Hytner (original) Bruno Ravella (revival)
Sets and Costumes: Vicki Mortimer
Lighting: Paule Constable

Cast:

Fiordiligi: Barbara Frittoli
Dorabella: Nino Surguladze
Ferrando: Joel Prieto
Guglielmo: Joan Martín-Royo
Don Alfonso: Natale de Carolis
Despina: Isabel Bayrakdarian.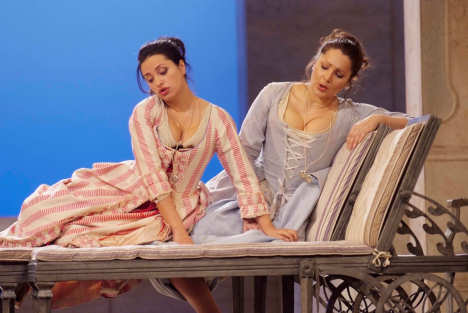 T

hese performances of Così Fan Tutte are the culmination of Valencia's Mozart-Da Ponte trilogy, that began two years ago. The artistic results of from all three operasd have not been quite what one might have expected, as Don Giovanni had to deal with the problems following the subsidence that affected the Palau's stage, Nozze de Figaro failed in musical terms, and this Così Fan Tutte suffered from an uneven vocal cast.

This production by Nicholas Hytner was premiered in May of 2006 in Glyndebourne and was revived the following year. It was well received in general, although without huge enthusiasm. The production follows well Giorgio Strehler's habit of providing a simple staging, good colour in the costumes and atrezzo elements, and with the luminosity of the Mediterranean (we are in Naples) always present. It is, therefore, a traditional production, but with the disadvantage of having an ever-present sense of "déjà vu about it". This is a pleasant work, but lacking in originality.

The revival in Valencia was directed by Bruno Ravella and he was not always convincing. The work with the ladies from Ferrara is good, but the two most important characters - from a stage point of view - Don Alfonso and Despina, were not given the sufficient prominence.

The young Czech conductor Tomas Netopil returned to the pit of the Palau de les Arts after his unpersuasive conducting for Le Nozze last year. This time things worked out better, but again it was not a fully convincing performance. On this occasion his reading in the first act was reminiscent of last year, short on joy and humour, although the tempi were lively (sometimes excessively). There were serious problems between stage and pit, particularly in the quintet Ferrando and Guglielmo's farewell. Things fortunately improved remarkably during the second act with a much more interesting reading. The Orchestra was at its usual high level, and also improved in the second half. The chorus was very consistent, and clearly was able to follow Netopil's hurried baton of in the first act.

In addition to an excellent conductor Così Fan Tutte demands a sextet of exceptional singing actors and Valencia fell somewaht short in this regard. Barbara Frittoli is one of the most important Fiordiligis of the last 12 or 15 years: there are not many sopranos as good as she is in this role, although in the last few years we have seen some very good singers coming along. Ms Frittoli was an outstanding Fiordiligi, singing everything wonderfully, particularly her two most important arias "Come Scoglio" and "Per Pietá".

Her husband in real life, Natale De Carolis, was not quite as impressive as Don Alfonso. His voice was short of volume and sounded difficult and colourless in the high notes. He also failed to convince in his interpretation of the cynical old philosopher.

The Georgian mezzo soprano Nino Surguladze was a good Dorabella, eloquent, with a very pleasant voice, which was not oversized for the role, and she was good in her own two arias. Without a doubt, the Ferrarese ladies were the best thing of the evening.

Isabel Bayrakdarian, as Despina, confirmed the weak impression she left on me last month as Poppea at the Liceu. This young soprano gives the impression that she is paying the price for having sung repertory which is too heavy for her voice to soon and her Despina left much to be desired in vocal terms. She offering an acid and unpleasant timbre in the higher notes, and sadly was unable to hide her vocal deficiencies behind special abilities as an interpreter.

Listening to the young Puerto Rican tenor Joel Prieto sing "Un aura amorosa" I thought how easy Mozart seems to be and yet how difficult it is in reality. There is no composer who better reveals a singer's immaturity and although Prieto's voice is very beautiful, Ferrando is too much for him at the moment. His rendering of the this aria was plagued with technical defects, from lack of breath control to serious pitch problems and some too evident vocal insecurities although "Tradito, schernito" went better. He is a promising tenor with a long career ahead of him and I hope he does not take on too much too soon.

The Catalan bass-baritone Joan Martin-Royo was a good Guglielmo. This singer has a good instrument, although the volume is somewhat small and projection is not always perfect. He is always a very reliable interpreter however and on this occasion I found him more convincing in vocal terms than in his Figaro at Liceu.

The theatre (unusually) had a few empty seats. There was a warm reception with cheers for Barbara Frittoli and Nino Surguladze was also much applauded.

José M Irurzun

Picture © Palau de les Arts, Valencia

Back to Top Cumulative Index Page