Other Links
Editorial Board
Google Site Search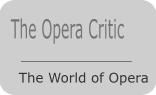 SEEN AND HEARD INTERNATIONAL OPERA REVIEW

Cherubini, Medea: Soloists, Orchestra and Chorus Teatro Regio di Torino. Conductor: Evelino Pidó. Teatro Regio di Torino. 9.10.2008 (JMI)

New Production
Director: Hugo de Ana
Sets and Costumes: Hugo de Ana
Lighting: Pascal Merat

Cast:

Medea: Anna Caterina Antonacci
Giasone: Giuseppe Filianoti
Glauce: Cinzla Forte
Neris: Sara Mingardo
Creonte: Giovanni Battista Parodi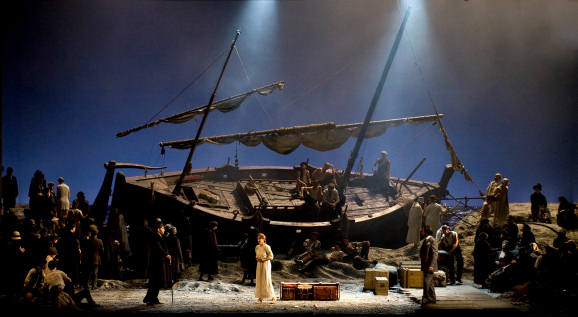 Turin opens its season this year with this rather unusual opera by Cherubini, so linked to Maria Callas that we could almost talk of the Cherubini-Callas version, when referring to the work in Italian.

It is curious that Medea, or better Medée, was premiered in Paris and in French yet whenever I have had the opportunity to see it, whether in France or Italy, it has been always in the Italian version. The origin of today's most familiar version was in Germany, where in 1854 Fritz Lachner changed the opera's dialogues into recitatives; later Zangarini prepared an Italian text for the premiere at La Scala in 1909. As I said already, this is the version that Maria Callas chose to put the work into the main operatic repertoire and it is 'her' Medea which has been sung by most of the top ranking sopranos ever since.

Medea is musically superior to most others written in the second half of 18th century (Mozart apart) and it calls attention powerfully to the dominant role of the orchestra.. It succeeds of course principally on the stature of the protagonist : either there is an exceptional Medea or the opera loses much of its interest. This is been the case ever since Callas and will continue to be.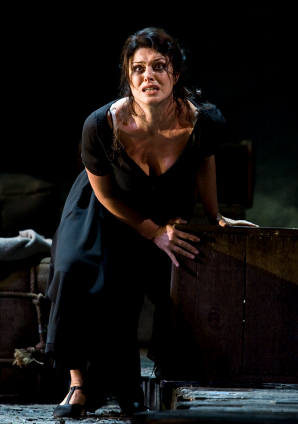 Anna Caterina Antonacci as Medea

In Turin, Ana Caterina Antonnacci was once again sang the title role, as she had done a few years back in Toulouse. Without a doubt she is one of the few singer-actresses able to do justice to the character and is in fact probably the best today in the role. Her Medea was very convincing, but I found her, as happened in Toulouse, lacking a certain viscerality. Hers is a young and beautiful Medea who never loses her composure. With a far less rich voice, Denia Mazzola in Montpellier left the audience breathless, such was her strength and conviction. Antonacci is convincing of course but she does not quite enrapture, although her voice has a particularly beautiful middle range.

Hugo de Ana's production offers a timeless drama or, at least, this is what he said in an interview. In fact, the costumes, except for those for Medea and Neris, correspond the first two decades of the 1900s. In the same interview De Ana also says that Medea could be set in any location, even on the Moon. With that in mind, he decides to stage it on a rough beach. This is where Glauce and her friends have their picnic and where the wedding banquet takes place, after which we see a boat (The Argonauts?) aground on the beach. Later the boat becomes Medea's home. It's more a serviceable production than a truly bright idea.

Evelino Pidó gave a good reading of the opera, offering the necessary dramatic intensity. He was very good in the purely orchestral passages, particularly the overture. He drew a very good performance from the Orchestra and Chorus of Turin's Teatro Regio. The result was good but perhaps even more passion may be needed when conducting this opera.

The rest of the cast is of a lesser importance in Medea. Among them we had Giasone, interpreted by Giuseppe Filianoti. It was something of a surprise to find him in this role, both because he is usually the main character in the operas he sings and also because Giasone requires a heavier voice than Filianoti's. His voice keeps its beautiful center and its slightly small upper register.

As the bereaved Neris, Sara Mingardo sang her second act aria with sensitivity and great good and Cinzia Forte was a more than adequate Glauce, although some hardness in the higher notes. Giovanni Battista Parodi as Creonte proved again that what he has gained in vocal volume he has lost in quality. Not the best of changes. There was a full house with a great success for Antonacci, and a nicely favourable response to Evelino Pidó.

Jose M. Irurzun


Pictures: Ramella and Giannese © Fondazione Teatro Regio di Torino

Back to Top Cumulative Index Page