Other Links
Editorial Board
Editor - Bill Kenny
London Editor-Melanie Eskenazi
Founder - Len Mullenger
Google Site Search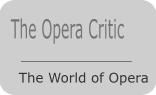 SEEN AND HEARD INTERNATIONAL OPERA REVIEW

Britten, Phaedra and Purcell, Dido and Aeneas. Orchestre National Bordeaux Aquitaine. Choir Opera Bordeaux. Conductor: Jaap ter Linden. Grand Théâtre de Bordeaux. 3.10.2008. (JMI)

Production from Opéra National de Lorraine.

Direction. Yanis Kokkos.
Sets and costumes: Yanis Kokkos.
Lighting: Patrice Trottier.

Cast:

Phaedra. Catherine Wyn-Rogers.

Dido: Mireille Delunsch.
Aeneas: Thomas Dolié.
Belinda: Kimy McLaren.
Sorceress: Catherine Wyn-Rogers.


The opening of the opera season in Bordeaux offered the great masterpiece from Henry Purcell, together with Britten's cantata Phaedra. It was an interesting program, whose link was that in addition to being written by English compsers both deal with impossible loves by two women from ancient times.

The Britten cantata is a short work, hardly more than 15 minutes, and is one of the composer's last. In fact, it was composed shortly before his death in 1976, and consists of a monologue for mezzo soprano: dedicated by Britten initially to Janet Baker. In this sense it has a big parallels with works such as Erwartung or La Voix Humaine. As always withBritten, the music is very original and is easy to listen to, with the important use of the harpsichord, rather surprisingly in a work from the second half of 20th century.

The production comes from Nancy and has stage direction by Yanis Kokkos, whose presence is often felt in Bordeaux - he is also the designer of the sets and costumes. Phaedra is presented in a very simple and asymmetric set with the protagonist dressed in red and the staging is helped along by good lighting. This is an effective solution full of good taste. In Dido and Aeneas we had another very good production from this Greek director, helped along again by wonderful lighting by Patrice Trottier. The sets are quite simple with bright costumes, also devised Mr. Kokkos. He does some good work with the small choir and he solves the scenes with the sorceresses intelligently as well as Aeneas's departure. It's an interesting production which comes out as the better part of the evening.

The musical direction was in the hands of Dutch violinist Jaap ter Linden, who was not really particularly compelling or even convincing. First of all, the Bordeaux Orchestra is not very suited to this kind of music and we have become used to wonderful orchestras in baroque operas. The difference is too great, . not only because the volume was excessive, but also that its quality was not poor. The end of this opera is breathtaking when it is played extremely piano, which it was not here. Tempi were rather erratic too and the chorus had too many problems in following the conductor and in making a truly compact sound. In short, this was a musical performance that did not make justice to Purcell's wonderful music.

Dido was the 'versatile' French soprano Mireille Delunsch, who offered a 'correct' queen, not too suited to the role either in voice or style. She is very interesting singer when she is in her right repertoire, but she seems convinced that she can sing almost anything which is difficult, if not impossible. Her voice has more interest than a few years ago, she has an attractive appearance on stage, but generally occasion she was not too exciting. That wonderful piece "Remember me" was not very special and. she did not look too happy during the final bows.

The local baritone Thomas Dolié was an Aeneas with an interesting lyric voice. I had the feeling that he was not in perfect health however, although nothing was announced. The Canadian soprano Kimy McLaren left a very positive impression a couple of years ago as Marzelline in Fidelio and s Belinda she confirmed it. She is n interesting light soprano, expressive and good singer : I wonder why she isn't better known. Catherine Wyn-Rogers doubled as Phaedra in the Britten and the Sorceress in Purcell. She was very good in both.
In the secondary roles the best was tenor Bruno Comparetti as the Sailor.

The audience gave a warm reception to all the artists, particularly to Dido and Belinda.

José M Irurzun

Back to Top Cumulative Index Page