Other Links
Editorial Board
Editor - Bill Kenny
London Editor-Melanie Eskenazi
Founder - Len Mullenger
Google Site Search
SEEN AND HEARD INTERNATIONAL OPERA REVIEW

Rossini: Il Turco in Italia : Soloists, Orchestre National du Capitole. Chorus du Capitole. Conductor - Maurizio Benini, Théâtre du Capitole Toulouse, 25.3.2008 (JMI)

Coproduction Théâtre du Capitole, Opéra de Lausanne and Deutsche Opera am Rhein.

Director: Tobias Richter.
Sets and Costumes. Gian Maurizio Fercioni.
Lighting: Henri Merzeau.

Cast:

Selim: Marco Vinco.
Fiorilla: Inga Kalna.
Don Geronio: Alberto Rinaldi.
Narciso: Lawrence Brownlee.
Prosdocimo: Pietro Spagnoli.
Zaida: Brigitte Hool.
Albazar: Philippe Do.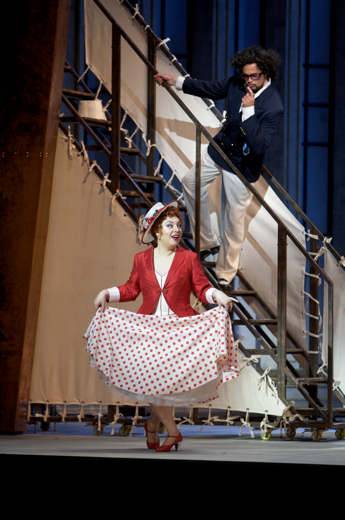 Inga Kalna as Fiorilla - Picture © Patrice Nin


Il Turco in Italia is very rarely performed in most places, although lately it seems to be enjoying more popularity. If there is something crucial to this opera however, it is to have a first class soprano in every sense, not only as a singer, but also as an actress. Fiorilla is the true protagonist of the opera and its success or failure depends on her to a great extent. In recent performances in both Munich and Pesaro, the Fiorilla was not ideal. Here, the same problem continued but at a poorer level still.

Latvian soprano Inga Kalna has very little to offer as Fiorilla. She is far from appealing on stage, the capricious young girl never comes to life in her characterisation and her upper register is only good enough for singing Berta in Barbiere di Siviglia. She has a good enough middle range, and is comfortably agile, but her high notes are really unpleasant, going beyond shouting almost to become screams sometimes. It really is better not to program this opera, than have a poor Fiorilla.

The nominal protagonist, Il Turco Selim, was Marco Vinco, who gave a very good performance. He is more baritone than bass, but on this occasion he seemed almost a superstar, compared to his colleagues in the cast. He was much better than in Pesaro last summer and he seemed to have a good time on stage, which is not a trivial point for this kind of opera. If the singers don't enjoy themselves on stage in Rossini, then how can the audience do so?

Veteran Alberto Rinaldi was Don Geronio. His voice is rather worn these days although he portrayed his character with great dignity. American Lawrence Brownlee (Narciso) sang beautifully with excellent agility and somewhat reduced volume, which in this theater is never a great problem He had the most applause of the afternoon for his aria in the second act. Prosdocimo, the poet, was Pietro Spagnoli, who was perfectly adeqaute, although lacking much buffo style. Zaida was entrusted to the Swiss soprano Brigitte Hool, a better actress than singer and the French-Vietnamese tenor Philippe Do was acceptable as Albazar.

Maurizio Benini provided a thoroughly decent reading of the opera, with lively tempos and good overall control. The Orchestra and Chorus did their job professionally without particular problems.

The action in this production takes place in Naples in the bar of a hotel, which becomes the hotel terrace in the second act. While generally, the production lacks much vivacity and originality, more importantly it is also short on imagination and fun. It is miles away from Pelly's outstanding production in Munich and changing the gypsies into tourists here is no help at all. The sets are simple, the costumes are nothing special - except for Fiorilla's - and lighting is at best routine. There was a full house and an apparently grateful audience who applauded all the artists at their final bows, although without excessive enthusiasm. In the decibels contest though, the winner was definitely Lawrence Brownlee while the uncapricious Fiorilla received simultaneous applause and booing - a source of even less fun for her, I imagine.

José M. Irurzun