Other Links
Editorial Board
Editor - Bill Kenny
London Editor-Melanie Eskenazi
Founder - Len Mullenger
Google Site Search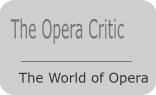 Price Comparison Web Site
SEEN AND HEARD INTERNATIONAL OPERA REVIEW
Puccini, Turandot: Soloists, Orquesta Sinfónica de Euskadi. Coro de Ópera de Bilbao. Conductor: Antonello Allemandi. Palacio Euskalduna de Bilbao. 10. 5.2008. (JMI)

Co -production Barcelona's Liceu, Bilbao's ABAO and Toulouse's Capitole.

Direction: Nuria Espert (original) Marco Berriel (Revival).
Sets: Ezio Frigerio.
Costumes: Franca Squarciapino.
Lighting: Vinicio Cheli
>


Cast:

Turandot: Adrienne Dugge
r.

Calaf: Marco Berti.
Liú: Latonia Moore.
Tim
u
r: Deyan Vatchkov.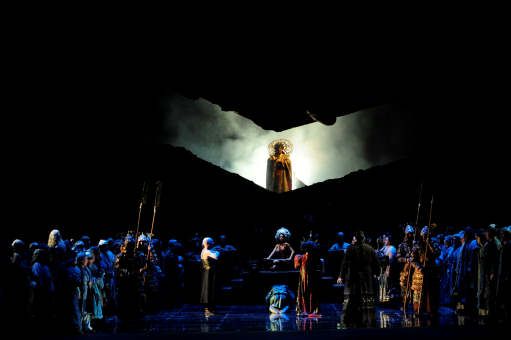 ABAO (Bilbao Opera Friends Association) brings its 56th
opera season to a close with a tribute to Puccini for the 150th anniversary of his birth, offering a revival of his posthumous opera Turandot in the production by Nuria Espert which inaugurated ABAO's 2002/2003 season. This production has always been very well received in the theaters where it is been performed, its last outing only having been only a couple of months ago in Tel Aviv. The biggest surprise about the production though was to learn that Toulouse's Capitole is now listed as a coproducer, which was not the case previously , as the original programs for the performances in Barcelona and Bilbao clearly show. This is the first time I've heard of an "a posteriori" coproducer.

Nuria Espert's production was premiered for the reopening of Barcelona's Liceu after the dreadful fire that destroyed it. Since then I have had the opportunity to see it on several occasions and I have always had the impression that it is very well suited to what people expect from an opera like Turandot. This is an opera works best on a "kolosaal" stage. Nuria Espert chose a great team of collaborators, in the trio formed by Ezio Frigerio (sets), Franca Squarciapino (costumes) and Vinicio Cheli (lighting) and the staging of the second act is certainly spectacular. In Nuria Espert's work there are both positive and negative elements and among the positive ones, it is worth mentioning the fact that the large production does not prevent the development of the inner drama between the characters. On the other hand, Nuria Espert makes her own reading of the libretto, based on the androphobia of the Ice Princess, after her appearance with "In questa Reggia". The negative element has to do with the change of the plot in this production: Nuria Espert's Turandot, kills herself when she sings "Il suo nome è amor". This runs entirely counter to both the librettist's intention and to the music, which ends with an explosion of joy rather than mourning. Yet again the need for directorial 'originality' contradicts authorship to no great effect. There was a very brief pause in the performance too after Liu's death, a tribute to Puccini's death before completing the opera and in line with Toscanini's homage at the La Scala premiere, but this was neither announced or explained in advance. Without the explanation, the intermission would have felt simply absurd to many members of the audience.


Antonello Allemandi is a regular conductor for ABAO, having already conducted more than 25 different works and over 90 opera performances for the Association. This time his reading proved to be boring, hurried and superficial as well as remarkably noisy. There was too much sound and too little inspiration and I have rarely seen the Opera de Bilbao Chorus so insecure : they were not having a bad day , they simply they had too many problems coping with the erratic direction from the pit. Allemandi's arms were like windmills and impossible to follow. Oddly however, he had a cooperative orchestra, which was always very disciplined and ready to deliver all the decibels requested. Although the audience seemed to enjoy the explosion of orchestral volume, particularly at the end of each act. Allemandi's direction was particularly negative in the Act II, in one of the most boring Mask scenes ever seen in this opera., and the great riddle scene was short on strength and conviction, though not of volume. He improved much in the last act, already too late. The whole of Turandot needs much more that decibels.

The American soprano Adrienne Dugger was an inadequate Turandot not having developed much from what might have been expected of her some five years ago. Today her vocal state is poorer than it was and while she displayed some definite assets - such as her determination to sing the role and not bark it, as many of her colleagues do. Having said this though I should also mention Ms Dugger's fine stage presence, which was more than merely standing still and shouting . Unfortunately there were a lot of shouted notes, particularly in "In questa reggia". Her lower range is rather weak and there she has an annoying vibrato. As a solution to casting this role, Ms Dugger is more pragmatic than spectacular.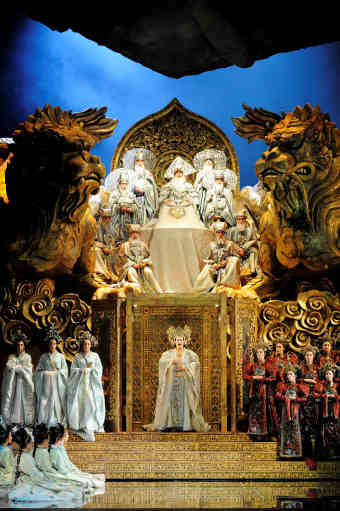 Marco Berti was a remarkable Calaf in vocal terms, with a voice perfectly suited for the role and a very bright high register. It is some time since Bilbao has heard such a fine spinto tenor, with so much "squillo" in his voice. He made an outstanding Calaf, if we forgive him some important points, such as the fact dodging the high C in the riddle scene and finishing 'Nessun Dorma' with a shortened final note, after a brilliant high B. He is not great actor either, but among the sad panorama of dramatic/spinto tenors, Berti is a good choce for any important opera house. He was more interesting here than in Verdi.


The slave Liú has two of Puccini's most inspired arias and it is no wonder that 9 out of 10 times, it is Liú who triumphs vocally. This is what happened here with the young American soprano Latonia Moore offering a perfect Liú. With a beautiful voice, conveying rare emotion, she sang both arias outstandingly, each of them with ravishing piani. She is perfect for the role and she had a very successful debut in Bilbao. If she takes the right decisions about repertoire she is surely a soprano with a very bright future. Not quite a spinto as yet, especially for Verdi I am sure that she will develop with time, although I realize that it will be difficult for to refuse premature offers. I sincerely hope that demands will not spoil a very promising soprano yet again.

The last Timur at ABAO was the now famous Erwin Schrott, then a young promising but little known singer. This time we had the young Bulgarian bass Deyan Vatchkov. He had good moments, particularly at the death of Liú, whereas he was less secure and vocally tighter during the first act. His voice has real quality in the middle and there is much promise here, depending on how he matures in the next few years, while he develops more power.


The trio of masks had both light and darker patches. Both tenors, Mikeldi Atxalandabado (Pong) and Jon Plazaola (Pang) were very good, particularly the former. It is a luxury to have two magnificent tenors now in Bilbao for secondary roles these days but sadly I cannot say the same of Marco Moncloa as Ping. What has happened to him lately, I am not at all sure about, but his performance was disappointing. His voice has lost much of its former projection. A real pity.

Korean baritone Joung Min Park made a good impression as the Mandarin, with an interesting voice worthy of follow-up. Jose Manuel Montero was a reliable Altoum, though he could improve his Italian diction and pay more attention to pitch. At least we could hear him, not all that usual with this character, singing as he always seems to do from the worst place in the stage.

The Euskalduna Palace was fully sold out and the public was much more enthusiastic than on previous occasions for Turandot. The triumphs went first of all to Latonia Moore, followed by Marco Berti and even Allemandi received a warm ovation, perhaps because he is considered as part of the family here. In addition to the four scheduled regular performances an extra performance with young singers in the principal roles was scheduled, with Turandot being sung by by the Irish soprano Miriam Murphy.


José M. Irurzun

Pictures ©E. Moreno Esquibel

Back to Top Cumulative Index Page