Other Links
Editorial Board
Editor - Bill Kenny
London Editor-Melanie Eskenazi
Founder - Len Mullenger
Google Site Search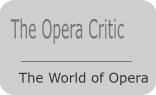 Price Comparison Web Site
SEEN AND HEARD INTERNATIONAL OPERA REVIEW
Mozart, La Clemenza di Tito: Soloists, Orquesta y Coro Sinfónica de Madrid. Conductor. Víctor Pablo Pérez. Teatro Real de Madrid. 16.5.2008. (JMI)

Semi -staged version

Direction: Marco Carniti
Lighting: Sergio Rossi

Cast:

Tito. Roberto Saccá
Sesto: Vesselina Kasarova
Vittelia: Alexandrina Pendatchanska
Annio: Maite Beaumont
Servilia: Ainhoa Garmendia
Publio: Álex Espósito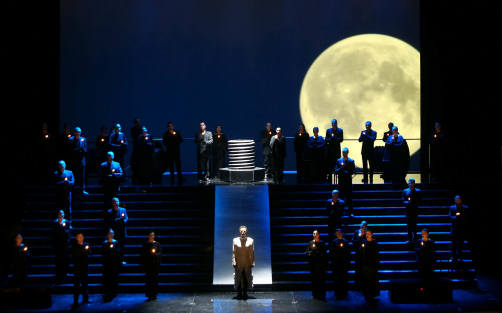 Teatro Real offered three performances of Mozart's last opera with a very attractive cast and a production announced as semi-staged, normally a pure euphemism. This was not the case here though and instead and we has an almost complete staging, with "ad hoc" costumes, lighting, some video projections and even some simple sets. Next time I read that an opera is semi-i staged version, I will be more receptive than I have been until now.

Marco Carniti was in charge of giving some life to the action, not always very easy in this opera. With effort and imagination he achieved his goal nicely, managing with very few elements to creates a set, based on a large staircase and some 'thrones' - apparently made from hexagonal -headed bolt. A screen at the back of the stage allowed the use of video projections, while costumes in XVIII century style helped to give life to the plot. Sergio Rossi, also responsible for lighting Madrid's Monteverdi Orfeo produced some interesting effects, while the singers, all of them expert Mozart interpreters, moved easily around the stage.

Víctor Pablo Pérez is one of the most prestigious conductors in Spain whose presence had raised great interest among opera aficionados. La Clemenza di Tito is difficult opera to conduct, since despite its very bright moments (it is Mozart!) much of it is rather static- which also accounts for the usual run of the mill concert versions. Pérez disappointed me a little during the first half of the opera, and even in the first moments of the second, with a fairly bland reading, barely enough to raise enthusiasm from the audience. Things improved towards the end and the final scenes were much better in purely musical terms. The orchestra was much improved during the whole second half.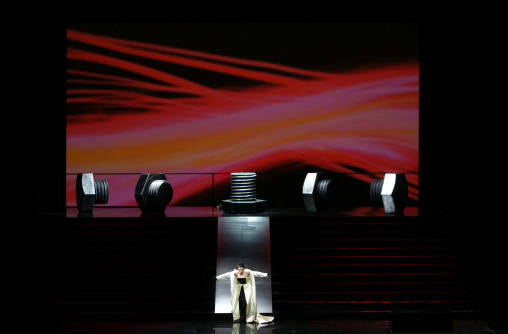 The Argentinian tenor Ráúl Giménez was originally listed to sing Tito, which surprised me quite a bit because he seems to me poorly suited to it. He cancelled however and was substituted by Roberto Saccá, whose voice in principal at least, is a better match.

Even so, his interpretation was little more than 'correct'. He is a good choice for the part, but sang with a tightish upper range and had difficulties with the agility needed to sing " Se all'impero".

Vesselina Kasarova however, was an exceptional Sesto in every sense. Fully dedicated, body and soul, to the role, she sang with great feeling, expressiveness and beauty. She is probably the best possible interpreter of Sesto today and so was greatly appreciated by the audience. If her interpretation of "Parto, Parto" was magnificent, in the second act she did even better, really moving the audience in her beautiful rondo. This was a genuinely great performance, much better by far than when she sang the same role a couple of years ago at Barcelona's Liceu.

Another Bulgarian, this time sopran Alexandrina Pendatchanska, sang Vittelia, to the delight of her many fans in Madrid. She too was convincing, far better than her Fiorilla in Munich. Her voice is very attractive in the middle and her singing has great taste. Her lower range can be rather short change from time to time and this was true here in the rondo. Sometimes, her higher notes can be tight too, but that's not very important for Vittelia, where the tessitura lies mostly in the middle voice. Once again, we how can see how important choice of the right roles can be!

Maite Beaumont was a very good Annio who gave a beautiful interpretation of "Torna di Tito a lato". Hers is not a large mezzo voice, but it has quality, musicality and she is a good actress. She should have a long career ahead.

Ainhoa Garmendia wasmore adequate than brilliant as Servilia. She was better in the same role at Liceu and since it seems that she is not very comfortable in the stratosphere, I'm not sure that I see her improving. Alex Espósito was a very good Publio however : a luxury in this secondary character. There was a full house and very warm public for whom Kasarova really stopped the show with her arias. At the final bows, most applause went to Kasarova, followed by Pendatchanska and Beaumont but there was a good receptionto for Maestro Victor Pablo Pérez.

José M Irurzun

Pictures © Javier de Real

Back to Top Cumulative Index Page