Other Links
Editorial Board
Editor - Bill Kenny
London Editor-Melanie Eskenazi
Founder - Len Mullenger
Google Site Search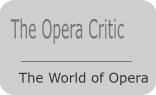 Price Comparison Web Site
SEEN AND HEARD INTERNATIONAL OPERA REVIEW
Mozart, Die entführung aus dem Serail: Soloists, Orquesta Sinfónica de Galicia. Coro de Cámara de Praga, Conductor. Günter Neuhold. Mozart Festival, Palacio de la Ópera de La Corunna. 23. 5.2008 (JMI)

Revival production from the Salzburg Festival.
Direction: Giorgio Strehler (original) Mattia Testi (revival)
Sets and Costumes: Luciano Damiani

Cast:

Konstanze: Laura Aikin.
Belmonte: Yi Jie Shi
Osmin: Bjarni Thor Kristinsson
Blondine: Valentina Farcas
Pedrillo: Gustavo Peña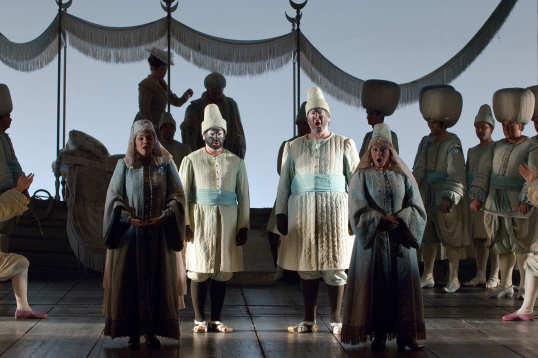 As part of its tribute to Giorgio Strehler, the Corunna Mozart Festival is offering his production of Die Entführung, premiered in Salzburg more than 40 years ago. There are very few times when I would be so happy with a Strehler tribute as this, because without it, the Festival could have brought the new Salzburg production instead. If I left the theatre irritated by that on two years ago, then I would have been even more irritated after seeing this. It seems to me a genuine insult that Peter Ruzicka decided to put this beautiful production in the junk room and replace it with one of the most absurd opera productions I have ever seen. I would never have thought o that Salzburg could offer such nonsense, or have changed both libretto and plot so absurdly.

Despite being more than 40 years old, this Giorgio Strehler production is still very fresh, pleasant and amusing. It has good taste, a colourful setting, the light and absolute fidelity to the libretto. It's simply, a bright and lively "turquería" with sets consisting of sliding painted panels, a stage full of light at the back, while the front is almost dark, so that singers look like silhouettes. It's best though of as Strehler's tribute to the long tradition of Puppet Theater in Salzburg. This revival was directed by Mattia Testi, who, to my surprise, did not take his final bow. A pity that, because he surely would have much well- deserved audience approval. Strehler was a very great artist totally conscious that it is not necessary to twist the plot of any opera to be original.

Austrian conductor Günter Neuhold led the Orquesta Sinfónica de Galicia and his work was as good as always. Whenever I have seen him conducting opera he always been convincing, although he is not a particularly popular conductor everywhere. Here, he has confirmed his quality yet again, with a very careful and controlled reading of the opera, achieving excellent playing from the orchestra.

The women of the vocal distribution were the same ones as those in the last Salzburg production, not necessarily a guarantee of top quality sadly, and American soprano Laura Aikin proved only a moderate Konstanze yet again. While I understand fully that it is very difficult to find a good interpreter for this role, that is not a good reason for casting a light soprano in it. Konstanze is not a light soprano part, nor are the Queen of Night or Fiordiligi. Konstanze need a full lyric soprano with outstanding coloratura, something that used to be known as a dramatic coloratura soprano. I do not believe that you really need a heavy dramatic soprano, but the singer needs a consistent center, good low notes, a bright upper register and she has to be vocally agile. The aria "Martern aller Arten" becomes a cartoon when sung by a light soprano and maybe the only really valid choice just now is Diana Damrau. Laura Aikin is a really light soprano, with inaudible low notes and rather shrill edgy upper range. She is a good actress of course, but this is not enough.

Rumanian Valentina Farcas was a good Blondine however, just as she was in Salzburg, although I liked her more then. She's good choice for one of the easier roles to cast.

Icelander Bjarni Thor Kristinsson was a convincing Osmin on stage, and a very amusing actor. In vocal terms, he was quite not up to the role's since his voice is rather small despite his physical size. He lacks consistent solidity at the bottom too, as he has proved on other occasions.

The Chinese tenor Yi Jie Shi was a substitution for Belmonte almost at 11th hour after a cancellation by Roberto Saccá. At just 25 years old, he showed definite promise. His voice is a pleasant light lyric tenor, not too big yet, but he sings with good taste and a good Mozart line. This was almost his opera debut in a major role. The bet was risky but it paid off very well.

Gustavo Peña was a luxury as Pedrillo. He is not the typical tenorino, but a true tenor with a very interesting instrument, who knows how to use it perfectly. As it happens there was not enough vocal contrast between Belmonte and Pedrillo but Peña seems on course for a good future.

The amost full house audience enjoyed the production, receiving the singers with warm applause but without offering a spectacular personal success to any of them. Maestro Neuhold and the orchestra were very well received however.

José M Irurzun
Ba
ck to Top
Cumulative Index Page