Other Links
Editorial Board
Editor - Bill Kenny
London Editor-Melanie Eskenazi
Founder - Len Mullenger
Google Site Search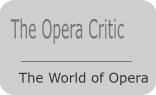 Price Comparison Web Site
SEEN AND HEARD INTERNATIONAL OPERA REVIEW
Strauss, Der Rosenkavalier: Soloists, Orchestre and Chorus du Capitole. Conductor. Jiři Kout. Théâtre du Capitole de Toulouse. 11.5.2008 (JMI)

New production from the Capitole and Teatro dell'Opera di Roma.

Direction: Nicolas Joel
Sets: Ezio Frigerio.
Costumes: Franca Squarciapino.
Lighting. Vinicio Cheli.

Cast:

Octavian: Sophie Koch.
Marschallin: Martina Serafín.
Ochs: Kurt Rydl.
Sophie: Anne-Catherine Gillet.
Faninal: Eike Wilm Schulte.
Italian Singer: Ismael Jordi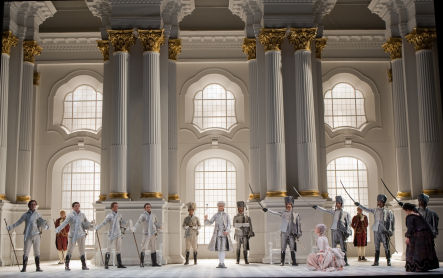 I freely admit that attending a performance of Der Rosenkavalier is always a kind of feast for me , since it belongs to my small group of most - beloved operas. To listen to the Marschallin's monologue, the presentation of the rose or the wonderful women's trio in the last act, continues to move me time and again. It needs to to be well interpreted and sung of course, which doesn't always happen, unfortunately. In Toulouse though, I was lucky to hear a fine musical and vocal performance so the trip was worth it. If not everything was outstanding, I'll keep the memory of the Toulouse Marschallin's interpretation in mind for a very long time, as one of the most convincing I have ever seen.

As it is more than usual in Toulouse, again we had a production (in this case a new one) by the company's Director, Nicolas Joel. Mr. Joel has handled his responsibity for the Capitole remarkably well, particularly as far as repertoire and voices are concerned. He's not quite so good in the role of stage director, often seeming rather anodyne to me, but he does have the greater merit of being able to surround himself with first-class collaborators. On this occasion Joel was responsible of the new production in co-production with Teatro dell'Opera di Roma, and again he had his artistic team of around him, Ezio Friegerio (sets), Franca Squarciapino (costumes) and Vinicio Cheli (lighting). This was a very classic and traditional production, with great columns and stairs, colourful costumes, particularly in the case of the Marschallin, but with slightly disappointing lighting. There is nothing in the stage direction that has not been seen repeatedly elsewhere and I did not enjoy Mr.Joel's insistence on making an opera buffa of the second act. Comedy is one thing but buffoonery is another. A farce, to echo the words of the Marschallin in the last act, is not necessarily buffa. So then, this is a fairly typical Joel production; an attractive spectacle with so-so direction.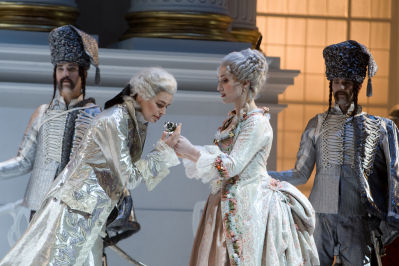 Leading the music was the very expert Jiři Kout, a guarantee of quality in any pit. I believe this Czech conductor to be one of the great ones, inexplicably forgotten by many important opera houses. I have always seen him conduct with flair and effectiveness, whether in German or in Czech opera, and he did it all again this time. Perhaps there was some excessive volume here and there, but he directed with great care, particularly in the most important pieces. Under his baton, the Orchestre National du Capitole produced and excellent performance. After rather poor playing in Rusteghi and Turco in Italia, the orchestra is back to being a brilliant ensemble for great occasions. The Capitole chorus was fine too, during its brief appearance.

The 'Rosenkavalier,' Count Octavian Rofrano, was French mezzo soprano Sophie Koch, who is one of the great favorites with the Toulouse public, for whom she sings regularly. Without any doubt she is an expert interpreter of the character, as she has proved over and again in the top houses. Here, she was as reliable as ever, although she never gets to move me particularly much in this role. I enjoyed her more in Le Roi d'Ys which opened the Toulouse season.

As I said already, Austrian soprano Martina Serafin was, one of the most convincing Marschallins I have seen for many years. Her interpretation was full of nuances, both singing and (rara avis) keeping silent. Hers is a Marschallin full of elegance, class and melancholy. She has a very suitable appearance for the role and she is today one the very best in it. Are there more beautiful voices than hers? Sure! Do I enjoy a more round high register? Of course! But her way of singing is magnificent, and her monologue, difficult to better. She was the Marschallin from beginning to end, including her final bows, full of charm and elegance.

Similarly, Kurt Rydl is without a doubt the Baron Ochs par excellence of the last ten years. He dominated the stage and the tessitura of the role, although of course, his voice is not at its prime now. The low notes are weaker than before and there is a pronounced vibrato sometimes but he continues to be Ochs all the time he is on stage.I cannot help but think of this character without bringing to mind both Kurts, who have owned the role for the last 25 years: the great and sumptuous Kurt Moll and later, Kurt Rydl.

French soprano Anne Catherine Gillet was a good Sophie, eloquent and bright. She could pay more attention to the projection of her high notes, which are sometimes too open and affected the beautiful duet with Octavian during the second act. She was much more controlled and musical however in an outstanding third act.

Veteran Eike Wilm Schulte was the experienced Faninal from so many productions, still maintaiing a very good standard vocally. The Spanish tenor Ismael Jordi sang the Italian Singer's the first act aria with great style and elegance: it's surely one the best tenor pieces that Richard Strauss composed.

The Italian intriguers were both well served by an interesting Elsa Maurus and a more routine Andreas Conrad. A surprise was to see the the well known Ingrid Kaiserfeld as Marianne Leitmetzerin and American Scott Wilde doubled as Notary and Commissioner of Police.

An almost full theater greeted the three women, together with Rydl and Jiři Kout with loud applause, and it was a surprise to me to read in the program that the opera was booed in Milan at its premiere, where Strauss himself was present, until the trio of women in the last act made the public breathless with emotion. So, the opera finished as a huge success and quality won through in the end. Just as it should.

José M. Irurzun

Pictures © Capitole de Toulouse
Ba
ck to Top
Cumulative Index Page