Other Links
Editorial Board
Editor - Bill Kenny
London Editor-Melanie Eskenazi
Founder - Len Mullenger
Google Site Search
SEEN AND HEARD INTERNATIONAL OPERA REVIEW

Donizetti, Poliuto: Soloists, Orquesta Sinfónica de Navarra. Coro de Ópera de Bilbao. Conductor: Fabrizio Maria Carminati. Palacio Euskalduna de Bilbao. 16.02.2008 (JMI)

New Production by ABAO (The Association of Friends of Bilvao Opera)

Director: Ignacio García.
Sets and Costumes: Domenico Franchi.
Lighting: Vinicio Cheli.

Cast:
Poliuto: Francisco Casanova.
Paolina: Fiorenza Cedolins.
Severo: Vladimir Stoyanov.
Callistene: Giovanni Battista Parodi.
Nearco: Maurizio Pace.
Felice: Mikeldi Atxalandabaso.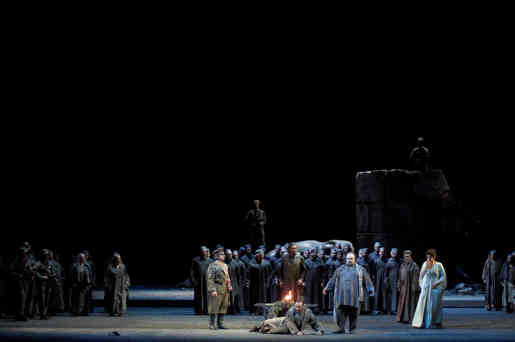 Nowadays bel cantismo does not enjoy much favour with artistic directors in most of the opera world. The serious Rossini operas almost do not exist outside the Festival of Pésaro, Bellini is only familiar through Norma and

La Sonambula, and from Donizetti, we hardly have any opportunity to see more than Lucia, La Fille du Regiment, Don Pasquale and L' Elisir d' Amore. The modern conception of opera as a 'total show' has put many bel canto works practically into the junk room, and artistic directors in many cases somehow believe that their own tastes are those of the aficionados. This it is not so. I have had many the opportunities to write on this subject over the years and I have always restated the fact that bel canto opera is the most loved genre by the public in general and opera lovers in particular. What is needed to spread the word however is to offer these works in really good conditions and that requires voices, voices and more voices. It is not for nothing that Italian opera from first half of XIX century is called bel canto.

If there is one city in Spain with a good bel cantista tradition, then it is Bilbao. is Reviewing the history of ABAO (The Association of Friends of Opera in Bilbao) makes one realize this. So ABAO has taken on the considerable risk of staging Poliuto, which so far as I know not been performed any in the world for the last 12 years. It is a big risk, considering that is not easy to persuade top quality singers to learn an opera, which will be very difficult for them to have an opportunity to sing again elsewhere. The truth though is that with some debatable points, the Bilbao cast offered real quality and the reaction of Bilbao public, - considered one of the coldest on Earth by many singers was exactly what one expects from them, when they get something that they love. This was huge success, by far the most important of this season.

Poliuto is an opera from Donizetti's maturity of with many pages of great beauty, particularly the concertante that closes the second act, fine arias for the three maim protagonists and the better known final duet. Written for Naples in 1838, it had to confront Bourbon censorship and it had its premiere two years later in Paris only in a French version called "Les Martyrs" in the usual format of a Grand Opera with ballet. The original Italian version - now presented in Bilbao - was finally premiered in Naples in November of 1848, hardly one month after the composer's death. Poliuto never has been inf the main repertoire, due to its great vocal difficulties, and is known to the opera lovers largely because of the recording made for the inauguration of La Scala in December of 1960 with Maria Callas, Franco Corelli and Ettore Bastianini, under the direction of Antonino Votto. Poliuto is an opera for great singers, requiring three principals of the first rank level to succeed. The rest of the cast don't need to be of quite the same quality, but that does not mean that they are not important.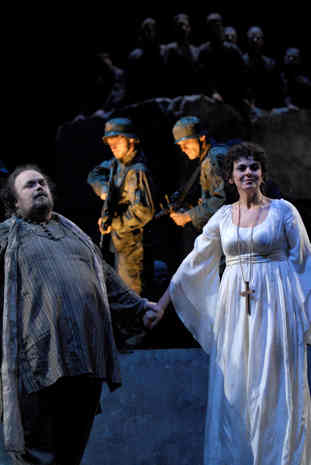 Poliuto: Francisco Casanova and Paolina: Fiorenza Cedolins



The title role, written for tenor, was taken here by the Dominican Francisco Casanova, who had already sung the part in a concert version last year in

Amsterdam. Casanova has a voice very well suited to the part; he phrases with very good taste, has outstanding diction and a very pleasant range of vocal colour. His stage performance however is very much tempered by his physique which does not exactly help to raise enthusiasm. He produced none of the high notes that can be heard from Corelli in the La Scala recording and he had some very serious problems above high A. In purely vocal terms his Poliuto was more elegant than brilliant.

Paolina, the real protagonist of the opera, was Fiorenza Cedolins, whose vocal characteristics responded perfectly to the high demands of the role. After her successes in Bilbao in Masnadieri and Butterfly, Ms.Cedolin achieved a new and well deserved triumph. I have always thought that this soprano could be a great successor to Caballé and Gencer among Donizetti heroines and her performance as Paolina has proved that very clearly. She gave a magnificent performance throughout the whole opera, brilliantly living the character at every moment. Her next debut in Donizetti's Lucrezia Borgia in Torino promises to be one of great attractions of the current season.

Bulgarian baritone Vladimir Stoyanov was the great surprise of the evening as the Proconsul Severo. He produced a beautiful voice also perfectly suited to the needs of the role, raising the first signs of rapturous enthusiasm from the audience with his first aria. This was his best performance so far to my mind and I found much improved particularly in projecting his higher notes. Until now, I have always condered him a reliable baritone, but here I was listening to a genuine potential star.

In the secondary roles, Maurizio Pace was an outstanding Nearco. He is a very pleasant tenor of whom we will surely hear more in the future. Felice, Paolina's father, was Mikeldi Atxalandabaso, who is becoming an reliable stalwart in such of roles.

Making virtue out of necessity, ABAO offered a new production with stage direction by the very promising Ignacio García. The original plot of Poliuto takes place in Armenia, around AD 250, and is a conflict between religion and power, complete with presence of the invading Roman army. Here the action was transferred to the day and was more Middle Eastern than Armenian with an American invading army and obligatory totalitarian postures. The idea of is well developed and works nicely. Mr García takes full advantage of all the technical possibilities of the Palacio Euskalduna's stage. The action takes place on different levels, with the lower level representing the Christians caves or catacombs. The set are simple and allude to the plot carefully as when a great statue demolished by the invaders during the overture and the recreation of the atrium of Felice's house in the second act, contrasts starkly with ruined and dusty cave. Most of the action takes place at night and Vinicio Cheli's fine lighting ploy made the production convncing. Altogether, this was excellent work from young director.

Conductor Fabrizio Maria Carminati is a specialist in Donizetti, having director of the Donizetti Festival in Bergamo for some years. He was extremely efficient, able to hold everything together firmly and was particularly concerned with helping the singers, some very most important in this repertoire. The Orchestra played faultlessly for him and the chorus had many excellent moments, as well as other more problematic ones, particularly among the men.

The theater offered the usual packed house and the audience was warmer by far than on former other occasions. The traditionally cool Bilbao public to more than sufficient to provoke enthusiasm. There was triumphant applause for Fiorenza Cedolins and Vladimir Stoyanov and Casanova and Maurizio Pace reception was were warmly greeted too. After this successful Poliuto, ABAO is presenting Verd'is La Battaglia di Legnano in April. More good news for real opera lovers.

José M. Irurzun

Pictures © ABAO, Bilbao

Back to Top Cumulative Index Page