Other Links
Editorial Board
Editor - Bill Kenny
London Editor-Melanie Eskenazi
Founder - Len Mullenger
Google Site Search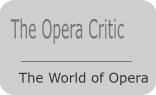 Price Comparison Web Site
SEEN AND HEARD INTERNATIONAL OPERA REVIEW
Monteverdi, Orfeo: Soloists, Les Arts Florissants and Les Sacqueboutiers de Toulouse, Conductor: William Christie, Teatro Real de Madrid. 13. 5.2008. (JMI)

New production from Teatro Real co-produced with Venice's la Fenice.

Director: Pier Luigi Pizzi
Sets and Costumes: Pier Luigi Pizzi
Lighting: Sergio Rossi

Cast:

Orfeo: Dietrich Henschel
Euridice, Proserpina and La Musica: Maria Grazia Schiavo
La Messagiera, La Speranza: Sonia Prina
Plutone: Antonio Abete
Caronte: Luigi De Donato
Apollo: Agustín Prunell-Friend
Ninfa: Hanna Bayodi-Hirt
Shepherd: Xavier Sabata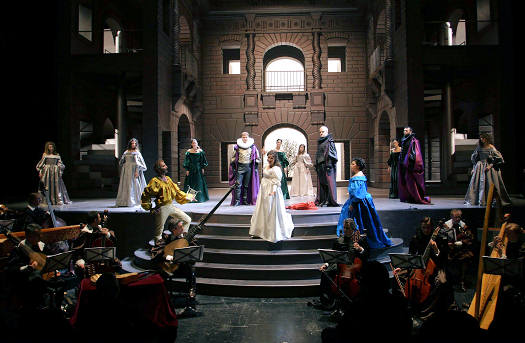 Krenek's Orpheus und Eurydike opened at Madrid's Teatro Real at the end of April in what can be considered as their 2008 Orfeo cycle: in the course of a little more than one month we will also have had Monteverdi and Gluck's visions of the demigod from Thrace.

This Monteverdi Orfeo arrives at the Teatro Real about a year late, since in February of last year we were celebrating the 400th anniversary of its premiere at Mantua's Ducal Palace. But whether it was on time or not is immaterial; what counts is the quality of the performance, which has not always been the primary concern of the many Monteverdi Orfeos given during the past year. This time, the Teatro Real made a great effort,with a new production and a musical ensemble of the first order. A high quality 401st aniversary beats a mediocre 400th every time.

Pier Luigi Pizzi was in charge of this new production in collaboration with Venice Teatro de la Fenice. If there is a stage director known for his aesthetic creativity, this is Pizzi, who has found renaissance and baroque opera, to be the perfect field for his art for some twenty years or more. The number of his baroque productions is almost endless and they have always been beautiful from an aesthetic perspective, though often with weak stage direction, which not at the same level than his beautiful sets and costumes. In this Orfeo, Pizzi has been true to himself and has offered a very attractive, even original, staging during the first half of the opera, while not maintaining same level of interest during the second. Stage and pit are not two different elements here as the musicians are part of the production, beginning with the colourful costumes that Pizzi designed for them as an evocation of the Orfeo premiere. William Christie himself enters the pit with a costume of the period with ruff and large red cape. While we listen to most famous Toccata, the stage is raised to reveal a large yard in Gonzaga Palace full of his guests. We are in the Palace rather than the usual theatre within a theatre, which makes much more sense, since Orfeo was premiered at the Palace and not the Court theatre. The beauty of the Palace, the rich colour of costumes and the movement of the extras and dancers, create an outstanding staging during the first half. The production falls down in the later, with a rather poor presentation of Hades, which doesn't improve much with Orfeo's return to Thrace. The final explosion of joy from the whole company, led by Pizzi himself, looks as though it's deliberatley designed to get the best applause possible from the audience, which it does. All in all, the production combines excellence with the mediocre, just like life itself.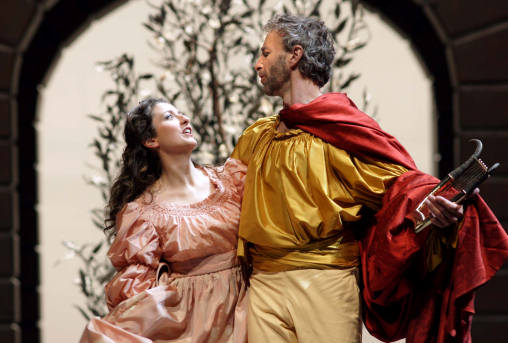 William Christie's direction of the orchestra and chorus of Les Arts Florissants was very good; a serious reading of great delicacy which matched perfectly with Pizzi's ideas. I would like to mention the marvellous harpist Siobhan Armstrong who doubled beautifully with Orfeo particularly but from a musical point of view the whole performance was an outstanding occasion. The Les Sacqueboutiers ensemble from Toulouse played the opening Toccata perfectly and also playing in the orchestra was Jonathan Cable, whose edition of the music was the version used. Without a doubt, William Christie and his musicians are one of best groups available today in this kind of music.

L'Orfeo is not an opera dependent only on vocal pyrotechnics, but needs a group of singers working together in the service of the score. In this sense, the cast was thoroughly suited, homogenous and musical at every turn. The German baritone Dietrich Henschel was a convincing Orfeo, taking part in some of the dancing in the first half. He was a good actor and always musical, choosing the ornamented version for his third act arioso "Possente spirto". Italian soprano Maria Grazia Schiavo confirmed the positive impression she left in Vivaldi's Bajazet. She was outstanding in the Prologue as La Musica, singing with beautiful piani. She was also fine as Euridice but was slightly taxed as Proserpina, where I prefer a mezzo-soprano.

Sonia Prina doubled as La Messagiera and La Speranza, singing with great musicianship and expressiveness. Antonio Abete was a good Plutone too, while Agustín Prunell-Friend gave his best to the coloratura of Apollo. Luigi De Donato was more acceptable as Caronte than in his last performance in Tamerlano, but in fact all the secondary roles were very well served.

This was the first performance of the run and the theater was sold out. The audince was particularly receptive to Pizzi, Christie and Henschel. Incidentally, I should mention that Monteverdi's Orfeo arrived in Spain a mere 348 years after its premiere in 1607. Being fashionable is obviously very important here.

José M. Irurzun

Pictures © Javier del Real
Ba
ck to Top
Cumulative Index Page