Other Links
Editorial Board
Editor - Bill Kenny
London Editor-Melanie Eskenazi
Founder - Len Mullenger
Google Site Search
SEEN AND HEARD INTERNATIONAL OPERA REVIEW
Puccini, Manon Lescaut: production from Deutsche Oper Berlin. Soloists, chorus and orchestra of Teatro Carlo Felice, Daniel Oren conductor. Genoa, Italy. 17.1.2008 (MM)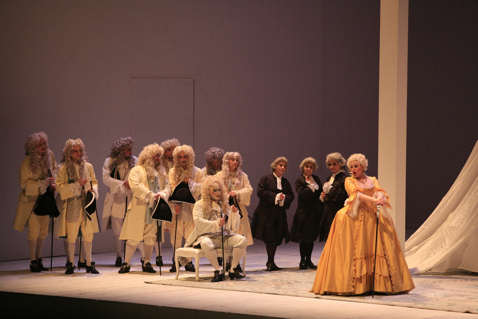 ACT II

Giacomo Puccini's Manon Lescaut at the Teatro Carlo Felice (17/1/2008) started out with a bang - as the evening's conductor made his way to the pit's podium he was instantaneously recognized as Daniel Oren, not the young conductor announced in the program. As Mr. Oren turned from a very brief, cursory acknowledgement of his applause he was already raising his arms to attack Puccini's fragile masterpiece.

Attack it he certainly did, dispelling the myth that this work is fragile, needing delicate balances of interpreters, music and production to take on an ephemeral life. Oren's Manon Lescaut is a masterpiece of verismo at its finest and melodramma at its purest. The first of Puccini's mature works (only Edgar and Le Villi come before) Manon Lescaut (1893) betrays the French origins of verismo in distilling the abbé Prévost's Manon story into four emotionally charged scenes. Massanet had already told Prévost's histoire much more realistically and delicately, but some ten years earlier.

And forget about Manon and her brother's high-born origins, both embody the baser instincts verismo likes to find among the lower classes; look only to Henze's wonderfully sleazy Manon in Boulevard Solitude to complete this picture.

But do think melodramma, the super Italian soupy film genre (like Catene (1949), a film that made Sicilian audiences weep in Cinema Paradiso) where the woman succumbs to understandable temptation, only to regret her fall before being forgiven, though too late.

While Oren is not Puccini, he is Puccini's music pure and simple, sometimes remaining immobile, then stomping then jumping on the podium, emitting grunts and snorts, usually singing along while expansively pulling his orchestra together to emote in one huge voice along with his inspired singers: then he applauds his singers appreciatively right along with the enthused audience. Mr. Oren is a phenomenon.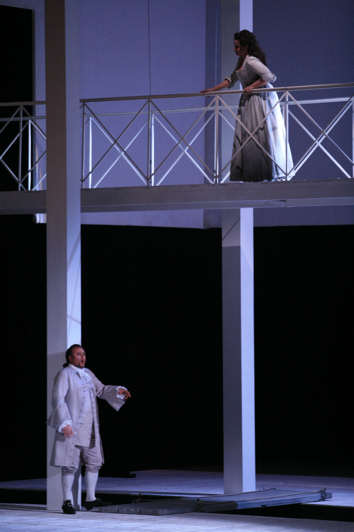 ACT III


Manon Lescaut is told in four big strokes, deceit and flight, boredom and theft, deportation, and lastly death in the deserts of Louisiana - all the better that we all know that Louisiana is not a desert and often has too much water. All was rendered as enormous, explosive emotional situations, disproving forever that Puccini's Manon Lescaut is fragile, and proving once and for all that while it may not be the first (Mascagni's Cavalleria Rusticana is earlier from1890), Manon Lescaut remains one of the purest examples of Italian musical verismo.

In the absence of a production specifically developed for such a musically brutal conception of Puccini's opera, the Teatro Carlo Felice imported Flemish director Gilbert Deflo's production from the Deutsche Oper Berlin. At first his white box concept (actors in high relief in relatively neutral surroundings with few props) evoked a déjà vu disappointment, but as the musical force of the production took over, the white box setting began essentially to service the telling of the story without either effectively absorbing it or detracting from it.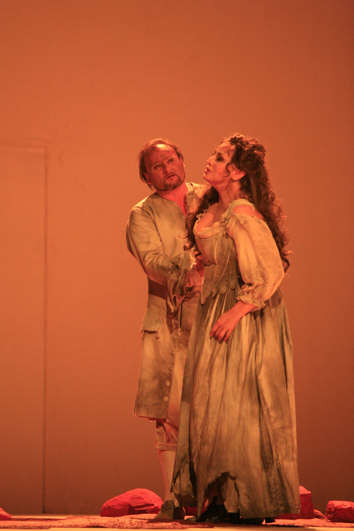 ACT IV

Director Deflo is obviously a theater director with actors at his disposal whose movements and physical attitudes can fill such a neutral space. In the expanses of the Carlo Felice stage the conception was most effective when character singers were at work, as for example the rich Geronte, and his household staff in Act II, these caricatured abstractions working well with the exaggerated emotions. Or the actresses as the exaggerated prostitutes in Act III effectively separating Manon in her degradation from their flashy pride. Here too Deflo's minimalism was effective in the use one small scenic element, a small boat, to send Manon and Des Grieux off to America. The principal singers whose movements and physical attitudes are specific to the needs and habits of opera singers were less effective, looking as if they had been thrown into a warmed-over production, which of course it was.

The Manon of Micaela Carosi rose magnificently to the occasion, her rich, warm, spinto voice offering Oren everything needed to encourage her to bring out the subtleties of pathos of this difficult role. Renzo Zulian, singing two of the seven performances, delivered a Des Grieux with little finesse but with ample vocalism to serve musical needs. Manon' brother Lescaut, sung by Gabriele Viviani, proved less of a vivid vocal presence while the Geronte of Carlo Lepore was classy singing in ridiculous clothing.


Michael Milenski

Pictures © Teatro Carlo Felice


Back to Top Cumulative Index Page