Other Links
Editorial Board
Editor - Bill Kenny
London Editor-Melanie Eskenazi
Founder - Len Mullenger
Google Site Search
SEEN AND HEARD INTERNATIONAL OPERA REVIEW

Verdi, La Battaglia di Legnano: Orquesta Sinfónica de Bilbao. Coro de Ópera de Bilbao. Conductor: Renato Palumbo. Palacio Euskalduna de Bilbao. 12.4.2008. (JMI)

New Production for the Friend of Opera in Bilbao (ABAO)

Direction: Emilio Sagi
Sets: Llorenç Corbella
Costumes: Pepa Ojanguren
Lighting: Eduardo Bravo

Cast:

Arrigo: Francisco Casanova
Lida: Alessandra Rezza
Rolando: Ambrogio Maestri
Barbarossa: Marco Spotti
Marcovaldo: Javier Galán
Imelda: Nuria Orbea.
Podestá and Consul : Fernando Latorre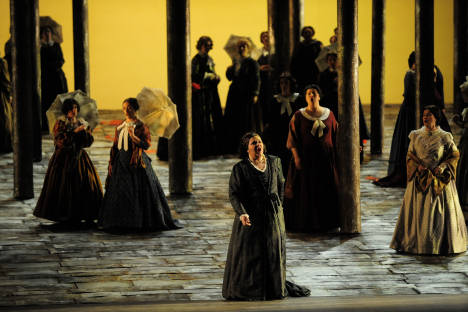 La Battaglia di Legnano is an work that almost created a new style, the patriotic/ nationalistic opera. Its composition - as a result of the revolt known as "Le cinque giornate" by Lombardy against the Austrians in March of 1848 is Verdi's patriotic contribution - totally imbued with the spirit of Risorgimento, - to the glory of his country then in the process of constructing its new identity. The premiere in January of 1849 became a national event of first magnitude and had to take place outside Lombardy –once again under the Austrian imperial rule – in Rome which had become a point of encounter for the Italian republicans, headed by Manzini and Garibaldi. Whether it commes about by convinced patriotism on the parts of Verdi and his librettist Cammarano or by a sheer opportunism, the certain thing is that in this opera there are about 30 references to the then nascent Italian state, with numerous shouts here and there of "Viva Italia!" included in the score. The opera is clearly the beginning of a genre - happily almost without continuation – that can be called patriotic opera.

From a purely musical point of view, it is an irregular work with many ups and downs. Between the chum-pa-pa of the overture and the pa-pa-chum of the last scene, there are pages of great beauty, announcing the genius of Verdi, which was the on the verge of exploding, extremely clearly By way of Luisa Miller and Stiffelio we arrive at Rigoletto, whose chorus of "Cortigiani" is very nearly pre-auditioned in La Battaglia's first act. The most likely reason why this opera has fallen into oblivion is probably its chauvinistic origins however Such nationalistic and patriotic songs would never be heard Italy these days except in some very particular circumstances, which fortunately exist no longer.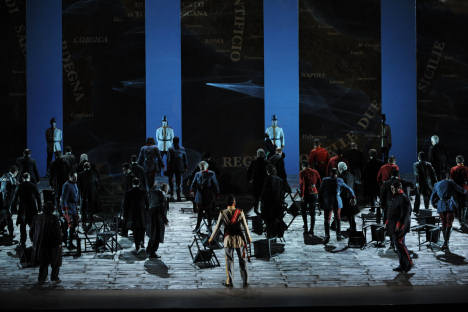 Within ABAO's project "Tutto Verdi" we have the opportunity of seeing all the composer's rarely performed works during the next 12 years. Last year we were offered Oberto, conte di San Bonifacio, this year it's La Battaglia di Legnano, while next season we shall have both I Due Foscari and Aroldo. A real treat for the large numbers of Verdi fans in Bilbao.

Since La Battaglia di Legnano was a product of very precise historical circumstances, it was a very good idea on the part of director Emilio Sagi to present the action exactly in the Risorgimento period, where this opera obviously makes most sense. Sagi's brand new production is truly minimalist and works very well, particularly with the outstanding lighting designed by Eduardo Bravo. Sagi knows all the possibilities presented by the Euskalduna stage and takes full advantage of them. There are beautiful moments, such as the Prayer scene, which changes by means of lighting effects alone into the brilliant victorious final scene. This is fine good work by Emilio Sagi, who proves once again that big sums of money aren't always need for an attractive production.

Initially Bruno Bartoletti was announced as musical director, but he cancelled for personal and not very defensible reasons, that did not prevent him from conducting La Bohème in Parma within a few days. The responsibility for the cancellation is only attributable to Mr. Bartoletti and could easily have created a problem of first magnitude as the result. Fortune was with ABAO however as they were able engage Renato Palumbo, a conductor of some prestige and a full guarantee of high quality. If in other occasions I have criticized some substitutions in Bilbao, this time I must praise both the effort involved in finding someone good and the results of doing so. Renato Palumbo gave an outstanding performance, taking the work along very rhythmically, providing every care for the singers and getting a remarkable performance from the Bilbao orchestra. Nobody missed Maestro Bartoletti at all: and actually, we his cancellation was an entirely good thing. The chorus became an outstanding ensemble on this occasion. And Verdi was very well served by them.

The vocal casting offered more darkness than light, although we should always recognize how difficult assembling a first class team for any Verdi opera can be, the more so when the opera is a rarity. The trio of protagonists brought in for the event were certainly heavy weights however, but only in terms of physique unfortunately.

Francisco Casanova was on stage as Arrigo and this was his least convincing performance to date in Bilbao. If in Poliuto we discovered that his singing is more than somewhat compromised by his girth, here the difficulties were even greater, with very serious problems in vocal projection. He does continue to be a remarkable singer, particularly in terms of phrasing and immaculate diction, but I suspect he is at a cross roads with his career unless he can deliver more power. As things stand. I can't see much of a future for him.

Ambrogio Maestri was a good Rolando in vocal terms, although excessively stiff as an interpreter. His performance was the best of the trio of prinicpals, showing a good Verdi baritone, which is a real "rara avis" these days. His forte attacks in the higher register are coarse and lose quality , which is . a pity because he does have the notes and sounds exist beautiful when singing quietly.

Alessandra Rezza fought with the part of Lida and lost. It is sad to witness her current vocal shape because she has a good middle register, very well suited for this repertoire, but sadly she has lost most of her high notes over a remarkably short period of time, most probably as a result of mistaken choices of repertoire. Simply, Lida's tessitura today is too high for her and frankly her top register was almost painful to hear. She was more than pleasant in the middle, but the high notes were whitish, shouted and out of pitch for the most part. The vocal deterioration is terribly evident and quite understandable when she sang so many Abigails before she was thirty.

Marco Spotti was a good Barbarossa in his short appearane in the final scene of the second act and Fernando Latorre offered little interest as Podestá and the Consul. Nuria Orbea was a weak Imelda in a role for a mezzosoprano, while she remains a soprano. Javier Galán was and adequate Marcovaldo.

The theatre had its usual full house but there was little enthusiasm among the audience, except for Rolando's aria in act III. At the final bows, the biggest applause went to Messrs Sagi, Palumbo and Maestri.


José M. Irurzun

Pictures © E. Moreno Esquibel

Back to Top Cumulative Index Page