Other Links
Editorial Board
Editor - Bill Kenny
London Editor-Melanie Eskenazi
Founder - Len Mullenger
Google Site Search
SEEN AND HEARD INTERNATIONAL OPERA REVIEW

Gluck, Orphée et Eurydice: (new production, David Alagna stage director) Soloists, chorus, orchestra of the Opéra National de Montpellier, Marco Guidarini (conductor) Montpellier, France. 3. 2.2008 (MM)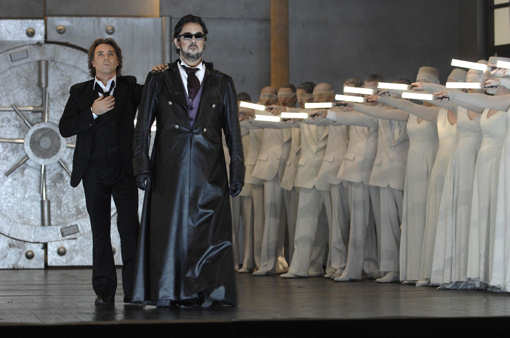 When a production of Gluck's Orphée et Eurydice is announced you usually take no notice of who is singing Orphée because you probably have never heard of him anyway. But such was not the case in Montpellier when one did notice because you had heard of him. With disbelief you saw it was Roberto Alagna, though the idea soon became explicable, remembering that Maria Callas had once sung the Liebestod - so why not Roberto Alagna singing Che faro senza Euridice (J'ai perdu non Eurydice)?

Equally absurd was the idea that Marco Guidarini was conducting - the Genovese conductor who had made even the reticence of Pelléas et Méisande eloquently alive in Nice, who had fired its suppressed love triangle into a passionate eruption. Hardly the man to illuminate this signature, cool musical document of the French Enlightenment, calming the excessive grief of the Baroque within the intimate confines of the Rococo.

The Montpellier season itself seemed peculiar, programming first the famous Offenbach parody of the Orpheus myth last December before stating the myth itself two months later in the pristine form (one presumed) that Gluck had imposed upon it in his most famous reform opera.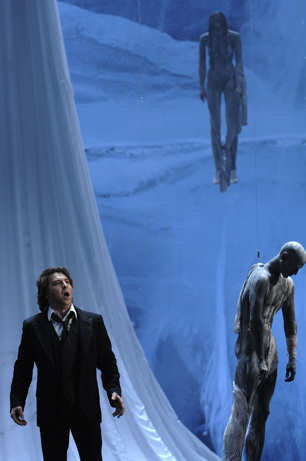 These mysteries were quickly explained. Gluck's Orphée et Eurydice had been de-constructed by director David Alagna (Roberto's brother) in light of the latent high drama and deep intelligence in this Gluck masterpiece. He had given free rein to his own obviously formidable theatrical imagination, and was taking full advantage of the vocal and histrionic resources of his tenorissimo brother. David (dah-veed) is hardly the first director to plumb the depths of Gluck's masterpiece and will not be the last. But this Orphée et Eurydice, while made from the Gluck Orphée, is anything but Gluck's opera, nor something that Gluck himself could possibly have imagined: except perhaps for the Romeo et Juliette ending imposed on it by David Alagna, an ending that Gluck would surely have preferred to the conventional happy one.

Once past David Alagna's mute prologue - an interpolated first scene of a noisy wedding party that rudely punctuated Gluck's translocated incidental music - the second scene, now Gluck's own, unfolded with skillful paramedics pulling first the lifeless body of Eurydice from an overturned, crushed bright red Renault, followed by the inanimate body of her husband Orphée. There was no longer any possibility that this was not a parody, a fully and clearly defined made-for-television-movie reality opera supplanting opera's most hallowed pastoral myth. And then the cry "Eurydice" from the world-class Verdi tenor with some of the biggest vocal coglioni (balls) around, in full evidence. Any further fears of the banal were banished right along with all collegium musicum regrets.

Alagna lamented at Eurydice's tomb, supported by her grief stricken parents, surrounded by a sea of umbrella covered friends, the cellos of Guidarini's full blown orchestra throbbing sobs, the crushed red Renault replaced by a long black hearse. Overcome, Orphée fell into the pile of dirt about to cover Eurydice's coffin, his face and chest against the stage floor that now became a massive sounding board for his, and Gluck's, magnificent Chiamo il mio ben cosi (Eurydice, Eurydice, ombre chère).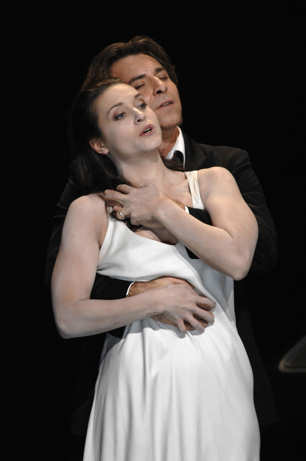 Amor, baritone Marc Barrard in a floor length black leather cloak, gave Orphée his options. The long black hearse brought Orphée to heaven's waiting room, a rather crowded worldly mortuary for souls in transition. Knowing about stratospheric travel, contemporary audiences understand that temperatures are frigid in the heavens, and so Guidarini's Mahlerian trombones sounded their chilling tones, bringing into sight a corps de ballet of suspended frozen bodies. That of Eurydice identified, the long black hearse arrived to bring her back to earth, not without the well-known discussion passionately voiced by the beautiful Serena Gamberoni. Furious with Orphée, she first made love with the tall and handsome Amor in the hearse's front seat.

The grief of the Alagnas' Orphée was real, was wrenching, and was fully considered in the finest Gluckian manner, but no longer with his formidable eighteenth century emotional discipline. This new Alagna perspective was a forging of the considerable art of twentieth century operatic hyper-verismo with twenty-first century conceptual art, realized with the considerable resources of one of France's finest opera companies. Roberto Alagna is a phenomenon. Equally as much an artist as he is a tenor, he gave full realization to these often contradictory terms in this performance, putting the heated vocal posturing of the heroic tenor to the service of cool, smart conceptual art.

Among the triumphs of the evening were the visually stunning stage pictures created by director/designer David Alagna, with costumes from Carla Teti. But most remarkable of all was the cool control exercised by Alagna's direction, never forcing his staging beyond the boundaries determined by Gluck's reformist intentions and the immense wit of his own vision. He proved himself a true artist, with this Orphée et Eurydice held always within this delicate balance

Marco Guidarini, the Alagnas' willing musical collaborator, brought an exploration of color and a musical urgency to Gluck's score that added new luster to France's centuries old tradition of orchestral art. It cannot be left unsaid that the flute solo in the blessed spirits ballet music has never been played more beautifully.

The Montpellier Orphée ritual completed, the excited cast took their bows and the wildly enthused audience showered the stage with flowers. Finally, (and only finally) did Roberto bring his brother David onto the stage for a bow to a chorus of boos.

Michael Milenski



Pictures © Luc Jennepin / Opéra National de Montpellier

Back to Top Cumulative Index Page