Other Links
Editorial Board
Editor - Bill Kenny

London Editor-Melanie Eskenazi

Founder - Len Mullenger
Google Site Search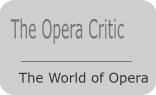 Price Comparison Web Site
SEEN AND HEARD INTERNATIONAL OPERA REVIEW

Beethoven: Fidelio: Soloists, Mahler Chamber Orchestra. Arnold Schoenberg Chor and Coro de la Comunidad de Madrid, Conductor: Claudio Abbado, Teatro Real de Madrid. 21 and 23.04. 2008 (JMI)

New production: Teatro Real, Baden Baden, Reggio Emilia, Modena and Ferrara.

Director: Chris Kraus
Sets: Marizio Baló
Costumes: Anna Maria Heinreich
Lighting: Gigi Saccomandi.

Cast:

Leonore: Anja Kampe
Florestan: Clifton Forbis
Rocco: Giorgio Surjan
Pizarro: Albert Dohmen
Marzelline: Julia Kleiter
Jaquino: Jörg Schneider
Don Fernando: Diogenes Randes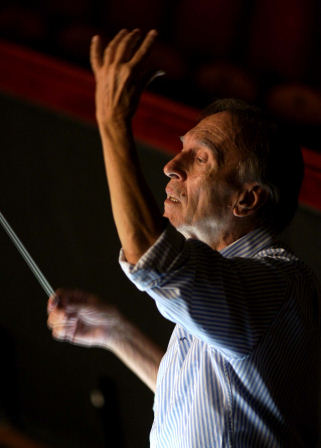 Claudio Abbado


Opportunities to see Claudio Abbado conduct have become very rare since he contracted a stomach cancer. In practical terms and for understandable reasons, his appearances have been mostly limited to conducting his youth orchestra at special events like the Lucerne Festival, and his opera performances have been even scarcer. It is therefore hardly strange that his visit to Madrid for this Fidelio was one of the points of greatest interest this season, and not only in Spain. People came from all parts to gather in Madrid for the event, as also happened a couple of weeks earlier in Reggio Emilia and will probably be the case in Baden Baden shortly. The Teatro Real scored a very great success in being able to en gage such an exceptional artist, further evidence of the growing importance of opera in Spain in general and of Madrid in particular.

The sense of expectancy was at maximum level before the performance and everyone present recognized that the occasion was a opportunity to show Claudio Abbado the admiration that his long career deserves. And while this kind of tribute often takes place when important artists are in musical decline, this was certainly not the case here: Claudio Abbado, may sadly not be at his best physically but he continues to be the reference standard for many in the world of orchestral direction. This event was therefore properly the public's tribute to a great maestro still in full command of his extraordinary artistic capacities.

That this Fidelio was a spectacular popular success goes was self-evident: that was made clear enough by the cheering that welcomed Maestro Abbado to the pit. Even for critics, it was not easy to keep a cool head in such circumstances, since emotions ran high in the theatre: everyone present shared the feeling that "I was there".

Almost everybody has a favourite recording or a certain magical performance in mind for Fidelio. Most of us have attended at least one outstanding interpretation containing truly magical moments that will be long remembered, and this was one certainly one of them from my point of view. In particular, I was very moved by the way that Claudio Abbado conducted the quartet in the first act, which had an almost supernatural gentleness. I was greatly moved too by the entrance of the prisoners, the miracle of the music for the last act quintet, and finally by the strength that Mr Abbado brought to the entire last scene. The Mahler Chamber Orchestra is certainly a good orchestra, but not quite not at the level of some others heard lately playing this work. The orchestras of the Berlin Staatsoper, Munich Bayerische or Valencia's Palau (to mention only a few recent Fidelios) play in a different league, so that some fluffs by the horns here would have been inadmissible elsewhere. The chorus work by the Arnold Schoenberg Choir combined with the Coro de la Comunidad de Madrid was wholly excellent however.

Claudio Abbado conducted two of three performances, leaving the last one to his assistant, Norwegian Eivind Gullberg Jensen. It is difficult to judge a conductor, when an opera has been prepared by Abbado, but I had a very positive impression of his reading. In general, he was somewhat more dramatic than Maestro Abbado, giving a highly convincing performance.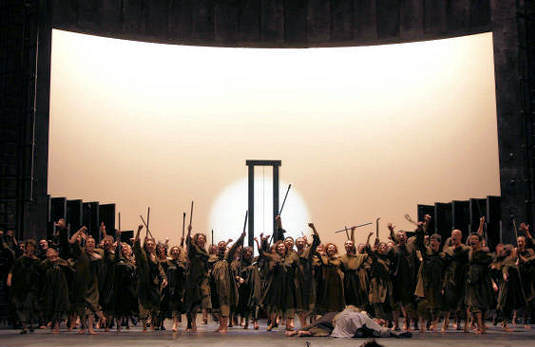 Initially, this Fidelio was announced as a new production by the Canadian Robert Carsen, but it seems that there was a less a perfect understanding with Maestro Abbado about it. Some months ago, the production was entrusted instead to the young German film director Chris Kraus, who was making his opera debut, having attended (so he says in an interview) only two opera performances in his life. The action takes place during the French Revolution and a large guillotine is shown during the first part. Kraus's background in cinema is very evident and lighting plays a very large part in his concept. Much takes place in semidarkness before a final explosion of light of such intensity that it almost blinds the spectators at first. Both set and costumes are suited to the central idea however and there are some personal touches, such as presenting Pizarro as a disabled man in a wheelchair, and having Don Fernando as a strange bishop or cardinal who orders the Pizarro to be guillotined. The end is somewhat enigmatic, since the appearance of the new order is accompanied by more guillotines at the back of the stage, to suggest perhaps hat oppression is inevitably present regardless of political stances. In general though, this is a good production that respects both music and text.

Was this Fidelio the performance of the decade, as some people have said? My own view is that it will be a key event in Spain for many years, but only because of Maestro Abbado's presence. I still believe that the quality of the singers is fundamental to opera, and am sorry to say that here we had a mediocre cast, in which only Marzelline and Don Fernando were of the standard needed for such an important event.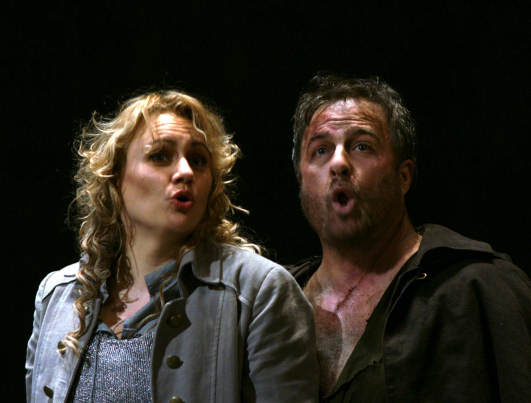 Leonore: Anja Kampe and Florestan: Clifton Forbis
Leonore or Fidelio was sung by the German soprano Anja Kampe, certainly a reliable singer but one who was at the limit of her capacity here. It is true that the difficulties of this role are tremendous for anyone of course, and that there are very few sopranos (forget about mezzos) able to cope with it. Anja Kampe managed the cruel tessitura of "Abscheulicher" without resorting to shouting, but ran into considerable difficulties in the duet with Florestan "O, namenlose Freude", where she omitted some high notes. She was better at the last performance in which she was more confident and her reception from the audience was much better than on the previous day.

Form a purely vocal point of view, the biggest attraction when casting was announced was the presence of Jonas Kaufmann as Florestan, even more so due to the fact that he would only be singing in Madrid. Lamentably, he cancelled and was replaced by the American Clifton Forbis, who had also sung at Reggio Emilia. The lack of dramatic tenors is what explains this choice and while Forbis is well known in many of the great opera houses, to my mind he had no great merit - apart from the important one of saving the event of course. He has an interesting and quite baritonal middle voice, but his high notes are often really rather unpleasant.

Giorgio Surjan is a bass or rather a bass baritone who does not have the voice necessary for Rocco. In recent years we have had both René Pape and Matti Salminen singing this role in Spain. So,no more comments.

Albert Dohmen was also a somewhat disappointing Pizarro. He is a singer who shines in the middle of the tessitura and is usually very good in parts expressing nobility, as he does with his Wotan in Walküre. Sadly. Pizarro adds nothing to his career.

As I said earlier, the best vocal performance came from the German soprano Julia Kleiter, who made a wonderful Marzelline, with a very interesting lyric voice. I enjoyed her Pamina in this same theater three years ago and the very positive impression she made then has been confirmed now. The Brazilian bass Diogenes Randes, who caught my attention in Operalia some three years ago, made an outstanding Don Fernando, considering that most places engage rather poor singers in this not unimportant role. He has a beautiful voice, and is almost a first rate singer, lacking only some volume at the moment. His growing international career should have good prospects, judging by this performance.

That the Teatro Real was packed is hardly worth saying and that the final reception for Maestro Abbado was an unanimous "Standing ovation" should be obvious too. What is more unusual is that after 20 minutes, the audience was still cheering him. He clearly deserved all of this great tribute and more in my opinion, because he really is one of the glories of the conducting world. Sadly though, this was not quite the Fidelio of the decade, for while Abbado was outstanding, the singing ranged only from good to mediocre.

José M Irurzun
<![if !supportLineBreakNewLine]>
Pitcures © Javier del Real<![endif]>